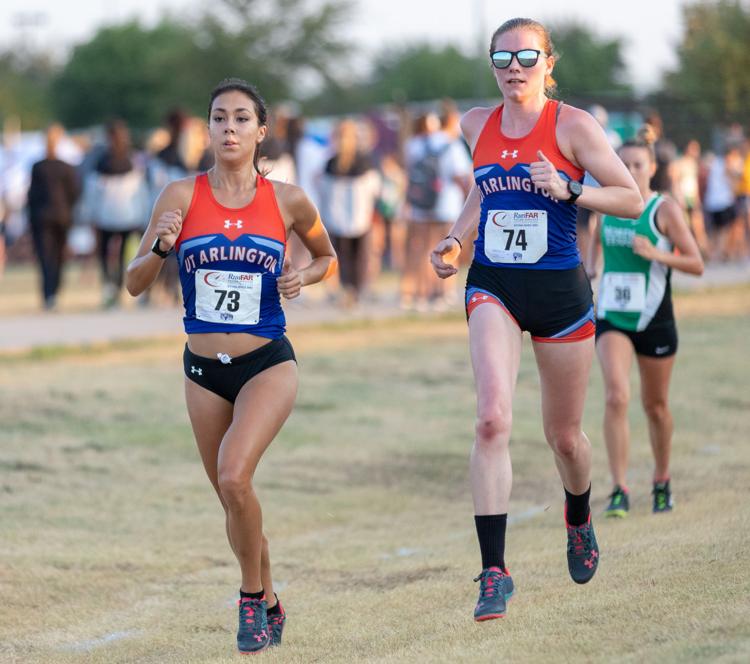 DALLAS — The cross-country teams delivered top-two performances in the 5-kilometer race when they competed at the Gerald Richey Invitational on Saturday at the Jesse Owens Memorial Athletic Complex.
The women's team won the meet with 38 points, while the men totaled 29 points to finish second behind the University of North Texas.
Junior Madeleine Rowe paced UTA, finishing fourth overall and clocking in at 18:35. Freshman Mathilde Ruud placed sixth in 18:43, immediately followed by senior Shayla Huebner at 18:51 and sophomore Valeria Diaz in 18:55. Freshman Sofia Santamaria rounded out the scoring, placing 13th with a 19:18 time to give UTA its first women's title of the season.
Rowe said the women are making headway early in the season, and the win shows it. She said they worked as a cohesive unit to grind out a result despite slight injuries across the team.
"It's a really good outlook for the rest of the season, and we're all feeling really good right now," she said.
Head coach John Sauerhage said this team is showing its talent, and he expects the runners to improve as the season wears on and the Sun Belt Conference Cross Country Championships draw closer.
"If they keep getting better, they'll have a shot at conference," he said. "If they don't, we'll just hope they get in the top five, but there's some potential there."
For the men, senior Justin Domangue won his second individual crown in consecutive meets, pacing the race in 14:51. Junior Cole Klashinsky finished fifth and scored three points with a 15:14 time, followed by junior Victor Bocanegra scoring six in 15:35. Freshman Jack Myers scored nine points in 15:47 and sophomore Connor Butterfield rounded out the scoring with 10 with a time of 15:54.
Sauerhage said Domangue is in good shape and this meet was just a workout for him. The rest of the team is a work in progress, he said, and runners need to stay healthy in the coming weeks.
Domangue said it's still early in the season, but he needs underclassmen to step up for future meets.
"They really need to get their mind right," he said. "Cross-country is more of a mind game, so if you have a weak mind, you're not going to do well."
@_julio_vega