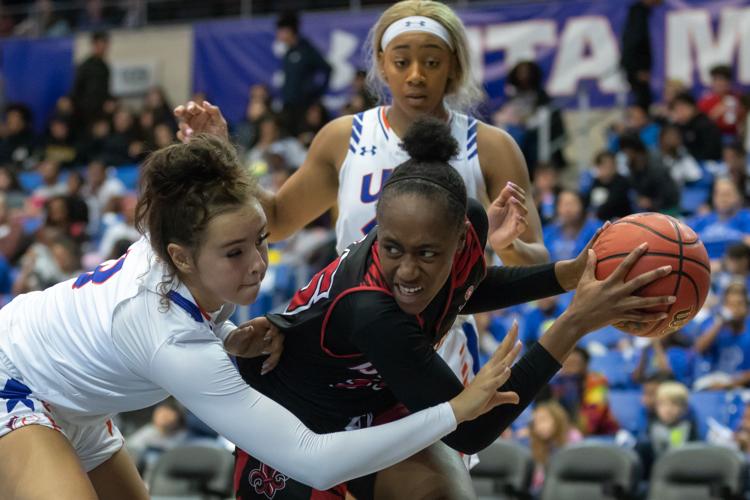 Basketball can be an offense-heavy sport, but for the UTA women's basketball team, defense rules all.
Head coach Krista Gerlich instilled the defensive mind-set into the program when she arrived back in 2013.  
"The reason I have that mind-set is because you're not always going to be on top of your game offensively," she said. "You're gonna have some bad shooting nights, your rhythm might be off, that type of thing. But, you can always play defense, and I think defense just comes from the heart."
Sophomore guard Katie Ferrell said you can't always control how offense goes, but you can control your defensive output, and it can even pull out a winning result.
Making defensive stops, taking charges and keeping other teams from doing what they want to do is an accomplishment in Gerlich's eyes.
The mentality stems from Gerlich's playing days, when she said she wasn't a top-quality athlete but had the heart to do the hard and dirty work for the team. It worked out for her as she was a leader on the 1993 national championship-winning team at Texas Tech University.
Since Gerlich's arrival, UTA's defensive identity has produced some all-time greats for the program, including alumnae Rebekah VanDijk and Cierra Johnson. VanDijk is UTA's all-time top rebounder and second for blocked shots, while Johnson is the Lady Mavericks' all-time steals leader. 
Gerlich said she likes to both recruit defensively-sound players and teach her players to be defensive stoppers.
Senior guard Aysia Evans is one example of that, and even she admitted that when entering the program, she wasn't the defensive force she is now.  
"I like picking people's pockets. That's what I do," Evans said.
Six years of this mind-set led to arguably the team's best season in program history last year: a 24-8 record, a tie for the most overall wins, a Sun Belt Conference championship and a first-ever postseason victory for the Lady Mavericks.  
They've carried over that mentality, engraved in the team's motto "Defend," taking over last year's "mountain climbers." 
Last season, UTA climbed the mountain and reached the summit. Now the team is defending its summit.
This season, UTA currently has the best scoring defense in the league, holding opponents to 59.4 points-per-game. Solidly in third place in the Sun Belt standings, UTA's defensive identity is a key part of its recent success.
Defense was integral in UTA's two wins against reigning-conference champion University of Arkansas at Little Rock. In both wins, the Lady Mavericks out-rebounded the Trojans and held them to under 39% shooting.
Gerlich's ideals also came to light when UTA faced Georgia State on Feb. 27. The team's offense didn't click into gear but its defense helped lock down a 58-32 win for the Lady Mavericks. That game saw UTA hold the Panthers to a season low 32 points and held them scoreless in the fourth quarter.  
It doesn't always pan out in UTA's favor, such as in its two losses to Coastal Carolina University. The physically dominant Chanticleers outshot the Lady Mavericks in both meetings and had nearly double the rebounds in their 80-62 win over UTA on Feb. 8.
Evans said the Lady Mavericks have learned to readjust when their defensive play doesn't go their way, whether that's tweaking their defensive scheme or revamping the offense to counteract it. Evans is a big believer in the mind-set that defense wins ball games.
Ferrell said there is an inherent difference between men's and women's basketball — men tend to be flashy and offensive while women focus on the fundamentals and defensive aspect of the game. Defense, however, can be universal.
"The Golden State Warriors, for example, they were a big-time offensive team," she said. "It's fun to watch, but then you saw Kawhi Leonard and Toronto — their defense is what won them the championship last year."
Heading into the final stretch of games this season, Gerlich said UTA will focus heavily on its defensive game plan to grind out results. If the team can hold opponents to around 55 points or less, the Lady Mavericks can improve their chances of winning.
UTA can also use its offense as a way to defend by sharing the ball well, managing time and sinking shots to limit the number of an opponent's possessions.
"Sometimes our offense is our best defense because we're disciplined and take care of the basketball and don't turn it over for easy buckets," she said. "If we can score, then we can set our defense."
@_julio_vega