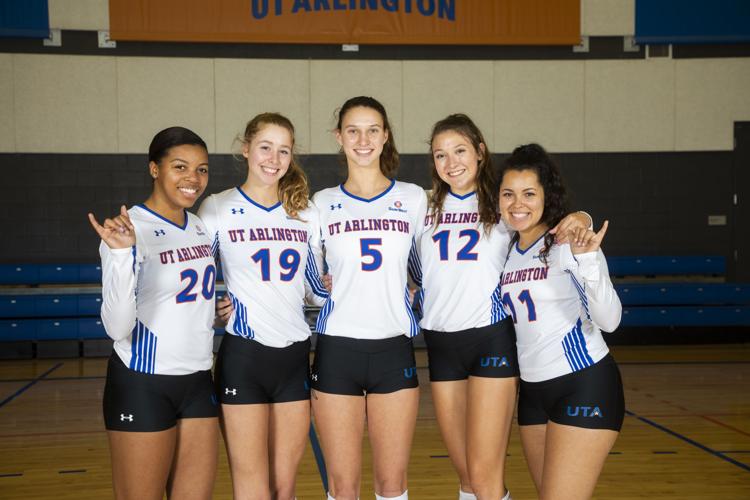 With the fall semester in full effect, five volleyball freshmen are learning to soar on the court and in the classroom.
To get acclimated to college life, the players were enrolled in a couple of summer courses. But with start of the fall semester, thousands more students roam campus making things a little more crowded.
"I really feel like campus life is too chaotic," freshman defensive specialist Jordyn Sinnette said. "I'm used to, like, five people walking down the sidewalk and now it's like everyone is here."
Now with classes underway, freshman setter Kylee Kapp said everything has been about trying to balance her social life with all of her responsibilities.
From early morning classes to volleyball practice and mandatory study hours, Kapp's daily schedule is a hectic one, she said. Between balancing her academic and athletic schedule, Kapp said one of the more stressful things is remembering due dates.
Like most freshmen, the players still get to experience dorm life.
"At first I was like, 'Ugh, I have to share a dorm with someone, like, I really hope I don't get tired of them,'" freshman outside hitter Brooke Townsend said. "But I room with Kylee and she's one of the greatest people I've met here."
When it comes to on-campus living, freshman outside hitter Addie Ashton said it's great having everyone close because if she ever wants to hang out, it's an easy, quick walk to their room.
Unlike most of the Texas-native recruits, Ashton is a long way from home — more than 900 miles to be exact. Although she had to part ways with her family back home in Indiana, Ashton said she believes experiencing a new culture and atmosphere is important to life.
Ashton said being introduced to a new environment has taught her about the culture of Texas and how welcoming everyone is at UTA.
"People are just super welcoming and friendly here," Ashton said. "It's definitely a southern hospitality kind of thing."
Every incoming freshman on the team received all-district honors at some point in high school. Head coach J.T. Wenger said although there is a big jump in talent and the level of play from high school to college volleyball, the players are learning to adapt.
"It's faster, higher, so there's always an adjustment period, but I think they're handling it well," he said.
With the team returning eight veteran players, the number of newcomers outweigh the returners by two; there are a total of 10 newcomers, which include four transfers, five true freshmen and one redshirt freshman.
"It's real competitive," Wenger said. "We have a lot of spots in the program right now where people are neck and neck."
Wenger said when it comes down to the match, he's not thinking about what year the players are; he's thinking about who has been performing in practice.
Even though the freshmen have a long battle ahead, they still recognize how far they've come.
"Getting to a D1 school is challenging with being a student-athlete and everything," Kapp said. "But it's really great to accomplish a goal that you've had for your whole life."
@Saint_Dallas