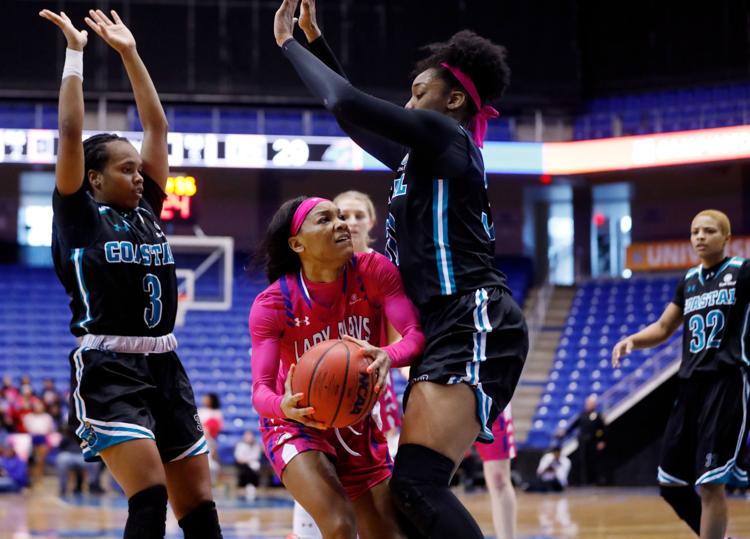 A physical contest from start to finish, the women's basketball team (13-10, 7-4) fell 80-62 to Coastal Carolina University on Saturday at College Park Center.
While the first quarter of the game was contested, Coastal Carolina's physicality and clinical shooting ended up being too much to handle for the Lady Mavericks throughout the afternoon.
Head coach Krista Gerlich said the Lady Mavericks matched the Chanticleers' physicality in the first quarter, as they took an 18-16 lead into the interval. Early fouls for some key UTA starters dwindled away some of the intensity, Gerlich said.
"I would credit Coastal with just continuing to just go right at us and just crashing the boards," she said.
But Coastal Carolina held UTA to only 11 points in the second to take a 36-29 lead at halftime. Over the half, UTA failed to convert chances at the charity stripe, missing 11 of their 19 chances at the line, while the Chanticleers made 21 of their 31 chances.
The free-throw line stat and rebound comparison — 35 rebounds for UTA to Coastal Carolina's 61 — were the only real anomalies in the game, Gerlich said.
Senior guard Aysia Evans was one of the few bright spots for the Lady Mavericks, totaling a game-high 24 points and four steals. Her drive kept UTA somewhat competitive even as the game slipped away.
UTA was punished by Coastal Carolina's senior duo, guard DJ Williams and center Naheria Hamilton, throughout the afternoon. Both earned a double-double, with Hamilton earning big boards and ending with a game-high 23 rebounds, more than double Williams' 10. No UTA player totaled more than six boards.
The Lady Mavericks did claw back the deficit early in the third quarter, but the Chanticleers took over and outscored UTA 25-15. A trio of 3-pointers from Coastal Carolina's senior guard Caitlin Roche brought her up to 17 points and killed UTA's momentum to get back in the game.
"We can't run out of gas in the third quarter," Gerlich said.
It wasn't so much the mistakes that UTA made that cost them the game, she said, but rather diverging from their game plan and lacking the aggression on offense needed to face a physical team like Coastal Carolina.
UTA has now lost three of its last four games heading into the the latter half of Sun Belt Conference play. The Lady Mavericks will travel to Arkansas next week to face Arkansas State University on Thursday and the University of Arkansas at Little Rock on Saturday.
@_julio_vega