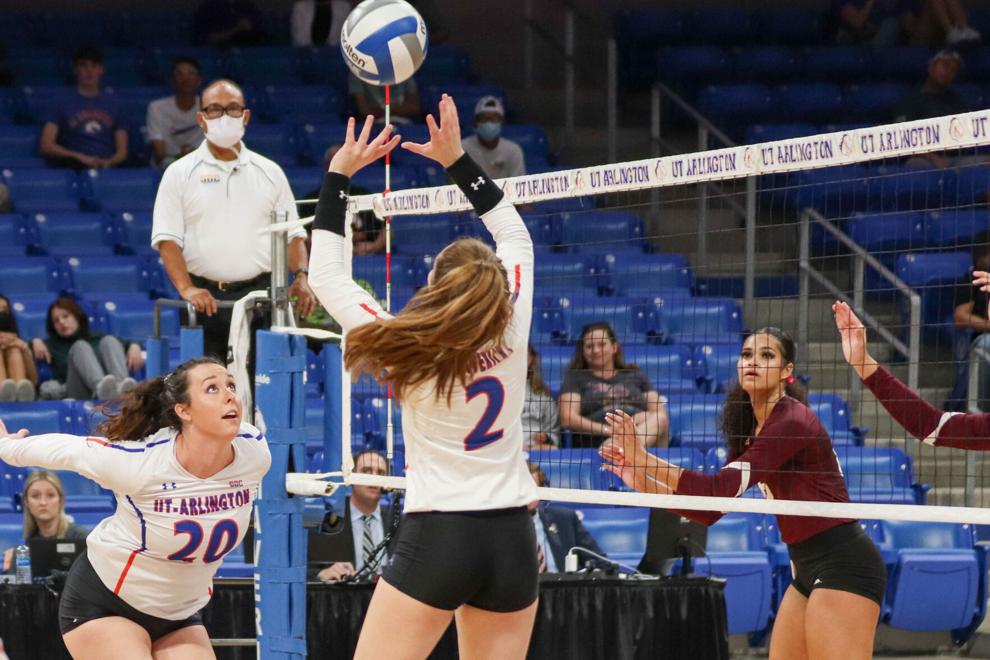 Going into the season, the volleyball team (3-12; 1-5) had their eyes set on making it to the Sun Belt Conference Tournament and beating in-state rival Texas State University.
The Mavericks had a chance to improve their record and accomplish their goal of defeating the Bobcats this week but failed to do either. UTA was unable to win a set in either of the two matches against Texas State.
Texas State 3, UTA 0
UTA controlled the match in the early stages, taking a 7-3 lead over the Bobcats that eventually escalated into a 23-21 lead later in the first set. But the Mavericks were unable to close out the set and Texas State scored the final four points to win 25-23.
From that point on the Bobcats didn't look back, taking the second set 25-17 and the third set 25-15.
Freshman outside hitter Brianna Ford led the Mavericks in kills with 11, while freshman setter Mollie Blank had the most assists with 14.
Texas State 3, UTA 0
It was a balanced match throughout the first set, with the Mavericks and Bobcats tied at 3-all and eventually tied at 13-all in the middle of set one, but much like the first match on Thursday, Texas State separated themselves to win the first set 25-21.
Texas State continued to pick apart the Mavericks, scoring the first five points to begin set two and eventually winning the set 25-18.
The final set of the match started out much like the first. The Bobcats and Mavericks were tied at 13-all, but at the end of the day Texas State found a way to close the match out and win the set 25-23.
The trio of outside hitters Brianna Ford, junior Brooke Townsend and sophomore Devon Martinka each led the team with seven kills.
Head coach J.T. Wenger expressed confidence in his team's abilities and said he sees potential going forward into the next five weeks of the season.
"We're trying to keep getting better every week. I think this team has enough pieces to grow enough in the next five weeks to be prepared for the conference championships," Wenger said.
It's all about getting hot at the right time, he said. He feels his team is capable of making it to the conference tournament and winning four games in a row.
UTA returns to action at 6 p.m. Thursday against Arkansas State University at First National Bank Arena in Jonesboro, Arkansas.
@D_Tineo4