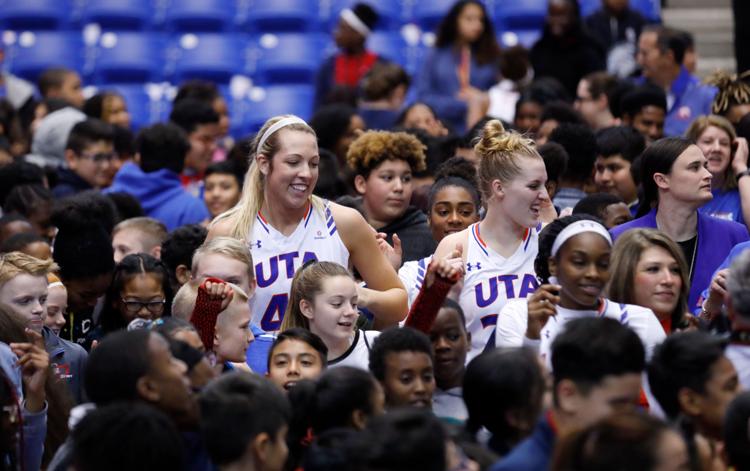 Claps and roars flooded the atmosphere as Kids Day took over College Park Center on Thursday afternoon. About 5714 students were present to witness the women's basketball team (10-7, 4-1) defeat the University of Louisiana at Lafayette 79-52.
With thousands in the crowd, noise became a troubling factor for Louisiana early in the game, allowing UTA to establish an advantage.
The high pitch of kids yelling as Ragin' Cajun players attempted to shoot a free throw was deafening across the arena.
Head coach Krista Gerlich thanked the crowd for their support after the game and welcomed the kids to join the team on the court for a postgame celebration. The court filled up with students, kids, and players; the celebratory scene was one of remembrance.
"Maybe I should apologize to the CPC staff, too, for inviting all the kids down to the floor," Gerlich said jokingly after the game. "My bad."
Senior forward Marie Benson, who led the team with 30 points, said she was prepared for the loud environment.
"We practice with a whole bunch of noise," Benson said. "Communication was a whole lot easier."
Gerlich said UTA came in with a game plan that exposed Louisiana's four-guard offense.
"We wanted to do a better job of just kind of owning it, either scoring or [getting] fouled," Gerlich said.
UTA was aggressive from the tip, leading Louisiana by seven points at the end of the first quarter. The Lady Mavericks attacked the inside, scoring a total of 48 points in the paint.
"That was probably our most complete game that we've played all year," Gerlich said.
The Lady Mavericks led 32-22 at the break, then doubled their lead in the middle of the third quarter and dominated until the finish.
"We executed the game plan," Benson said. "Attacking their post, being physical and just being aggressive throughout the whole game."
UTA will be in action again versus the University of Louisiana Monroe at 2 p.m. Saturday at College Park Center for Dallas Wings Day.
@OlmedoAEO