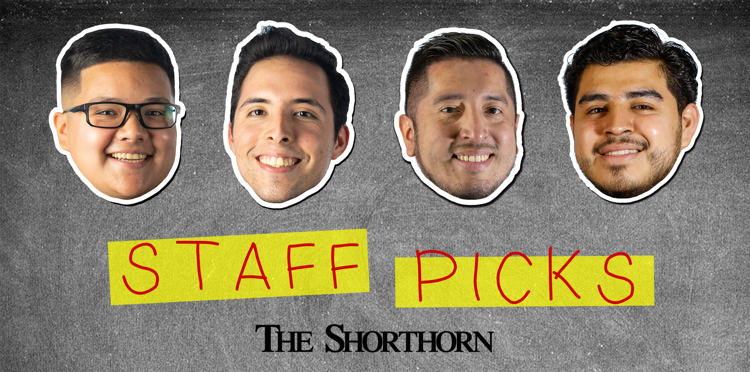 The Shorthorn sports desk introduces: staff picks.
Each week, sports editor Arianna Vedia and sports reporters Chris Amaya, Alonzo Olmedo and Julio Vega along with a guest staff member predict matchup outcomes within the Sun Belt Conference's men's and women's basketball teams.
This week's guest is news reporter Brayden Garcia.
MENS
BASKETBALL
FEB 26-28


Chris Amaya

Alonzo Olmedo

Arianna Vedia

Julio Vega

Brayden Garcia
Louisiana*
vs. Arkansas State
Little Rock**
vs. Louisiana Monroe
Georgia State*** vs.
Georgia Southern
UTA*** vs.
Texas State
Game played on: *Feb 26* | **Feb 27** | ***Feb 28 ***
WOMENS
BASKETBALL
THU FEB. 27


Chris Amaya

Alonzo Olmedo

Arianna Vedia

Julio Vega

Brayden Garcia
Texas State vs.
Georgia Southern
Coastal Carolina
vs. Louisiana Monroe
Appalachian State
vs. Louisiana
UTA vs.
Georgia State
Arkansas State* vs.
Little Rock
Game played on: *Feb 28
MENS
BASKETBALL
SAT FEB. 29


Chris Amaya

Alonzo Olmedo

Arianna Vedia

Julio Vega

Brayden Garcia
Little Rock
vs. Louisiana
Appalachian State
vs. Coastal Carolina
South Alabama
vs. Troy
WOMENS
BASKETBALL
SAT FEB. 29


Chris Amaya

Alonzo Olmedo

Arianna Vedia

Julio Vega

Brayden Garcia
Appalachian State vs.
Louisiana Monroe
Coastal Carolina
vs. Louisiana
UTA vs.
Georgia Southern
Texas State vs.
Georgia State
South Alabama
vs. Troy