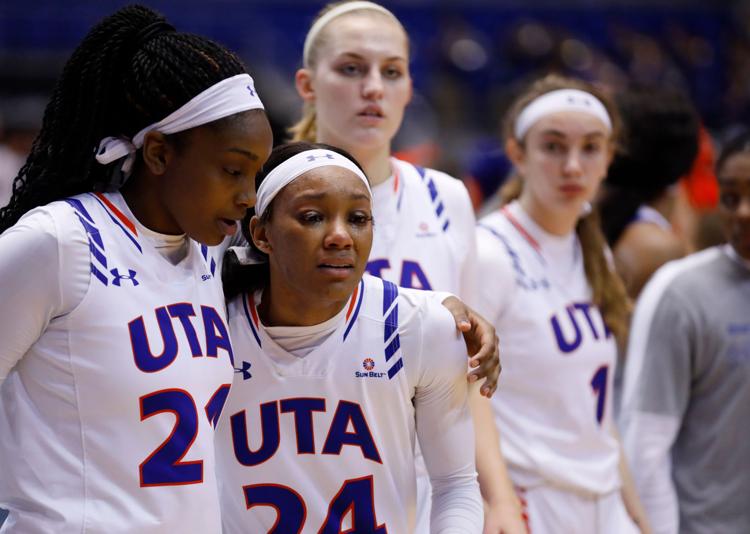 For the second year running, the University of South Alabama tripped up UTA's Sun Belt Championship hopes, defeating the Lady Mavericks 55-47 in tournament play Wednesday at College Park Center.
The Jaguars advance to the semifinal round of the Sun Belt Women's Basketball Championship in New Orleans, Louisiana, where they will face the No. 2 seeded Coastal Carolina University.
The meeting was a rematch of last year's semifinal matchup in the conference tournament, where South Alabama topped UTA 57-50. The Jaguars advanced through each round of the tournament bracket to reach the final.
South Alabama head coach Terry Fowler said his plan was to zone out UTA's offense and stifle senior guard Marie Benson, forcing UTA outside the paint and into contested shots. It worked, as Benson tallied a season-low three points, with 1-9 shooting.
"We haven't had the season we wanted, so this is our time," he said. "If we're gonna do what we wanna do, we've got to do it now."
A tense showing from wire to wire, UTA took a slim 17-12 lead after one quarter, and seemed to find its footing in the second to take a 34-26 lead at halftime.
The Lady Mavericks scored a season-low 13 points in the two latter periods. The Jaguars defended UTA's desperate offense, targeting UTA's post play, where the team shot a lowly 4-29.
UTA head coach Krista Gerlich said UTA was in control in the first half, but when South Alabama took the lead in the third period, the Lady Mavericks failed to convert key shots.
"Sometimes that can become contagious," Gerlich said of the scoring drought. "Once you start missing, it's a little bit contagious."
Senior guard Shaforia Kines played the full 40 minutes for South Alabama, racking up 28 points and going 9-10 at the charity stripe. For UTA, two guards — senior Aysia Evans and sophomore Claire Chastain — led the scoring, earning 10 and 12 points, respectively.
UTA's season ends with a 21-11 overall record, 14-4 in league play, and awaits a potential bid to the Women's National Invitation Tournament to be announced at a later date.
@_julio_vega