For the first time since 1944, the World Series is being played at a neutral site. The national event has already had an impact on the city of Arlington, drawing in fans of the Los Angeles Dodgers and Tampa Bay Rays as the two teams face off in the newly-opened Globe Life Field.
When MLB and the Texas Rangers organization announced the National League Divisional Series, National League Championship Series and World Series would take place at Globe Life Field, Arlington Mayor Jeff Williams said hosting the events would have a positive effect on the city.
"When you think about all the different jobs that will be performed to put on this event, even if fans are not here, there still are a whole lot of jobs that are going to be provided," Williams said at a Sept. 15 press conference.
Arlington businesses are benefiting from the economic boost of the event for the first time since 2011, when the last World Series was held in the city. Since 1979, UTA alumnus Randy Ford has owned J. Gilligan's Bar and Grill and has seen his fair share of major sporting events in the area.
"We have seen a lot with the [Texas] Rangers World Series. We saw a Super Bowl, which was just amazing, and of course the Dallas Mavericks, you know the [Dallas] Stars this year making a run," Ford said.
He is all for Arlington hosting neutral site championship games because the events are good for business, Ford said.
"Having this rotation of those kinds of events coming to town, whether it's a World Series, a college game, a Super Bowl or a playoff series — that is big time," he said. "When that kind of stuff happens, we do four to five times as much on one single day."
He said his bar fulfills a different niche than the larger, newer entertainment venues closer to Globe Life Field in the entertainment district, but the establishment has benefitted despite competition.
Ford said he has seen a boost of an extra $3,000 or so in sales since the World Series began last week.
J. Gilligan's had to shut down when the pandemic began earlier this year, but with the World Series in Arlington, Ford said the influx of customers feels great amid trying times.
"A bar and grill restaurant is kind of a small business. When you're sitting there, just looking at four walls and no customers, it's not a very pretty sight," Ford said. "What makes J. Gilligan's work is customers and interaction with people."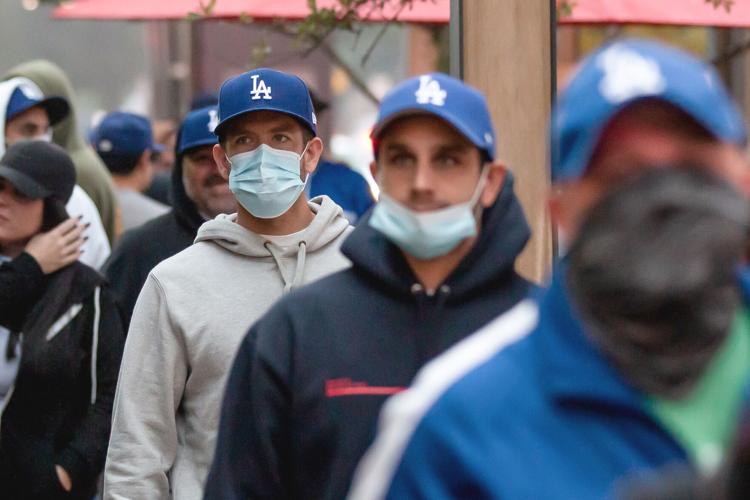 To keep fans safe during the World Series, MLB established protocols ensuring that attendees are following social distancing guidelines.
Some of the league's rules include tickets being sold in pods of four instead of individually, all seating pods being six feet away from other seating pods to promote social distancing, enforcing face coverings for fans older than the age of two and reducing touch points in the stadium by barring bags and outside food.
Despite the extra precaution at games, the World Series has attracted spectators from across the country. Fans like Stephanie Pierce from Brandon, Florida, made the trip to Arlington to take in the atmosphere of a live sporting event in 2020. Pierce, a Tampa Bay Rays fan, said she has seen people inside the stadium following the league's safety guidelines closely.
"Masks are worn everywhere, and they have announcements everywhere," Pierce said. "Most fans, as far as I've seen, have been totally [abiding] by them. It's been really cool because everyone has their team masks on to represent where they're from."
Ticket sales have been limited to 11,500, and portions of the stadium's seating have also been zip tied to maintain the integrity of the ticket pod system.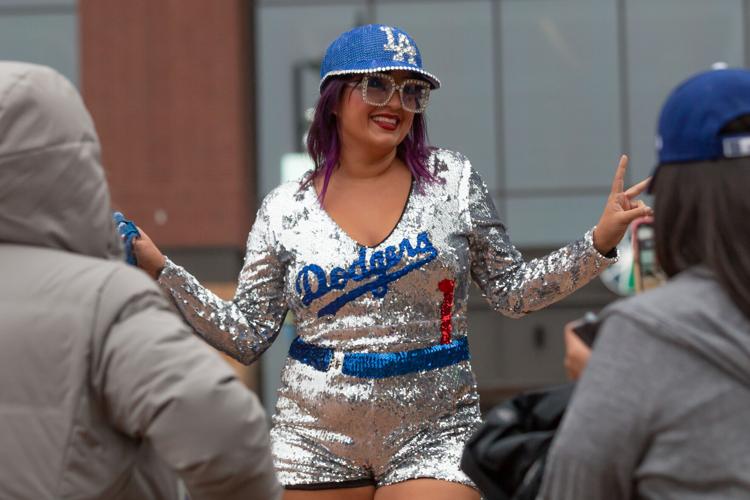 Pierce flew into the Metroplex last week with her husband and son to watch Games 3, 4 and 5 of the series.
Dodgers fan Austin Passy took a different route to the event, driving 1,500 miles from Santa Monica, California, to Arlington. To prepare, Passy booked an Airbnb a week after the Rangers and MLB announced the World Series would take place at Globe Life Field.
He requested tickets as soon as they became available to the public and weighed his flight options against his driving options. Passy opted to drive, and the trip ultimately took him, his wife, their dogs and a friend two days to complete.
"It's baseball, and it's the World Series — we're just happy to be back here," Passy said.
@c_amaya7 @JayRod003