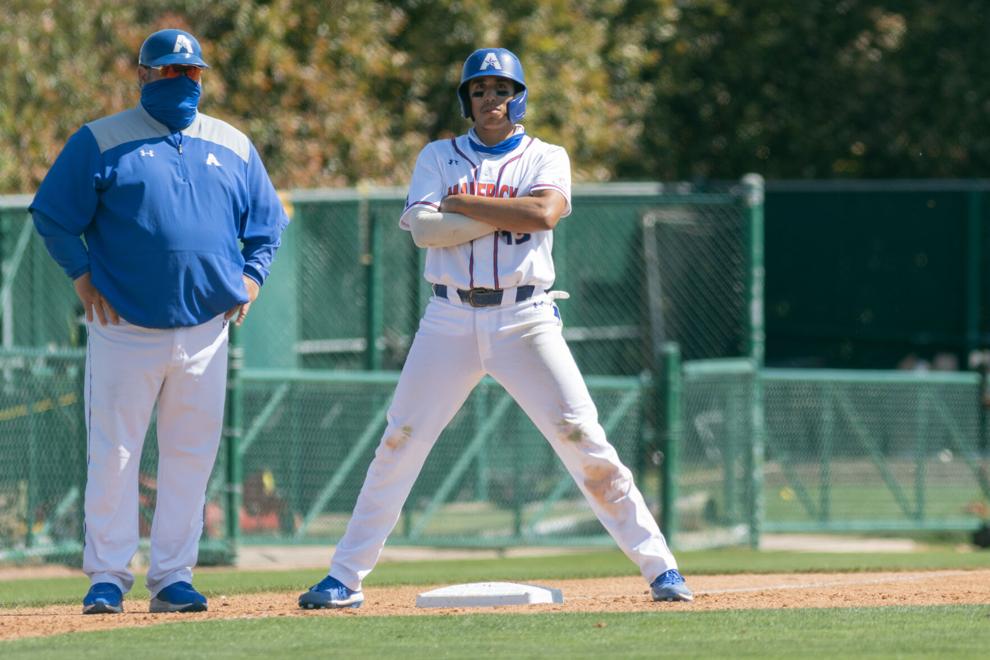 Down 12-1 in the ninth inning, baseball head coach Darin Thomas decides to give his freshman a low-stakes at-bat. Then-freshman infielder Josh Minjarez walked up to the plate, nervous and excited for his first college at-bat.
"I hit a ground ball to shortstop, routine [play], and I don't know why I had to act like I was Speedy Gonzalez," Minjarez said. "I just took off and went nowhere, I ended up tripping halfway down, I slid about five feet on my face."
The shortstop recovered from the fall and now, six years later, he's three games shy of making history for the Mavericks.
Minjarez's 228 game appearances in a Maverick uniform place him two appearances away from tying the all-time appearances record held by former infielder Darrell Preston, who played for the Mavericks from 2001-2004.
His next opportunity to break the record will be on the road with the team visiting Lake Charles, Louisiana, to take on McNeese State University in what was supposed to be a three-game series. It is now in jeopardy of only being two games because of inclement weather. He will likely only be able to tie the record.
If the series is cut short, Minjarez will likely break the record against TCU on Tuesday at Clay Gould Ballpark.
Waiting is something that Minjarez is used to. His career at UTA has been extended to six years after his sophomore season was cut short due to injury, giving him an extra year of eligibility. Then, the NCAA allowed schools to give spring sport athletes an extra year of eligibility after COVID-19 shortened the 2019-20 season.
Senior first baseman Dylan Paul calls Minjarez "his boy." They met six years ago during freshman orientation at UTA.
Paul ended up going to Seward County College, spending three years in that program before transferring back to UTA in 2019 as a junior.
As for their relationship, Paul wholeheartedly believes Minjarez is the face of the program and has been a leader for the past six years.
"[Minjarez] stuck there for six years, through injury, through coming back this year from the coronavirus," Paul said. "It says a bunch. It says a lot about the type of person he is, how hard he works. Everybody respects him."
Paul and Minjarez spend a majority of their time together, mostly because of their infield positions, which helped their relationship grow on and off the field.
"We always work in the same group [infield]," Minjarez said. "Most of my career I've thrown to him at first."
Looking back to before Minjarez's career at UTA, Thomas wasn't originally scouting or recruiting the shortstop.
"I went to see somebody else play. [Minjarez] caught my eye," Thomas said. "He's been everything and more than we could ask. I had no idea he played that good of shortstop that he's played and obviously had no idea he'd be here this long."
Thomas looks for grit and toughness in his players and said those are characteristics found in Minjarez's game.
"He's been tough," Thomas said. "Because I know there's a lot of injuries I never knew about, that he probably had that were bothering him. Never one time in six years has he come in and said 'Hey man, I can't play.'"
Minjarez brushes off the notion that he's any tougher than his teammates — he said he just wants to be there for his band of brothers.
"We deal with stuff, we're banged up. Yeah, if we went to the doctor, we probably have something wrong with us," Minjarez said. "It's about being there for your teammates and playing for your guys."
Thomas said he might "mistakenly" write in Minjarez's name in the lineup card next season.
"He's a UTA guy through and through. It'll definitely be odd if he's not in there," Thomas said. "I love him to death, and I'm going to miss when he's not here, but I'm going to enjoy the rest of the year that he is here."
Minjarez hasn't stopped to think about his career yet, but he does know he's incredibly lucky to have had the career and record he is on the cusp of breaking.
"It makes you feel blessed," Minjarez said. "I've gotten the opportunity. A lot of kids don't get the opportunity to play one game, and I've played six years."
@sportsestrada