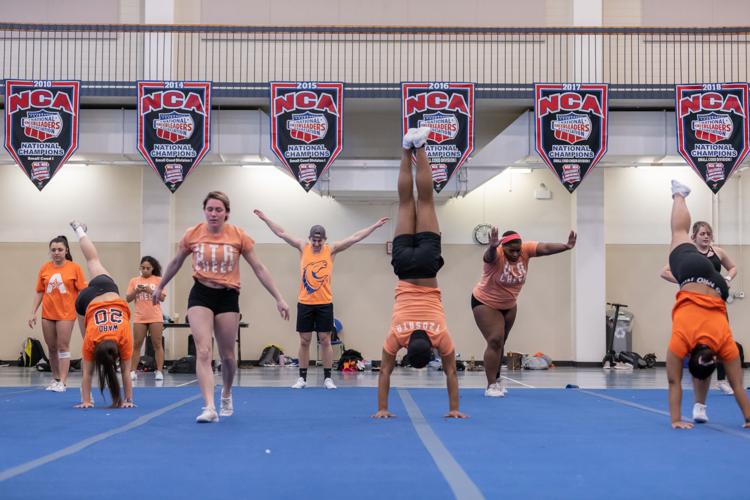 The National Cheerleaders Association Collegiate National Championship was canceled Sunday, putting an end to six months of practice and a shot at a seventh national title for the UTA cheer team.
The Collegiate National Championship is held annually in Daytona Beach, Florida, but this year's event was canceled after the Centers for Disease Control and Prevention's latest recommendation to cancel or postpone events with 50 or more people for the next eight weeks.
Music industry sophomore Shelby Stone heard about the news through social media and couldn't believe that the event had been canceled. It didn't seem real, she said.
Trey Beaty, assistant spirit coordinator and head cheerleading coach, also heard that the championship was canceled through social media. Having to inform his team of the news through GroupMe was unfortunate, he said, but he wanted to let them know as fast as he could.
Beaty told his team that he was proud of them and all the hard work that they put in throughout the whole season.
"I do feel bad for seniors. This is their last time to go out on the floor and perform," he said.
This would have been Stone's first collegiate championship, but now she'll miss out on the chance to experience the energy in the Daytona Beach Bandshell, along with the bonds that are formed during the trip.
"I don't even know what I'm missing out on," she said.
Beaty said the cancellation was upsetting, but he was prepared for the inevitable.
"I have a lot of respect for these athletes that are seen on the sidelines, being ambassadors for the school," he said. "This is the one thing that they get to do for themselves, and it's unfortunate that they're not going to get their moment to do what they practice all year for."
@elias_valverde