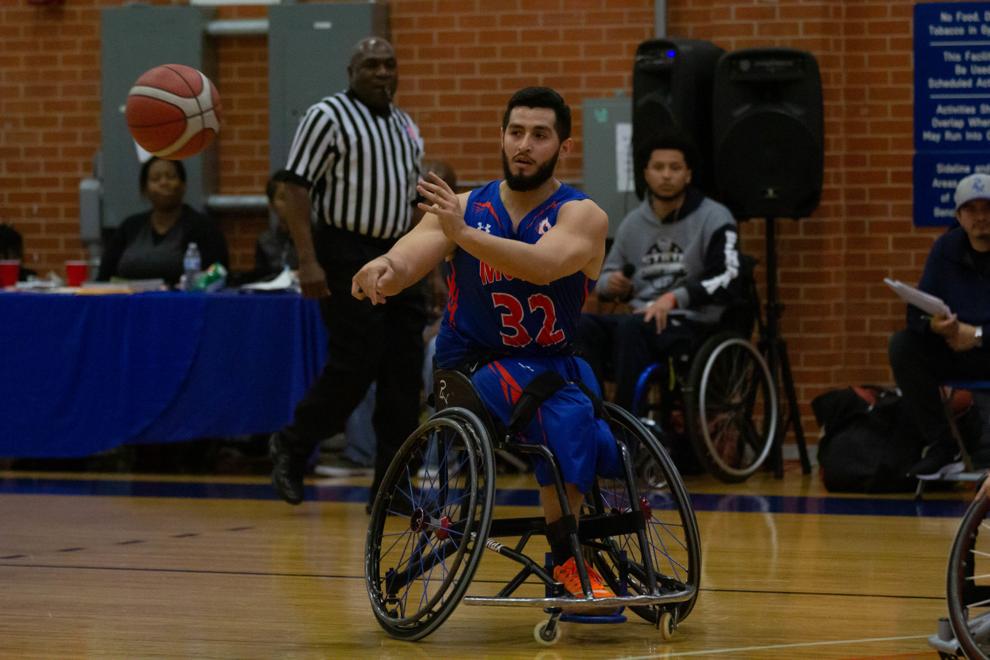 On Friday, three members of the Movin' Mavs took the court for their last home tournament at the Physical Education Building.
Graduate student Antoine Gray and seniors Fabian Romo and Adryan Powell led the Movin' Mavs to an 89-48 victory over the San Diego Wolfpack to kick off the 2020 Dallas Wheelchair Mavericks Invitational.
The team's veterans made their presence felt in many ways on the court. Romo had one of the biggest impacts, scoring 36 points with 24 of them coming from the 3-point line.
Romo said the thought of playing his last home games at UTA hasn't sunk in for him yet.
"Slowly but surely. Personally, I don't really want to think about that right now," Romo said. "It is great that we're gonna have this opportunity to play these last couple of games here because man, time flies."
Romo's 29 points, paired with Gray's defensive effort in the first half, helped the Movin' Mavs take a controlling 57-22 lead heading into the halftime break.
Head coach Doug Garner said the veterans' greatest impact can be seen in the team's work ethic and intensity every time it touches the court. Friday's game against the Wolfpack is an example as the team got off to a quick start, never relinquishing the lead throughout the contest.
"That's what we want to be able to do, come out and start like that," Garner said. "Like when we went to [the University of Wisconsin-Whitewater] and won nationals, by the end of 10 minutes you got the stands quiet. That's where we want to be."
In his four years with the program, Gray said this year's team is one of the closest he has gotten to work with. The camaraderie and chemistry stand out to him.
"We're gonna fight for each other, we're gonna lift each other up," Gray said. "There's no negativity, there's no over-criticism. It's all constructive criticism."
After Friday's win over the San Diego Wolfpack, the Movin' Mavs will play three games in a span of two days. A motivating factor for the team is keeping its undefeated record intact, Garner said.
"I can't remember the last time there was an undefeated men's team here," Garner said. "That's what we're going for."
The Movin' Mavs will open day two of the tournament against the Miami Heat Wheels at 9 a.m Saturday at the Physical Education Building.
@c_amaya7