The Shereka Wright era is off to a winning start.
Wright and the women's basketball team opened their season with a 74-45 victory against Texas A&M University-Commerce on Wednesday at College Park Center.
With the win, the Lady Mavericks extended their season-opening winning streak to five games and their winning streak against Texas A&M-Commerce to 11 games.
"I love streaks. You want to continue, you don't want to be the coach that breaks it," Wright said. "I just give credit where credit is due. Those kids went out there, and they responded, and they got that."
The Mavericks were led by senior forward Bre Wickware, who picked up her first double-double with a career-high 21 points and 10 rebounds.
Junior forward Emma Halverson said she was excited to win this game for Wright.
"It's obviously a big deal for her first game to come out and have us perform that well," Halverson said. "She got us right on track, so I'm really proud to win for her."
Halverson and junior forward Shyia Smith had the Lady Mavericks off to a hot start, combining for 18 points in the first half.
Though the Lions trailed for most of the half, they kept UTA on its toes.
UTA had amassed 15 turnovers by the end of the first half but outrebounded the Lions 25-16 and shot nearly 50% from the field.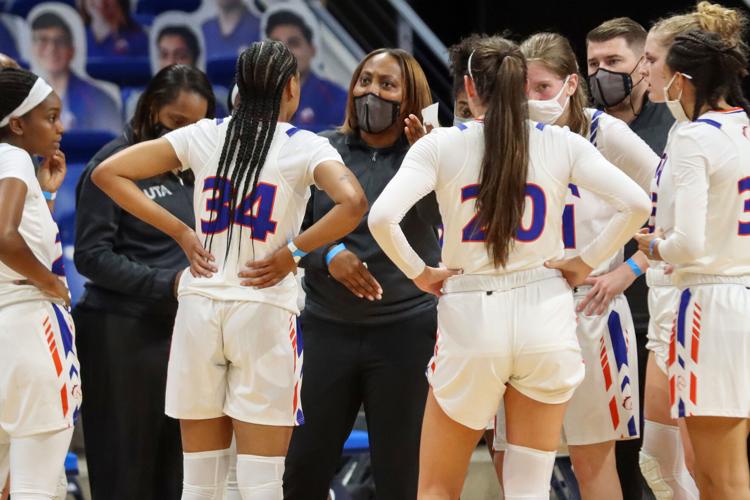 Wright said the team just got too comfortable and allowed A&M-Commerce to tie the game.
"I just challenged them in the second half. There wasn't a lot of yelling. We're a straightforward team, I'm a straightforward coach," Wright said. "The challenge of the second half [was] to throw the ball inside to establish our inside game, and I think our kids did that."
Wickware scored 8 of the team's 12 points in the third quarter. After that, the Lady Mavericks were able to lock the game in, extending their 15-point lead to 25 by the back end of the fourth quarter.
Halverson said the team came out shaky in the first half but pulled its energy together to finish off the game.
"As the game went on, for me, I noticed my teammates' energy pick up a lot, their confidence went up," Halverson said. "I think that we crashed the boards better."
UTA outrebounded the Lions 56-34 and had 16 offensive rebounds on the day. Halverson said if the team can get more second chance opportunities, they can close out games sooner.
The Lady Mavericks are set to play two more home games this upcoming week, the first coming against Midwestern State University on Sunday and Rice University on Dec. 2.
@JayRod003