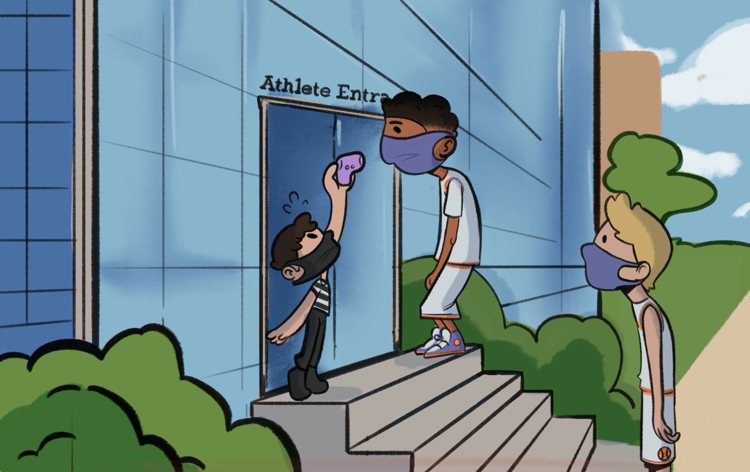 When the volleyball team released its schedule last Thursday, the UTA athletic department announced that fans would be restricted from College Park Center.
Keeping everyone within the department safe is the main priority for athletic director Jim Baker. He and the rest of his staff came together to create safety protocols for their athletes and the people around them.
"We have a cleaning crew come at night, we wipe everything down, we made our footprint smaller," Baker said. "They don't take showers, they don't get dressed here, they come and do the workouts in small groups, and then they leave."
Limiting where players can go and how often they can touch things can help make things easier, according to Baker. The department has slowly moved forward in allowing full group practices since the protocols have been in place.
Over the past six weeks, Baker contemplated the decision to restrict fans with executives from the arena, taking into account what the Sun Belt Conference wanted its member schools to do.
A decision on fan attendance for winter sports like men's and women's basketball hasn't been made yet. The status of the virus will be a deciding factor on fan attendance and whether the start of the season will be pushed back.
"We're going to see how the climate is. First off, the NCAA may push the start of basketball season back," Baker said. "We're waiting to see that, and that may be December, who knows, another week in November."
Jeff Davis, executive director for UTA Special Event Facilities, is helping make the arena the volleyball team plays in a safe zone by creating protocols to help players, coaches and staff.
"From our standpoint, all of our staff that come into work will go through a health screening protocol. There will be a health questionnaire, screening questionnaire for any staff that are working an event," Davis said. "There will be temperature checks for all staff, all staff will have the appropriate [personal protective equipment], whether that's [a] mask, or mask and gloves, depending upon what their role and position is within an event."
A major part of the protocol for arena staff is cleaning and sanitizing all high contact areas and major areas of traffic at the venue. Davis said the custodial efforts will be more thorough in all phases of an event.
Event staff will have a designated area, and an EMT will be on site conducting evaluations, according to Davis. Anyone on staff who has tested positive will have to self-isolate for a certain amount of time, and they will have to follow the university's coronavirus protocol for contact tracing to see where the infection started.
The decision to restrict fan attendance at volleyball matches will have an effect on some of the arena's staff. Davis said in an email that since the season will be broadcasted on ESPN+, much of the production crew will still have the opportunity to work. Guest relations and crowd management team members won't have the same opportunity as everyone looks to maintain a "bubble-like" scenario for the athletes and staff, Davis said.
Roy Rudewick, associate athletic director for sports medicine, has implemented some of the "bubble-like" protocols for athletes, coaches and staff. He manages all testing and where the tests go for results.
The department is using the North Texas Genome Center on campus, and as of Aug. 22 every single student-athlete, staff member and coach has been tested, Rudewick said. "We started this process on July 19 with the two [basketball teams] and then the next Monday with [the volleyball team] on the 27th."
Another round of testing including the volleyball and basketball teams took place on Aug. 10.
"The idea behind this is to create a clearing house," Rudewick said. "So that we know we are starting clean, and that way if we have any setbacks, we can trace it back."
The most concerning issue is having asymptomatic cases. Rudewick said making sure all players are clear makes the spread of the virus less of an issue to worry about. Making sure the athletes try and stay self-isolated can be difficult.
For now, the volleyball team is set to start its 2020 campaign against Arkansas State University on Sept. 25.
Baker said that the department couldn't test everyone who would enter the arena on match days. Even though face covering protocols are in place, the best chance to keep everyone safe is by not having the fans at matches.
"We just felt that going into this season with the uncertainty with the rises, the rise of cases in Tarrant County, we wanted to give our girls the best chance to play a full season," he said.
@JayRod003