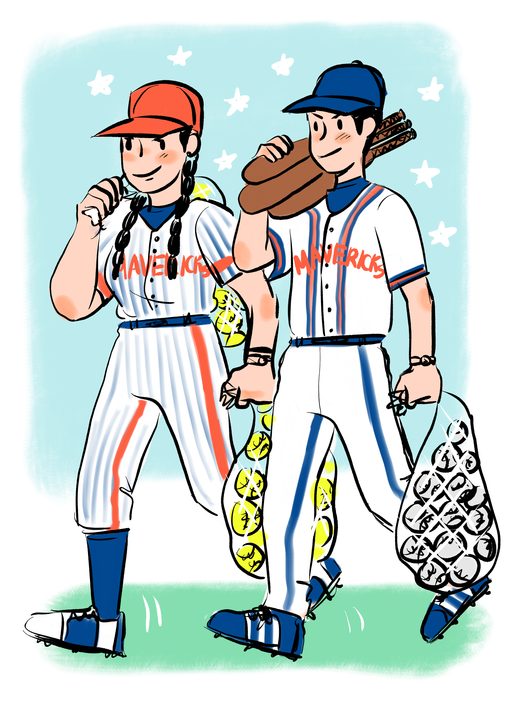 There are several positions that help an organization succeed on and off the field. During these unprecedented times, some say student managers don't receive enough attention.
Student managers assist a team and its staff by handling and organizing equipment for games and practices.  
The position not only brings them closer to the game, but can benefit the students' academic success by helping them pay for tuition and fees.  
Sophomore student manager Maddie Stephens said being a manager this year has been different than what she expected because of COVID-19 and the regulations that changed the way that many programs work this season. 
Even with those regulations impacting her normal day-to-day duties, she still helps out in many ways.  
"We have a lot more regulations when it comes to sanitizing everything," Stephens said. "I basically set up practice before, help clean up, and help throughout practice, like throw [batting practice] and catch bullpen."  
Catching bullpen is nothing new for Stephens — she was a catcher at McLennan Community College in 2020 before transferring to UTA and taking on her new position as a student manager. 
Stephens said Chris Berry, her softball coach at McLennan, helped her out by reaching out to Peejay Brun, UTA softball head coach.
"He talked to coach Brun and found me a position, and so I just accepted it," Stephens said.   
Brun said having Stephens as student manager this year has been awesome because of the experience she's had around the game.  
"It was really easy because [Stephens] understood what expectations are with the position," Brun said. "Managers in general are just so helpful to the program." 
Even with the pandemic halting Stephens' traveling with the team, she still helps them prepare for the road by packing cameras and making sure they have extra materials for doing laundry, just in case. 
Her duties while helping the team at home are similar, with the added task of helping with scorebooks, Stephens said. 
She is dedicated to her craft, showing up an hour early for each home game and staying an hour after.  
"It is a lot of work," Stephens said. "It is a long time being here at the field, but at the same time, all the players and coaches make it, just, exciting for me to be here."  
Brun said having uniforms and equipment organized is a standard that Stephens has upheld. She appreciates the work that Stephens does behind the scenes and the care she puts into her craft. 
"I get very picky with uniforms as to how they're being washed, how they're being taken care of, that's just pride and joy," Brun said. "She cares too, about what the players look like, so having a manager like that, it really changes a lot." 
Sophomore baseball manager Jonathan McNair hasn't had to adjust too much because of his experience with being a part of the team last year before the pandemic canceled the season. 
"So far it has been a blast," McNair said. "Doing this allows me to be in the locker room a lot, and all of our guys work hard, so they're in the locker room a lot as well. That means I get to hang out with them a lot, get to know them more than I already do." 
Aside from being able to spend time with the people he enjoys, being a manager for the team has its benefits. Something that intrigued McNair was that this job took care of some of his school expenses.  
"[Thomas] called me, and said 'Hey would you like to do the laundry and the equipment managing,' and I said yes," he said. "Before I even asked, he said it would pay for my books, tuition and fees, and that is honestly such an irrefusable offer."
Preparation is vital for a student manager, as they have to get uniforms and equipment ready for games every other day, sometimes even back to back and prepare for three-game series on the weekends.  
For McNair, preparing for a three-game series every week comes down to organization, which is something that he has improved on since the beginning. 
"You do have to sort out a lot of jerseys at once, and basically your workload triples, and the key is to have the correct numbering," McNair said. "Once I got that under control, it was smooth sailing from there."
At the beginning of the season, many programs across the country struggled to adjust to the COVID-19 guidelines, but for McNair and the baseball team, it has not played as big  a factor. 
"If you look at the cases that we had in the spring, we've been outstanding as far as COVID," he said. "Adjusting to the guidelines wasn't hard based on the success we've had." 
The team's success has been important to McNair since the beginning, and he looks forward to seeing the Mavericks achieve greatness in conference play. 
"I'm still extremely invested in the team and their success," McNair said. "What I'm really looking forward to is conference play, the conference tournament and seeing how that plays out. So I'm really excited." 
@ed_t0var