Toward the end of May, the U.S. Olympic Committee paired with NBC Sports Network to search for the "Next Olympic Hopeful." Thousands of applicants tried out, but only 100 made the first cut.
The 100 contestants were divided into four sports: rugby, bobsled, skeleton and track cycling.
With help from a few kinesiology students, environmental science senior Tyler Cobbs was among the 25 track cyclists chosen to train at the U.S. Olympic Complex in Colorado Springs.
"When I first got the email, I didn't really pay attention to it," Cobbs said. "It wasn't until a friend forwarded me the email and said, 'Hey, they're looking for sprinters. You're a sprinter.' So, I gave it a shot."
In track cycling, a sprinter is usually the person who puts out the most power. To test his power, Cobbs underwent a watt test conducted on what looks like a stationary bike, but has specific measurement tools to track power output while a person's riding.
Once chosen, Cobbs set off to Colorado Springs, where he trained for five days. Although he didn't like the presence of cameras and microphones, he said he put it all behind him, because his mind was set on a shot at the 2020 Tokyo Olympics.
"It would be pretty cool if I made it to the Olympics," he said. "Getting paid to ride a bike is kind of the dream. It's just what I love to do, I've lived most of my life on two wheels."
Following a series of tests, eight winners were chosen, a male and female from each sport. While the winners are unknown, Cobbs said his next focus is on conquering collegiate track cycling whether he makes it or not.
"I just want to get a lot better and just conquer the collegiate series," he said. "We'll see if that's going to happen or not. You can always say you're going to, but there could be somebody way better, which I'm hoping there is because I like a challenge."
Aside from his Olympic aspirations, Cobbs is also part of the UTA Cycling Club. Founded in spring 2016, the club is set to debut competitively this fall, Cobbs said.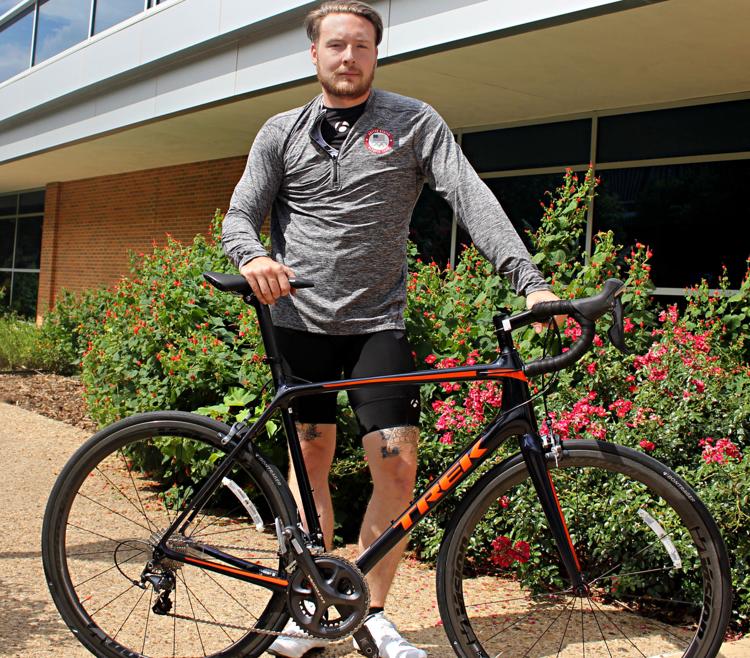 While he searches for more members, operations management junior Jamy Vogel said he supports the members who are new to riding and encourages more people to join.
"Riding is definitely a social event," she said. "Even if you are a better or faster athlete, it's not fun for the other athletes to get left behind. He's very good about staying with people and helping them out with their bikes."
Before he joined the team, Cobbs participated in any and every sport involving a bike, including mountain biking and road and track cycling, which can both be slightly dangerous, but not as much as BMX, he said.
Cobbs broke his left wrist five times, tore every ligament in his right ankle, lost a few teeth, tore a few back ligaments and broke several fingers, but he never suffered a head injury.
"I tend to fall gracefully and then just break my left wrist, but most of those injuries are from BMX," he said. "Road biking is kind of safe unless you get hit by a car. I've been hit by a few, but nothing serious."
From sport to sport, Cobbs and his father, Larry Cobbs, learned the difference between a cheap bicycle and one of good quality is tremendous. At one point, Tyler Cobbs said he used to ride a $5,000 mountain bike around campus.
"Sometimes, I'd just take off the wheels and leave the rest of the bike there," Tyler Cobbs said. "No one's gonna take a bike without wheels, like what are you gonna do? Walk around with it?"
"Scouting Camp — The Next Olympic Hopeful" is scheduled to premiere 8 p.m. Aug. 25 on the NBC Sports Network.
"I want to see him riding for as long as he can," Larry Cobbs said. "If he makes the team, it could change the direction of his life, and even if he doesn't, it'll still be an adventure."
@nanavedia