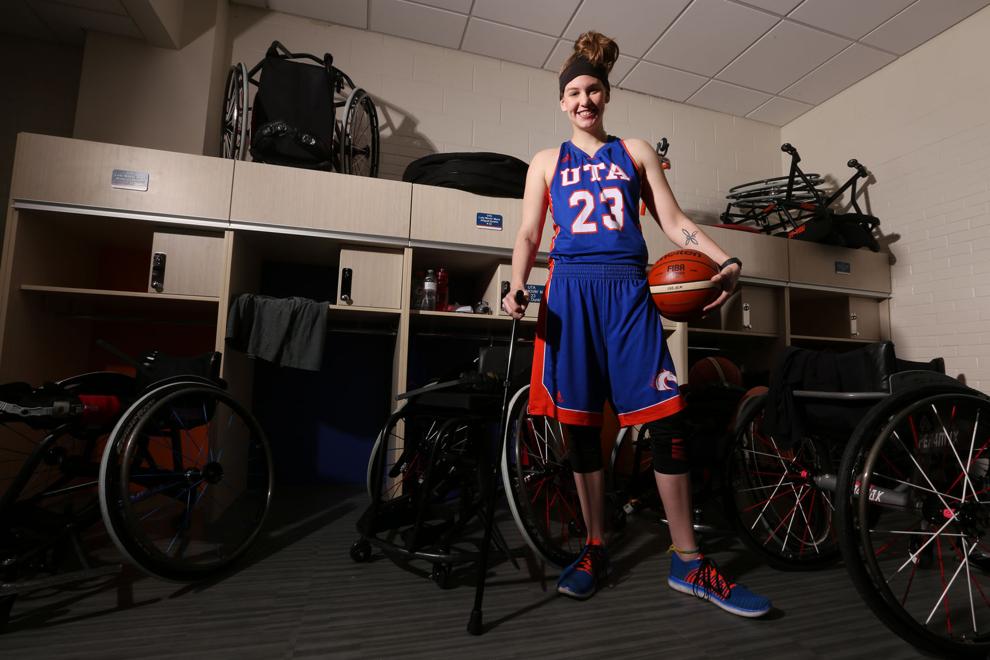 Abby Dunkin traded in her laces for spokes and never looked back. 
The Lady Movin' Mavs senior is now a two-time national champion and gold-medal Paralympian.
...
In 2009, Dunkin was diagnosed with Complex Regional Pain Syndrome, a brain disorder that tells her she's in pain when she shouldn't be, she said.
She managed through the discomfort up until she was about 17 years old. It was her senior year of high school; she was getting ready to play a game when the feel of her jersey was just too much to bare. 
Dunkin said she tried to stay away from doctors and prescription medication because she didn't like the side effects, but at that point, it was needed.
"I remember I was sitting in the corner of our kitchen one night. My head was just, like, slanted down, I was just drooling," Dunkin said. "I couldn't talk, eyes were glossed over, the whole nine."
Come February 2013, after a prior lumbar nerve block didn't go as planned, the New Braunfels native went up to North Texas for a two-week treatment. Once she got there, she was told she could never play basketball again, she could never get tattoos and she could never drink caffeine.
During week two of the treatment, everything took a turn.
The morning of February 27, 2013, Dunkin woke up with the inability to walk like she normally could, not knowing what was wrong and not knowing if she would ever set foot on a court again.
"That was a very dark time because we were desperate to find any doctor," her mother, Melissa Daughtery said. "I would spend every night until two, three, four in the morning researching, trying to find doctors that could possibly help her."
Later that day, Dunkin said she received a call from a random medical practice, asking about her doctor. Once they confirmed who her doctor was, she was told: "We've had patients come out of here in wheelchairs, you need to get out of there."
Thousands of dollars later, to hear those words, it hit her pretty hard, she said. With a difficult transition from two feet to two wheels, she went into a deep depression and struggled with addiction to pain pills.
"There was one night where I overdosed because I was just tired of it all," Dunkin said. "Ended up in the ER and realized, 'This isn't who I am. This isn't what I'm supposed to do. My mom raised me a lot better than this.'"
A few weeks later, she discovered wheelchair basketball on YouTube. She watched what would be her future teammates compete at the 2012 Paralympic Games in London. After discovering the sport, she trained with military veterans and the San Antonio ParaSport Spurs, honing her craft each day, eventually leading her to UTA.
From all of the games to all the doctor appointments and championships, Dunkin's mom has been with her every step of the way. No matter what city, state or country, she's there.
Daughtery said her favorite memory of Dunkin's career was when the two of them were on the court together with her gold medal at the 2016 Paralympic Games in Rio De Janeiro. It's one of the highlights of her life, second only to the birth of her children, she said.
While in Rio, Daughtery said she made the mistake of leaving her seat to get a better picture.
"My thing to her has always been, 'I will be with you, every step of the way, no matter what. Just look over your shoulder, and I will be there,'" Daughtery said.
When Dunkin received her gold medal, she immediately looked back to where her mom was sitting. But her mom was across the stadium screaming her lungs out, "I'm over here!"
"It was very disappointing, so she's gonna have to make it to Tokyo so that I can be there and she can look back," Daughtery said. "There are actual pictures of her looking backwards, holding her medal, looking for me, and it just kills me."
Heading into her fifth year with the Lady Movin' Mavs, Dunkin said basketball-wise, she is still in the making. She's not where she wants to be, and she hasn't hit her peak yet.
"You never hear her complain about her situation," Jason Nelms, Lady Movin' Mavs head coach said. "You just see her success. That's how hard she works."
Before her wheelchair basketball career, basketball was who Abby Dunkin was. Once that was stripped away from her, she realized she had nothing. She said now, she's not defined by a scoreboard, and she's not defined by records or basketball in general.
"What you do doesn't make who you are," Dunkin said. "Basketball is not who I am."
Now, Dunkin uses her situation and platform to share her story and inspire the younger generation of kids to not let anyone or anything bring them down.
"Her mindset is a lot different than it used to be," Lady Movin' Mav Morgan Wood said. "She taught me to be open, to go through the open doors no matter if they're, like, high risk or not."
@nanavedia