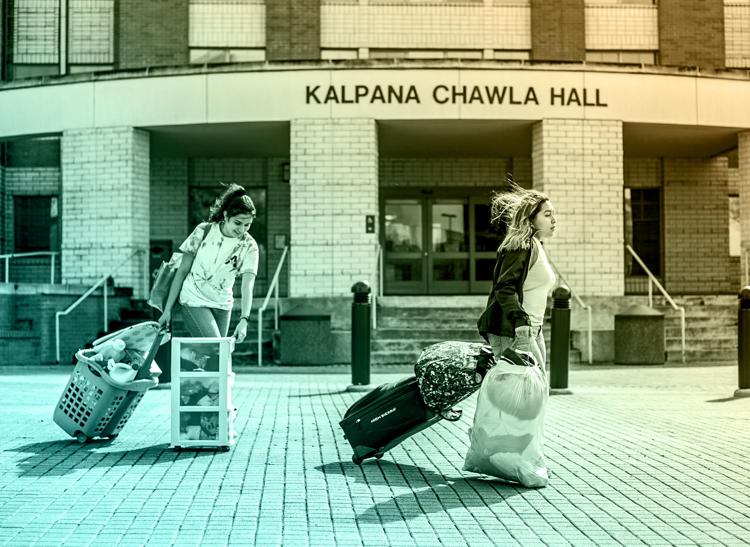 It's been two months since classes were held on campus, and The Shorthorn posed three questions to students about how they are dealing with the coronavirus pandemic.
View a selection of the comments below. Comments been lightly edited for clarity and consistency.
What do you miss most about campus?
The overall camaraderie that allowed for a flow of thoughts and ideas to be opened daily. A sense of being able to connect to people from all backgrounds and allow discourse in any lecture or at the library.
— Daniella Granados | Linguistics senior
I missed working and interacting with people face to face.
— Rama Al Taba | Visual communication design senior
Connecting with other people and getting to study on campus/use campus resources.
— Mary Kenney | Communication technology junior
Honestly, not being able to go to [the] library and have really quiet time to do homework or being able to go to the MAC.
— Jeremy Meredith | Kinesiology junior
I miss my friends and playing soccer or volleyball at the MAC!
— Jonathan Guzman | Architecture sophomore
I miss being having my own space, as well as I miss the people I could so easily see, which is not the case anymore. Diversity and kindness was always seen around campus, too, which was a definite, and positive, change from where I'm from.
— Chloe Pak | Criminal justice sophomore
Hanging out with my band family and friends. Even when I'm down, seeing them always brings a smile to my face. They are something to look forward too every week.
Spenser Moncrief | Computer science sophomore
Going to the commons to study with friends, grab a snack, and then going to the Mac for a ballet class.
— Hannah Kirby | Nursing senior
I really missing living with all my friends in the dorm. We used to get all our meals together and spend hours in the study rooms. We always had so much fun!
Liz Wilson | Nursing freshman
What is the most challenging part of this pandemic?
Finding work to pay my bills and studying at the same time.
— Ryan Jacobson | Advertising and business senior
I have family members with immune deficiencies I could be putting at risk if I go out. So I don't leave my house much anymore. I miss physical contact with other people.
— Marshall Wimberly | History junior
Adjusting to this new normal, adapting if you will, to this weird period in our life. Not knowing whcen it will end is quite discomforting.
— Kristen Lee | English literature senior
The most challenging part, I think, has been either trying to keep a positive mental state, or the financial crisis many of us are trying to survive.
— Chloe Pak | Criminal justice sophomore
My family has been hit unbelievably hard by COVID-19, so it's been really hard staying positive. I have little to no motivation for school and found it difficult to keep up with my schoolwork given my circumstances.
— Marizela Garza | Visual communication design sophomore
I'm 28 weeks pregnant and it's been really difficult navigating pregnancy during a pandemic. Nothing is normal. I'm going to doctors appointments alone and don't even know if my husband will be able to stay with me and our babygirl in the hospital after she's born. It's hard but I know I'm strong enough to handle whatever life throws my way.
Jessye Best | Journalism senior
The most challenging part was adapting to my professors new teaching styles that are over video chat because they are different than teaching in a classroom setting.
— Justin Hawthorne | Aerospace Engineering senior
It's hard being an extrovert and lacking a healthy level of social interaction. What's also difficult is that I want to accomplish things but feel unproductive because I can't.
— Aden Shank | Business senior
Having to move back home. I am immunocompromised, so I moved home and have been inside my house for over a month and a half now, and I still can't leave. The wifi at my house is very bad which makes school difficult.
Finn Mikeal Physics Freshman
What is an unexpected silver lining or positive during this time?
Thinking outside the box for ways that I can connect with old friends, and growing closer to my family.
— Caitlyn Burge | communication and English junior
God is still good, and He is in control.
— Katlyn Backus | Linguistics and TESOL senior
I have been able to organize my room and have a better, more relaxing atmosphere.
— Maribel Garcia | Business management junior
More time with family, experiencing online classes for the first time, no printing of projects.
— Morgan Burks | Visual communication design junior
I get to spend time with my family and watch the sunset with them.
— Sarah Kelly | Nursing freshman
I actually have a chance to pass all my classes. Sad, I know, but I've been struggling keeping my grades up for a while.
Spenser Moncrief | Computer science sophomore
I don't live with my immediate family- instead I'm quarantining with some cousins outside of Fort Worth. I've grown closer to them and I've loved every second spent with them. I wouldn't have had that opportunity had it not been for the pandemic.
— Mary Nelson | Music education freshman
What I never expected to come out of this was how well the instruction was during this entire quarantine. It's honestly shows how dedicated the professors are when teaching their students.
— Alberto Garza | Computer science engineering freshman
I found many different ways to educate myself, there are tons of materials on the Internet very affordable and sometimes even free.
— Denis Voronov | Information systems senior
Click here to see an unfiltered list of all the responses that The Shorthorn received.