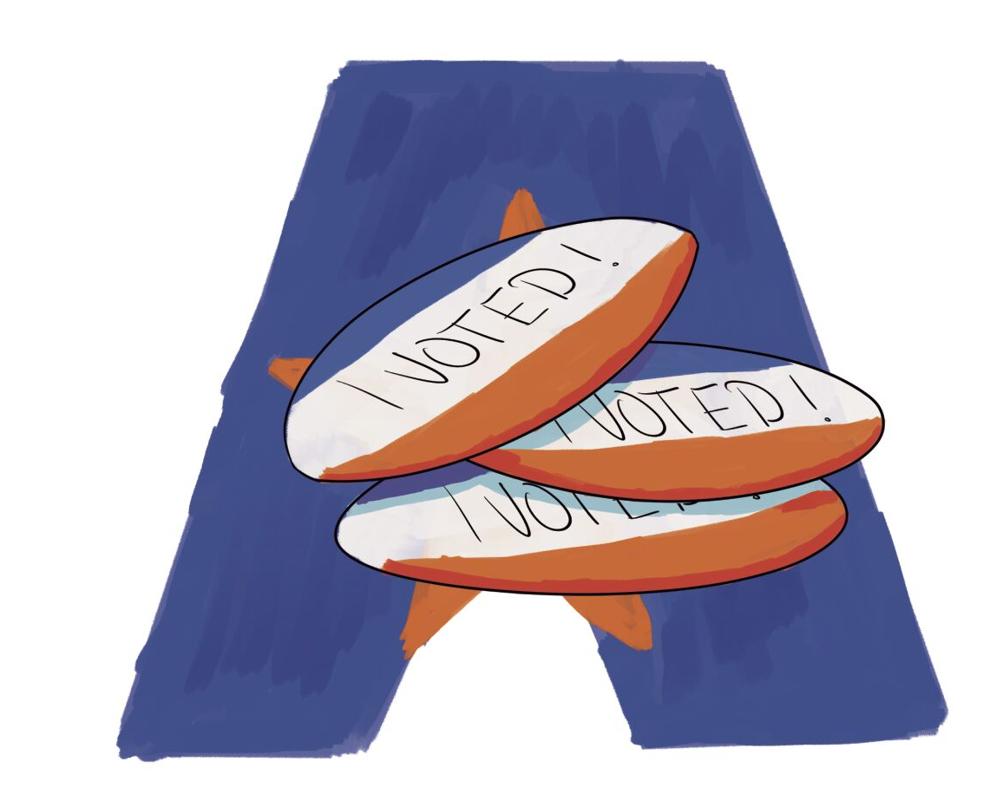 With campus elections happening April 5 to 7, students have begun to chatter about how they will vote. But from recent conversations I've had with my friends, many don't see how their votes matter. 
It is understandable. Since so many students were unable to be on campus during the pandemic, many are disconnected from the benefits Student Government offers.
Despite this, your vote matters because of how strong we will return and recover next year. The candidates you elect are influential in ensuring students get the resources that benefit them academically and mentally.
Entering the fall semester, only 474 students were enrolled in in-person only classes, and 19,829 students were enrolled in hybrid modalities. As a result, students weren't able to fully utilize resources on campus like Counseling and Psychological Services, academic advising, tutors and professors.  
Students found it hard to learn about campus resources. A peer academic leader teaching one of the UNIV courses, which are designed to help students progress through their degree program, discussed with me how students found it difficult to get involved during the pandemic, and the only way they learned about available resources was through limited word of mouth.  
By extension, students lost a year of understanding and utilizing the benefits Student Government provides and advocates for, such as monthly parking permits, free water bottles on campus and the Program Assistance Fund, which provides supplemental funding for registered student organizations.  
This is especially detrimental to freshman students like me who started our college experience amid online learning. Because we don't see these resources, we don't utilize them. 
The Student Body president serves as the representative leader of Student Government and oversees the day-to-day operations of the executive branch, including monthly meetings with the university president, according to the Student Government website.  
The Student Body president's decisions need to put students' best interests first. 
Because the position represents the entire student body, it is vital you vote for the candidate you want. They have the power to set an agenda, push for priorities and provide resources to students. 
Mr. and Ms. UTA are responsible for the UTA Ambassadors program, which plans spirit events like Maverick Stampede, Homecoming and Spirit Week. They will play a vital role in restoring the morale we desperately need when we return to campus in the fall. 
They should be energetic and passionate about the community. They should bring a breath of fresh air, fun and normalcy after a tumultuous absence of spirit on campus. Their school spirit is necessary for tired students returning from arduous online education.  
Beyond the campus, Student Government's influence can benefit the Arlington community. The city's economy was negatively affected by the pandemic due to sluggish sales and tourism, Mayor Jeff Williams said in a meeting with Treasury Secretary Janet Yellen.  
Currently, only one business is operating in College Park District.  
Because many students will soon return to campus, the Student Body president and the executive branch can advantageously advance the Maverick Discount Program to promote restaurants and services in our community to students.  
Your votes for student senators matter too. Officially, we represent students' interests within their college to promote legislation. Unofficially, senators are campus leaders who uplift students by offering guidance on a variety of tasks like scheduling classes, understanding tuition rates and class tutoring.  
The goal is to create a positive difference in our community.
During the pandemic, many senators like myself found it incredibly hard to reach out to students, making it difficult to gauge what legislation students wanted. 
As students return to campus, student senators will work to reconnect with our constituents, better represent the student body's interests and help you get back to being a healthy and academically successful student.
Student Government really matters.
In a recent executive memo, Student Body President Blaize LaFleur was denied a chance to discuss implementing a pass/fail policy for the semester at the Undergraduate Assembly. 
"If the Student Body President's voice is diminished, one can only imagine how other students' voices are lost, silenced, or downright ignored," LaFleur wrote.  
Students must participate in campus elections. If they don't, the power Student Government has to advance your interest will be reduced, and your interests won't be acknowledged by the university administration.
The positions you're electing have the power to help the community recover from the pandemic. These positions are vital, and your voice is critical in deciding who will represent the UTA community.
Visit the candidates' platforms, find your candidate and vote.  
@TonyAtCAPPA