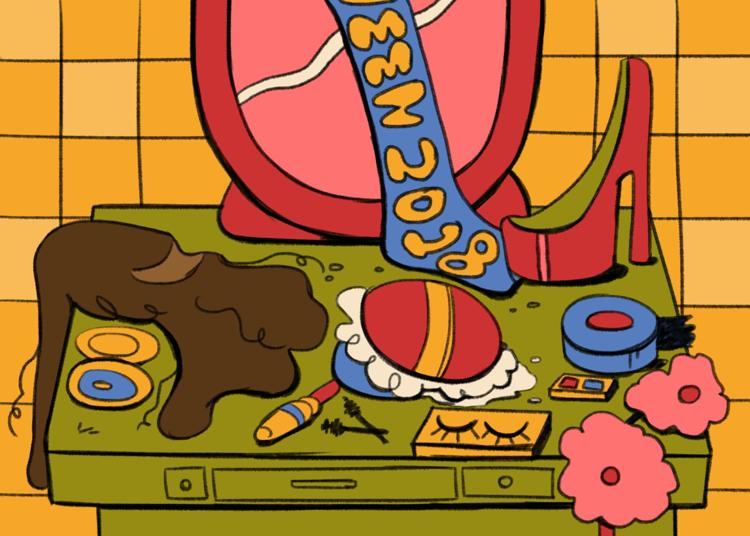 Reality shows like "RuPaul's Drag Race," social media beauty influencers and local drag competitions can be accredited to the success of an art form that was seemingly invisible a decade ago. 
Drag, in its simplest form, is a man dressing up as a woman (however, women and transgender individuals can also dabble in the art of drag). A drag queen is a person impersonating and creating a fully realized hyper-feminine illusion through a performance. 
Performances can be lip-syncing, live vocals, dance or comedy. 
Drag is more than just people in wigs and makeup; it's an outlet for self-expression, and it's a full-time career for some.
Being a drag queen is about transformation and questioning gender norms. 
For some drag performers, it's their lifeline and the way they get by.
There is no limit to the amount of creative expression drag queens can express through stages, bars and clubs across America and the entire world. 
When I am in drag as Deja Divanesse, I thrive under the bright lights in my shiny sequin gowns and holographic catsuits.
Every time I stack on a pair of lashes, glue down my lace front and slip on my 7-inch red latex boots, I transform into a beautiful glamazon ready to rock a runway.
For me, it took dressing up as a woman to feel like a man.
A majority of the time men are defending their manhood and overcompensating masculinity. But drag serves as an understanding of the self through womanhood and embodying the energy of a woman.
I channel the energy of divas like Diana Ross, Whitney Houston, Selena Quintanilla and even my own mother.
Powerful women inspire drag and help channel the power within myself to slay the stage. Adding swerves and curves and shape shifting to an exaggeration of the feminine figure can build confidence in oneself.
Drag serves as armor for people within the LGBTQ community for them to be a hyper version of themselves.
Drag is not easy. It takes time and a lot of work to get together.
Makeup takes time and so does being fully corseted and tucked to maintain a feminine physique.
Sometimes queens are in drag for hours, which can be uncomfortable, all while doing cartwheels, splits, dips and death drops.
Although it isn't easy doing drag, eventually with time and practice you can get good at it like any sport or hobby.  
Sometimes it takes oneself pretending to be someone else to have a better understanding of who we are.
@davy10306