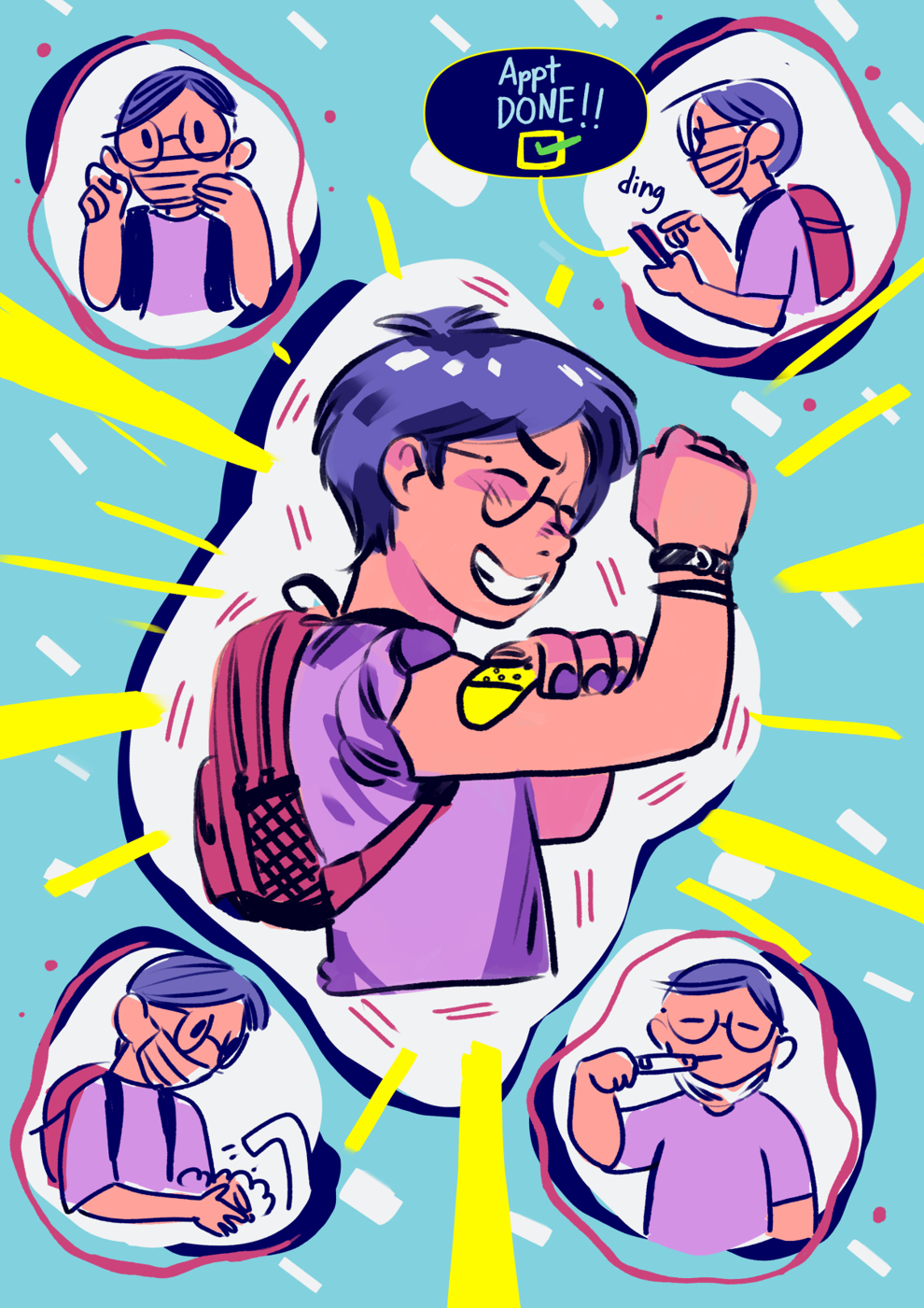 As people return to campus this fall, it is important to remember that the COVID-19 pandemic is not over.
Even though some classes transitioned back online, students, faculty and staff have experienced many semesters during the pandemic. Understandably, the UTA community wants to return to class in-person. But as cases surge because of the Delta variant, it is not that easy.
As of Thursday, the city of Arlington has recorded 49,590 total cases and 734 deaths because of COVID-19. There are 27 ventilators in use, the highest it's been since March.
With Gov. Greg Abbott's executive order in place, the university is not allowed to impose mask or vaccine mandates, so it is up to students to work together to limit the spread of coronavirus and bring back a normal school year.
The Shorthorn Editorial Board encourages students to test weekly, practice social distancing, wear masks and get vaccinated. These are simple methods students can use to help avoid contracting or spreading the virus.
Although the university has asked students, faculty and staff to submit their COVID-19 test results by Sept. 8, students can consider testing on campus every week or bi-weekly. It is not difficult to schedule a test nor time-consuming to get tested. Tests are free, and results come back in about one to two days, even during the weekend.
Students can either schedule their test on campus at the Bluebonnet Ballroom or the location on Pecan Street through Curative COVID-19 testing.
Choosing to participate in testing on campus is a way for students to be conscientious toward their peers, professors, roommates or family members. Asymptomatic cases, while rare, do happen, even if the person is vaccinated. Asymptomatic carriers can pass the virus to others.
Although breakthrough cases happen, getting vaccinated is one of the best ways to protect students and the community.
The Pfizer vaccine, which the Food and Drug Administration approved Aug. 23, gives an 88% effective rate against the Delta variant, according to the New England Journal of Medicine.
The university is partnering with Walmart to administer the Pfizer vaccine on campus in the exercise rooms in the Maverick Activities Center. It is free, and students don't have to sign up to receive the vaccine. They can simply walk in for the last vaccine session from 9 a.m. to 4 p.m. on Sept. 15.
If vaccination scheduling on campus is inconvenient, students can also schedule to receive the vaccine at local pharmacies or find local locations at vaccines.gov.
While many are skeptical of the FDA's approval of the Pfizer vaccine, it is still highly regarded in the science community and daily life.
Besides, many use products that the FDA does not approve such as cosmetics, dietary supplements or tattoo ink.
As students return this semester, the university has removed most social distancing policies outdoors. It also required professors to reduce classroom density to minimize the spread of COVID-19 until Sept. 8, but students can still be proactive and sit apart from each other while in class.
While participating in crowded events, students should wear masks as there may be participants who are not vaccinated and could carry the virus. In a previous Shorthorn article, Yvonne Medrano, Health Services communications assistant, said fully vaccinated students should continue to wear masks indoors to protect themselves from variant strains.
Students can also pack disinfecting wipes and hand sanitizer with them on campus. Wiping down tables and chairs in a public place or washing your hands are vital actions to remember during the pandemic. It is one's personal choice whether to take actions to prevent the spread. But everybody wants to go back to normal life, and until COVID-19 cases start decreasing worldwide, it won't be simple to achieve this goal.
Like the university, The Shorthorn Editorial Board encourages UTA students, faculty and staff to wear masks or get vaccinated so we can return to normal daily life.
The Shorthorn Editorial Board is made up of opinion editor Dang Le; Editor-in-Chief Angelica Perez; associate news editor Cole Kembel; Katecey Harrell, life and entertainment editor; design editor Vivian Santillan; news reporter Taylor Coit; and copy editor Jill Bold. Santillan was not present for this editorial decision, and managing editor Adrian Rodriguez filled in.