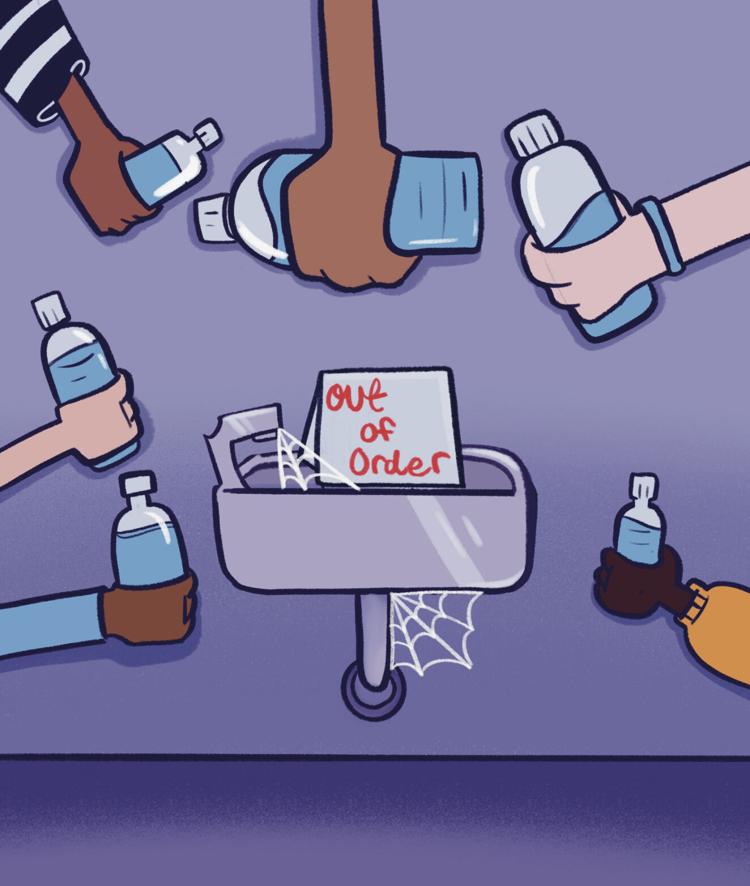 Student Senate introduced a resolution Tuesday titled "Hydration To Go," calling for the university to give students access to free water until water fountains can operate again. UTA shut down water fountains on campus before the fall semester over coronavirus-related safety concerns.
We believe UTA should heed this resolution and provide free water to students in place of water fountains.
Public access to drinking water is a human right. In the past, the abundance of fountains and bottle refill stations has confirmed the university's commitment to meeting a standard of provision for its students, staff and faculty. But circumstances have changed, and it is now incumbent on UTA to once again prove it is willing to meet those standards.
UTA made the right call by shutting off water fountains. With hundreds of students drinking from public water sources every day, the risk of contamination was too great. As we have stated before, UTA has demonstrated forethought and attention to detail when creating its COVID-19 safety precautions. The relative lack of cases on campus compared to other universities speaks for itself.
But even the best plans can have unintended consequences. The decision has created an environment where students and staff cannot access water, potentially introducing detrimental health concerns during a global pandemic.
Without water fountains, students have no access to free water on campus, and while bottled water is available for sale from various vendors across campus, expecting students to purchase water puts additional financial strain on a community already struggling from a nationwide recession.
While the Student Senate resolution doesn't provide a specific plan for how the university could provide water, we believe UTA has the financial resources to provide bottled water through an established vendor. We recommend that university administration take advantage of UTA's relationship with PepsiCo and arrange to purchase pallets of bottled water at a discount to be distributed across campus. Such an arrangement would provide water for students and positive publicity for the vendor.
We understand that UTA is going through an unprecedented time and may not have as many financial resources as before the pandemic. But if the university can spend $9.8 million on a new entrance to the University Center, we believe it can find the necessary funds to provide public drinking water.
We commend UTA for handling this virus better than a lot of universities. But even in the midst of a crisis, the university cannot ignore the basic necessities of its students.
The Shorthorn Editorial Board is made up of opinion editor Spencer Brewer; Editor-in-Chief Shay Cohen; news editor Angelica Perez; Cecilia Lenzen, life and entertainment editor; sports editor Chris Amaya; David Silva Ramirez, life and entertainment reporter; and copy editor Andrew Walter.