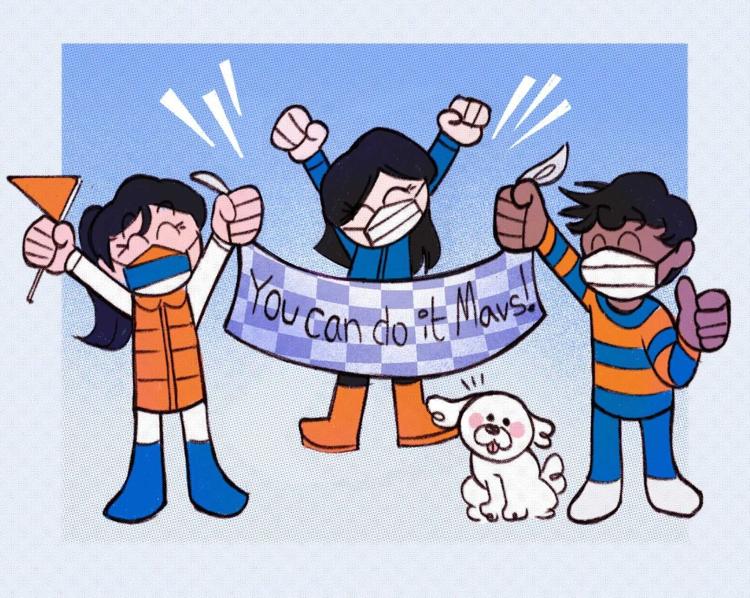 Students across the nation are dealing with pandemic hardships, online classes and economic insecurity. In November, The Shorthorn reported that students felt drained, unmotivated and burned out.
As the semester winds down, we want to encourage students to push through and finish strong. This has been a rough time for everyone, including us. But we believe in you and your ability to succeed in the face of adversity.
According to previous reporting by The Shorthorn, some students decided to skip the fall semester because of economic uncertainty and fears related to the virus. Those who stayed dealt with these hardships on top of a difficult transition to remote learning.
Students have voiced concerns about online classes not translating well in some majors. Others have spoken about the routine struggle to get internet connection. This is the first time many professors are teaching online courses, and their students feel the effect.
Even though the university tried to make this semester bearable, students are not receiving the same quality of education and are frustrated as a result. But despite the setbacks, students must not let this frustration turn into giving up. This semester will go down in campus history — let history show that we pushed through in spite of the hardships.
Outside of the classroom, students have had to cope with increased stress in their day-to-day lives. According to a survey by Strada Education Network, college students are living with uncertainty, instability and self-doubt in the wake of COVID-19. Many have had to shift education or career plans because of the pandemic, and of the surveyed students, almost half reported dealing with feelings of stress, anxiety and loneliness.
We are living through an unprecedented time, and students are dealing with unprecedented hardships. Yet the end is in sight. The semester is almost over. The Food and Drug Administration is reviewing a COVID-19 vaccine for approval. Yes, this has been a nightmare — but daybreak is in sight.
Students pursue higher education for various reasons, but a commonality between all students is a desire for self-improvement and a successful life. This has been a hard semester, but students at UTA have shown they can persevere. As the curtain draws, go into finals week knowing The Shorthorn believes in you.
The Shorthorn Editorial Board is made up of opinion editor Spencer Brewer; Editor-in-Chief Shay Cohen; news editor Angelica Perez; Cecilia Lenzen, life and entertainment editor; sports editor Chris Amaya; David Silva Ramirez, life and entertainment reporter; and copy editor Andrew Walter.