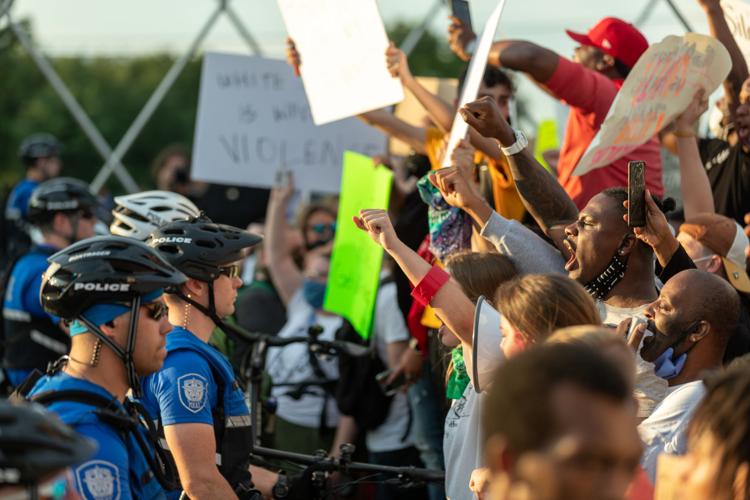 The Memorial Day death of George Floyd at the hands of Minneapolis police feels like the spark that lit a fire. Floyd, a 46-year-old black man, was pinned to the ground by a white officer, Derek Chauvin, for nearly nine minutes. By the time the knee was removed, Floyd was no longer breathing.
It took several days for Chauvin to be arrested and charged with Floyd's murder. The three other officers involved in the incident have not yet been charged.
In reality, the fire that now burns so prominently across the country has been alive for some time now, growing gradually as injustices compound. The country's most recent string of protests are the latest in a long history of demonstrations against the mistreatment of black Americans and a system of law enforcement which too often does not hold its enforcers accountable.
The reason these protests keep happening should be easy enough to grasp: the very people the movement is speaking to are simply not listening to the message.
According to an analysis of data by Mapping Police Violence, 99% of killings by police from 2013 to 2019 have not resulted in the involved officers being charged with a crime.
What's more, the Justice Department found in 2015 that African Americans were 68% less likely than white people to have their charges dismissed in court for similar low-level crimes.
For years these injustices have been allowed to persist, despite regular efforts by activists to correct the system.
It should, of course, be noted that all manner of protests against police brutality — peaceful or otherwise — have been used to no avail. One doesn't need reminding of the backlash inflicted upon Colin Kaepernick for kneeling quietly to raise awareness.
The history of movements opposing police brutality in America is one of neglect, an uncompromising and continual refusal by law enforcement to listen to the plight of black Americans.
Many people have openly condemned the violent turn taken by protests over the last week. Infamously, President Donald Trump was flagged for violating Twitter's rules about the glorification of violence, calling protesters "thugs" and threatening to order the shooting of looters.
....These THUGS are dishonoring the memory of George Floyd, and I won't let that happen. Just spoke to Governor Tim Walz and told him that the Military is with him all the way. Any difficulty and we will assume control but, when the looting starts, the shooting starts. Thank you!

— Donald J. Trump (@realDonaldTrump) May 29, 2020
And while there is evidence to suggest much of the unruliness of these events is not being perpetrated by activists representing the movement, ultimately, the methods of protest should matter far less than the reasons it's happening.
If you're sick of the disruption, if you're sick of the rioting, then help to solve the problem at its source. Try to keep in mind that your fellow Americans are angry. Your neighbors fear for their lives. Respond to their voices with intent to heal, not to retaliate.
Remember also that solutions are attainable — police reform to reorient the function of law enforcement around nonviolence except in extenuating circumstances, protection of people first and foremost, an expectation that if an officer takes a life, they will be held accountable for their actions. These demands are not radical.
But until the issues are addressed, until someone in a position of power sits down with activists and actively commits to hearing their message with every intention to move forward and be better, the unrest is bound to continue.
The Shorthorn remembers Oscar Grant, Trayvon Martin, Eric Garner, John Crawford III, Michael Brown, Tamir Rice, Ezell Ford, Dante Parker, Michelle Cusseaux, Laquan McDonald, John Crawford III, Tanish Anderson, George Mann, Akai Gurley, Gregory Gunn, Mario Woods, Rumain Brisbon, Jerame Reid, Matthew Ajibade, Frank Smart, Natasha McKenna, Tony Robinson, Anthony Hill, Mya Hall, Phillip White, Eric Harris, Walter Scott, William Chapman II, Alexia Christian, Brendon Glenn, Victor Manuel Larosa, Jonathan Sanders, Freddie Blue, Joseph Mann, Salvado Ellswood, Sandra Bland, Albert Joseph Davis, Darrius Stewart, Billy Ray Davis, Samuel Dubose, Michael Sabbie, Brian Keith Day, Christian Taylor, Troy Robinson, Asshams Pharoah Mandley, Felix Kumi, Keith Harrison McLeod, Junior Prosper, Lamontez Jones, Steven Demarco Taylor, Jamarion Robinson, JaQuavion Slaton, Darius Tarver, Kwame Jones, De'von Bailey, Christopher Whitfield, Anthony Hill, Eric Logan, Paterson Brown, Dominic Hutchinson, Anthony Ashford, Alonzo Smith, Tyree Crawford, India Kager, La'Vante Biggs, Michael Lee Marshall. Jamar Clark, Richard Perkins, Nathanial Harris Pickett, Benni Lee Tignor, Miguel Espinal, Michael Noel, Kevin Matthews, Quintonio Legrier, Keith Childress, Jr., Janet Wilson, Randy Nelson, Antroine Scott, Wendell Celestine, David Joseph, Calin Roquemore, Dyzhawn Perkins, Christopher Davis, Marco Loud, Peter Gaines, Torrey Robinson, Darius Robinson, Kevin Hicks, Mary Truxillo, Demarcus Semer, Willie Tillman, Terrill Thomas, Sylville Smith, Alton Sterling, Terrence Sterling, Terrence Crutcher, Paul O'Neal, Tony McDade, Yassin Mohamed, Finan Berhe, Alteria Woods, Danny Ray Thomas, Jordan Edwards, Aaron Bailey, Ronell Foster, Stephon Clark, Antwon Rose II, Pamela Turner, Bettie Jones, Philando Castile, Botham Jean, Atatiana Jefferson, Eric Reason, Dominique Clayton, Breonna Taylor, Christopher Whitfield, Christopher McCorvey, Michael Lorenzo Dean, William Green, Samuel David Mallard, Gregory Hill, Jr., Ryan Twyman, Brandon Webber, Jimmy Atchison, Willie McCoy, D'ettrick Griffin, Jemel Roberson, Patrick Harmon, Jonathan Hart, Maurice Granton, Julius Johnson, DeAndre Ballard, Robert Lawrence White, Ramarley Graham, Manuel Loggins Jr., DeJuan Guillory, Wendell Allen, Kendrec McDade, Larry Jackson Jr., Jonathan Ferrell, Keith Lamont Scott, Alfred Olango, Akiel Denkins, Jordan Baker, Victor White lll, Dontre Hamilton, Emantic "EJ" Fitzgerald Bradford Jr., Micheal Dean, Jamee Johnson, Miles Hall, Terrance Franklin, Ariane McCree, Steven Demarco Taylor, Sean Reed, David McAtee and George Floyd.
The Shorthorn Editorial Board is made up of Editor-in-Chief Shay Cohen; managing editor Arianna Vedia; news editor Angelica Perez; Cecilia Lenzen, life and entertainment editor; David Silva Ramirez, life and entertainment reporter; Tritima Achigbu, life and entertainment reporter; and copy editor Andrew Walter.