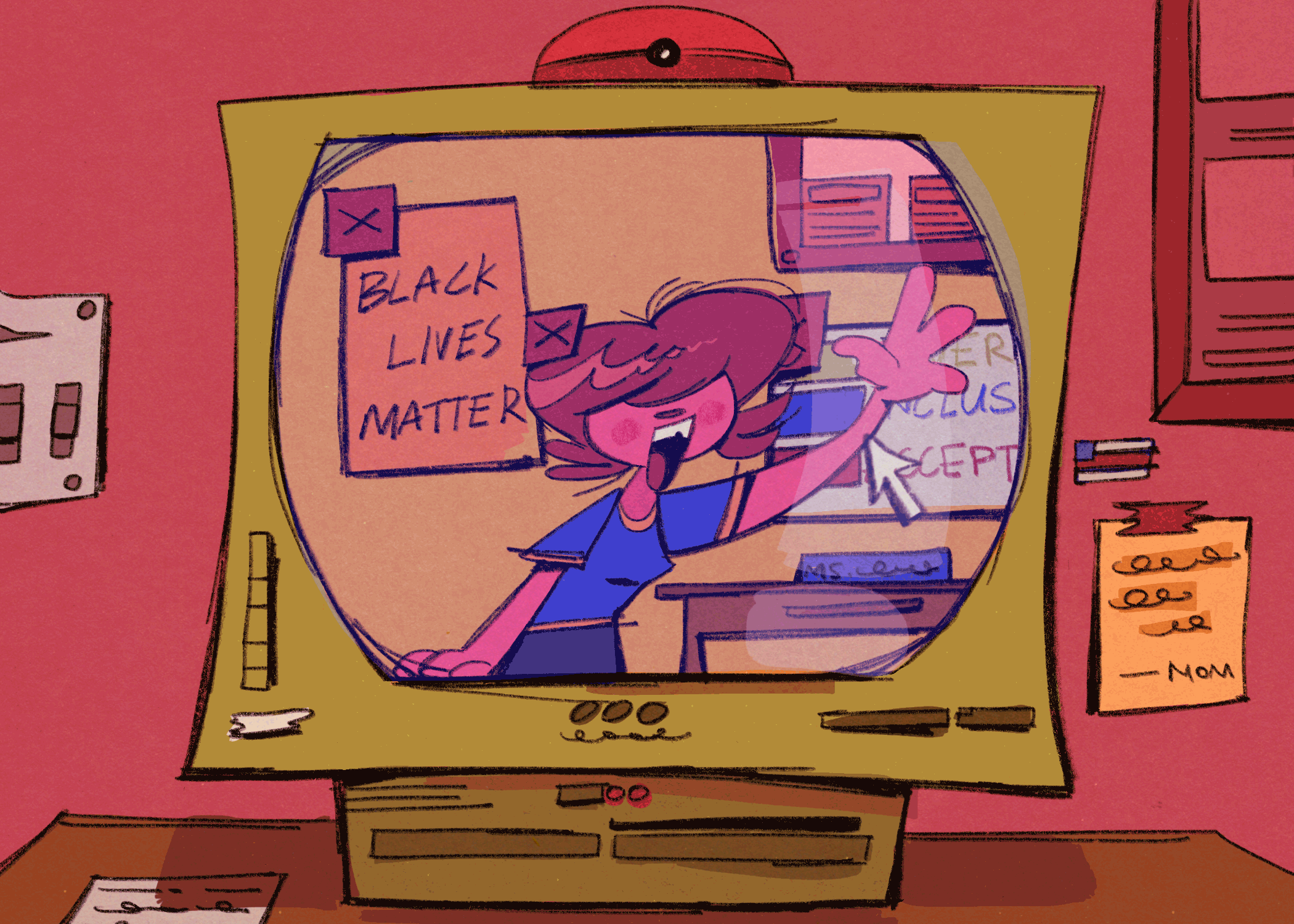 Late last month, Roma Independent School District placed a teacher on leave for posting Black Lives Matter and LGBTQ posters in her virtual classroom. Days before, Gov. Greg Abbott called for a Wylie Independent School District teacher to be fired after distributing an assignment that included a cartoon comparing police to the Ku Klux Klan.
Both of these acts are a violation of free speech. We feel teachers should be able to engage with their students in whatever manner they see fit as long as they fall within the conduct policies of their district. Preventing teachers from doing so is a violation of the First Amendment.
This country is going through a tumultuous time. We are in the midst of a pandemic and a civil rights movement, and teachers are responsible for equipping students with the tools they need to be the informed citizens of tomorrow. It is only natural that some assignments should reflect current events. Additionally, teachers have the right to give their opinion within limits set by school district policy.
Neither of these teachers violated their district's policies. A Wylie ISD spokesperson released a statement that their unnamed teacher had not violated district policy. The statement also implied there were multiple teachers involved in creating the assignment. Roma ISD told Taylor Lifka, the teacher with "controversial" posters in her virtual classroom, that she could keep the posters as long as they did "not come to overly disrupt or detract from the educational process or the learning environment."
Would Roma ISD have placed Lifka on leave if she had posted a Blue Lives Matter poster? Would Abbott have called for the Wylie ISD teacher's removal if they had given an assignment implying Black Lives Matter protesters are a violent mob? If the answer to either of these questions is no, then these cases are not instances of student indoctrination or political bias — they are violations of free speech.
The Shorthorn reaffirms its support for the Black Lives Matter movement. We also support free speech. Teachers' ability to engage with their students, regardless of how they choose to engage, should be protected.
Some might argue that teachers need to keep politics out of the classroom. We believe what these critics are really saying is that teachers need to keep some politics out of the classroom, specifically those the critics don't agree with. The Roma High School Student Union released a statement calling the suspension unjust, maintaining it is not a political statement to take a stand against sexism, homophobia and racism. The Shorthorn wholeheartedly agrees.
When Lifka hung virtual posters supporting Black Lives Matter and LGBTQ rights, she was attempting to create a supportive classroom environment for vulnerable students rather than make a political statement.
Students in eighth grade will be registered voters within a decade. They must be exposed to a variety of thoughts and opinions so they can choose for themselves what they want to believe. That role belongs to teachers, not to Abbott.
Individual school districts are in charge of teacher conduct, and that should not be infringed upon. Not by Abbott and not by an angry internet mob. We give teachers the responsibility of teaching our youth. Let them teach how they see fit.
The Shorthorn Editorial Board is made up of opinion editor Spencer Brewer; Editor-in-Chief Shay Cohen; news editor Angelica Perez; Cecilia Lenzen, life and entertainment editor; sports editor Chris Amaya; David Silva Ramirez, life and entertainment reporter; and copy editor Andrew Walter.