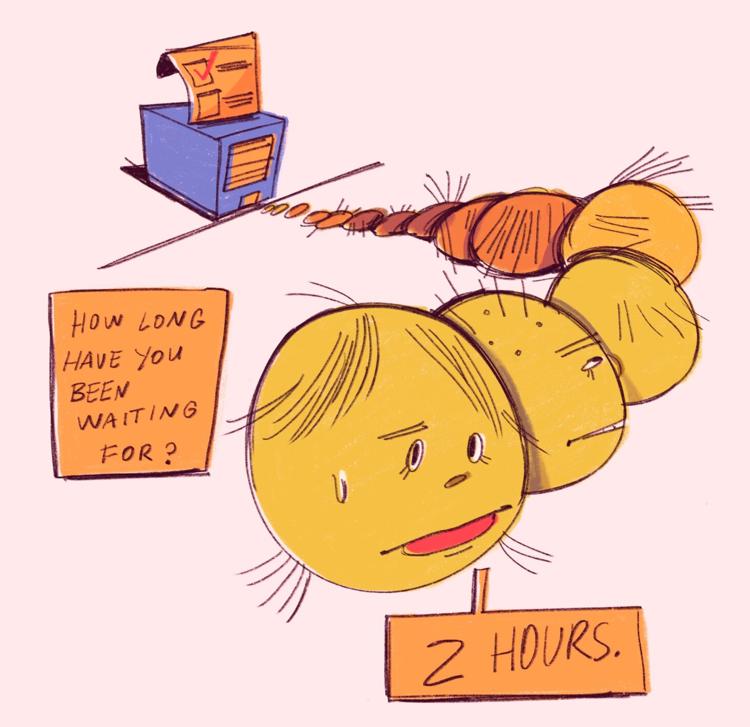 Long lines and hours of waiting defined the first day of early voting in Tarrant County and across Texas. In many cases, voters had to wait up to three hours to vote.
With heightened COVID-19 precautions and high voter turnouts, it's understandable that voting may be more tedious than in years past. However, expecting voters to wait three or more hours to vote will deter many from voting. Tarrant County and the state must provide more resources to make voting accessible to everyone.
With additional polling locations and workers, the county and state could further ensure safe and efficient voting during this election. We also encourage younger citizens to participate in the polling process as COVID-19 has raised concerns for older individuals at-risk.
According to a previous Shorthorn article, about 42,000 people voted in Tarrant County on the first day of early voting, compared to 43,000 during the 2016 presidential election. One voter waited in line for two hours, then had to leave for an appointment before coming back to wait again.
Scenes of voting lines stretching around buildings were mirrored across the state. According to The Texas Tribune, voters waited for three or more hours in multiple parts of Texas.
Election officials say the waits are to be expected as new poll workers get accustomed to additional safety guidelines in the wake of the COVID-19 pandemic. Tarrant County voting was delayed in part because a poll worker tested positive for coronavirus.
Many working adults, especially those of lower socioeconomic status, can't afford to wait for three hours to vote. These delays will effectively prohibit some people from voting now and during election night.
Some may say state and county budgets are already stretched thin, and asking for additional resources is too much of a burden on those governments. This is an unprecedented time, and we understand budgets are tight for everyone. However, access to voting is a constitutional right guaranteed to everyone — and whatever the cost — it is the government's job to provide that access in Tarrant County and across Texas.
We would also like to note that this is in no way directed at election officials or poll workers, who are working diligently in the midst of crisis.
But the Constitution guarantees eligible citizens the right to vote, and we call on the county and state to uphold that right.
The Shorthorn editorial board is made up of opinion editor Spencer Brewer; Editor-in-Chief Shay Cohen; news editor Angelica Perez; Cecilia Lenzen, life and entertainment editor; sports editor Chris Amaya; David Silva Ramirez, life and entertainment reporter; and copy editor Andrew Walter.