UTA will temporarily move ​​most courses online through Feb. 4, according to a universitywide email sent Thursday.
The semester will begin Jan. 18 as scheduled, and no classes will be canceled. Courses that require face-to-face interactions will remain on-campus and some will be hybrid. Faculty members will update students about specific plans regarding these courses.
Employees and students who test positive for COVID-19 should isolate for seven days before returning to campus, per the university's updated quarantine and isolation guidelines. Those who come in close contact with an infected person are also required to quarantine for seven days unless they recently received their primary vaccines or booster. 
The temporary shift will allow the university to mitigate widespread absences during a projected peak of cases later this month due to the Omicron variant, according to the email. The university's decision follows a series of protocols that emerged after the pandemic to prevent the spread of COVID-19, including online instruction, hybrid courses and required viral tests.
On-campus events will continue this semester, but the university encourages organizers to host events outdoors, practice social distancing and reduce density. Campus services and buildings will also remain open during this period.
As of Tuesday, UTA has recorded 1,578 positive cases since Aug. 13, 2021, according to the UTA COVID-19 Dashboard. The university reported 192 positive cases on Monday, with 180 coming from on-campus tests and 12 self-reported. 
As of Thursday, Tarrant County has reported 408,870 positive cases, with 66,828 in Arlington, according to the county's website. 
The Omicron variant has also affected other schools in the UT System. UT Austin asked faculty members to teach remotely for the first two weeks until Jan. 31, according to a university statement. UT Dallas will teach online through Feb. 4.
Students and employees entering the campus for the spring semester must provide proof of a viral COVID-19 test by Feb. 4, according to previous Shorthorn reporting. The university will not accept tests taken before Jan. 3.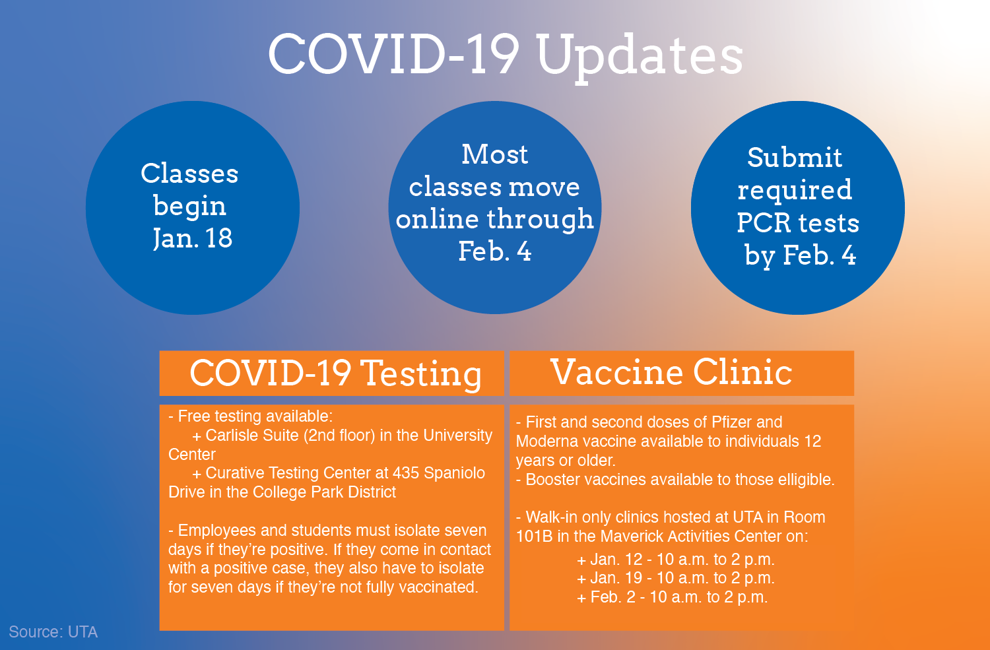 Free testing is available on campus, and the result will automatically be reported to the university. UTA will also provide free, walk-in-only vaccine clinics that offer boosters to students, employees and their families in the Maverick Activities Center. 
@MandyHuynh12
UTA to move classes online through Feb. 4 - DD