It all started with a small school field trip when an unusual opportunity presented itself to nursing psychology junior Alyssa Tijerina.
Through the Biomedical Engineering Society, Tijerina toured the Texas Center for Proton Therapy, where she met Gary Barlow, the administrative director of the center.
The introduction at the center allowed her to collaborate with Barlow, who helped her design an internship, allowing her to become the center's first intern.
"Essentially he made an internship for me, which was amazing," she said.
The Texas Center for Proton Therapy has brought its practice to 6.5 million residents in the Metroplex since opening about five years ago. Two thousand and two hundred patients have been treated there, with 350 of them being children, Barlow said.
The facility is the first proton center in the Metroplex, one of the largest cities in the country that didn't have this technology, he said.
Through the use of pencil beam scanning technology, the center can perform very precise forms of radiation, Tijerina said. Normal radiation, known as photon therapy, can damage delicate parts of tissue, causing secondary forms of cancer. Proton therapy provides an alternative form of radiation, and it decreases the risk of developing new forms of cancer.
Tijerina hopes to work with pediatric patients one day, and this form of therapy benefits younger patients who can undergo it.
"They're so young that you want to make sure you're treating this head-on, as precise as you can," Tijerina said. "And making sure that they live a long and healthy life after they have their treatments."
She works with kids and their families to create a support system and describes treatments and conditions with them, which can sometimes be a challenge.
"How can we explain to the child what's going on with them and also not create any fear or panic as well?" she said.
The facility is very complex, and the equipment is three stories tall, weighing 220 thousand pounds, Barlow said.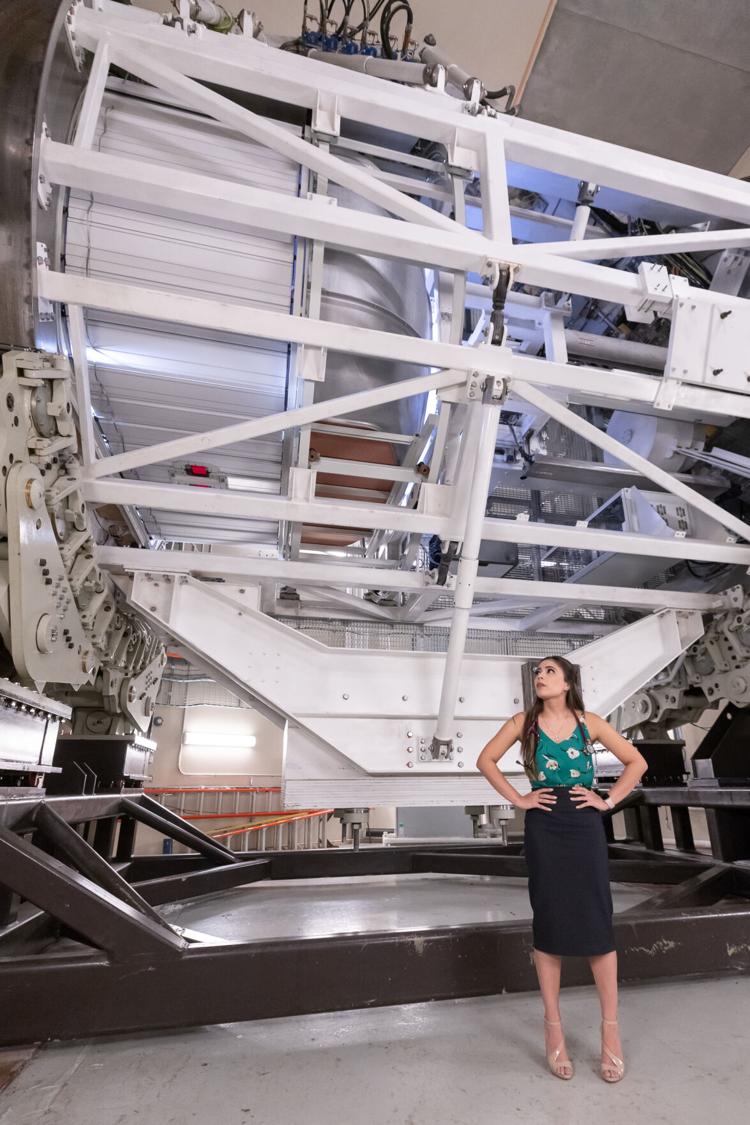 "It all starts with a particle accelerating magnet called a cyclotron that's a 220-ton magnet that accelerates a hydrogen proton to 68% speed of light," he said. "We use that proton in a precise manner to destroy cancer in the human body without harming normal healthy tissue."
One of Tijerina's main roles at the center is assessing the social and emotional interactions between patients and employees. New struggles and conflict resolution arising from COVID-19 allow staff to adequately assist the patients at the center, she said.
"You want to be respectful of everyone's privacy," she said. "Making sure that you're protecting them as best as you can."
The COVID-19 pandemic has certainly not stopped any health professional from showing an enormous amount of compassion for patients and the work that they do. With less physical interaction with patients, a lot of it is done virtually, but it's very rewarding, Tijerina said.
Her virtual meetings are conducted weekly on Zoom with various individuals and employees to discuss new patient protocols, struggles and interactions.
Along with highly trained physicians, nursing staff and radiation therapists, Barlow said all of the health care professionals would have the opportunity to mentor any future interns that rotated through the center.
"I would love to establish a long-term relationship with UTA so that others could follow in her footsteps and have an opportunity to benefit from an internship here," Barlow said.
Tijerina uplifts the people around her with spirit, her positive attitude and her energy, Barlow said. She's constantly learning to apply that knowledge in a very supportive and nurturing role.
"Alyssa is a very motivated and bright young lady who wants to learn all she can," he said. "She wants to serve others more than she wants to serve herself."
@ArimNeftali