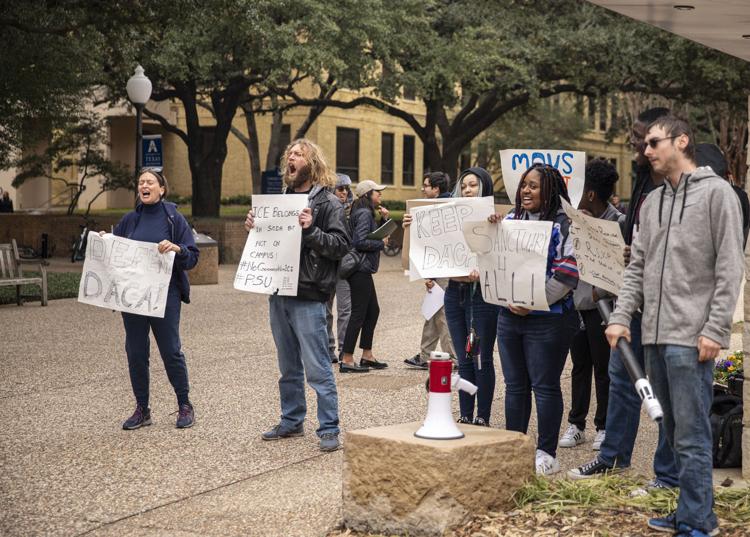 The Progressive Student Union gathered outside the University Center on Wednesday, demanding UTA to establish a Dream Center.
Currently, UT-San Antonio and UT-Rio Grande Valley are two UT System universities that offer Dream Resource centers.
A Dream resource center provides support services and resources for undocumented and Deferred Action for Childhood Arrivals students, according to UT-Rio Grande Valley's website.
Giovanny Torres, political science graduate student, was one of the speakers advocating for a Dream Center on campus.
Many first-generation students don't have siblings, friends and families to assist them with financial aid and scholarships, Torres said. Resources on campus are needed for undocumented students seeking higher education at institutions like UTA.
"Having an undocumented resource, or Dream Center, here at UTA, that's what the essence of the center would be," he said. "Going out into communities, going into high schools, going into community colleges and let them know we're here. Regardless of status, we want you to succeed and get a better education."
Last year, Hispanic Outlook Higher Education Magazine ranked UTA in its Top 100 in Colleges and Universities for Hispanic Students, according to a previous Shorthorn article. The university has been a Hispanic-Serving Institution since 2014, receiving additional grant funding from the U.S. Department of Education.
English senior Ebonee Richards Taylor said she doesn't know why UT-San Antonio has a Dream Center and UTA doesn't.
She said while the university prides itself on its diverse population, she doesn't feel that there is much support for those minority students.
Richards Taylor gave a speech at the demonstration centering on the lack of support from President Vistasp Karbhari. She said she feels he doesn't show a lot of support for his students and is hardly seen on campus.
When students feel a lack of support on campus from the faculty, they can feel unable to succeed, she said.
Bringing a Dream Center to UTA's campus would help give undocumented immigrants support in navigating the financial and academic aspects of college, Richards Taylor said.
Mark Napieralski, leading organizer for the Progressive Student Union, said the organization is planning to meet with Karbhari about their demands in the first week of March.
Torres said with a diverse and large student population, UTA needs to take a stand and offer a center.
"We will definitely be talking to the administration," Torres said. "But if the administration would take it into account, then they would have done it a long time ago."
@megancardona_