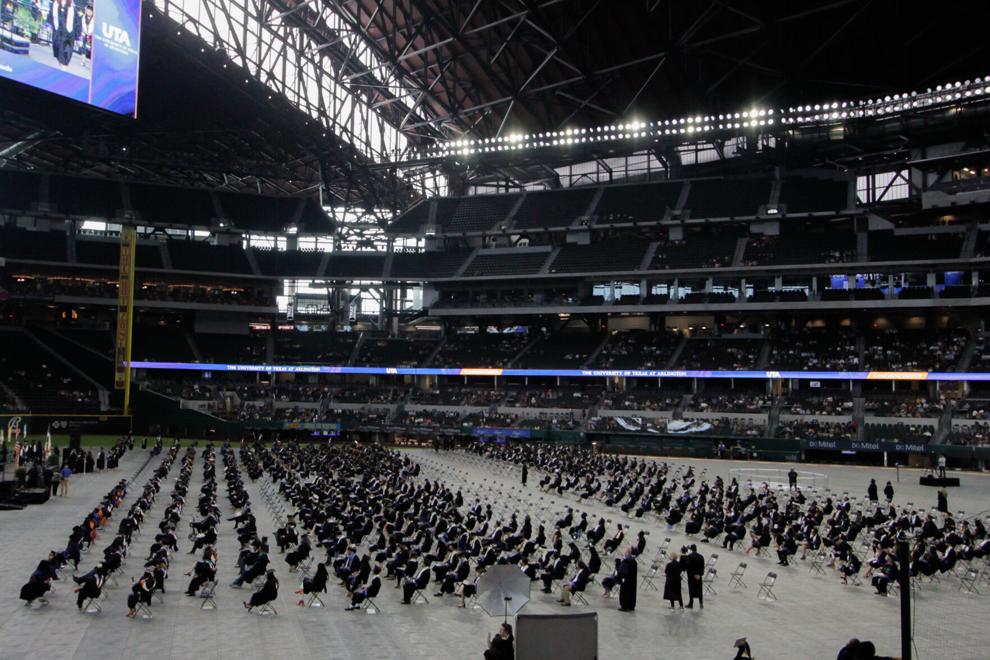 About 3,000 UTA graduating seniors will walk across Globe Life Field on Dec. 16 to graduate in UTA's fall 2022 commencement ceremonies.
The event will be split into three separate ceremonies throughout the day, each presenting a host of logistical challenges to sort, including ensuring graduates and families know where to go, how to park and how to access amenities, said Jonikka Davis, associate director for Marketing and Communications in Student Affairs.
"All of those are questions that we consider very carefully, and so we work really hard to ensure that our communications are efficient," Davis said. "We want to make sure that the process is as smooth as possible because, many people, this may be their first time visiting Globe Life Field."
The stadium has housed the Texas Rangers since 2020, also serving as a venue for other local, regional and national events. It measures 1.8 million square feet and can seat over 40,000 visitors across seven levels of seating, according to the Texas Rangers website.
The university tries to communicate commencement information with graduates clearly and frequently, Davis said. They have targeted communication to each category of graduate, whether they're participating in-person, online or are undecided.
This semester's commencement will be a return to Globe Life Field for the university. In 2021, the stadium hosted UTA's spring and fall ceremonies in the wake of COVID-19, according to previous Shorthorn reporting. At the time, graduates were allowed to invite up to eight guests. This year, they can invite a maximum of 20.
Considering UTA's current population, the venue change is a good idea, political science senior Christopher Mudd said. He's using the space to invite family and family friends.
"I'm looking forward to having family come into town, everyone's coming," Mudd said. "It's the third family reunion we've had this year, I'm feeling great."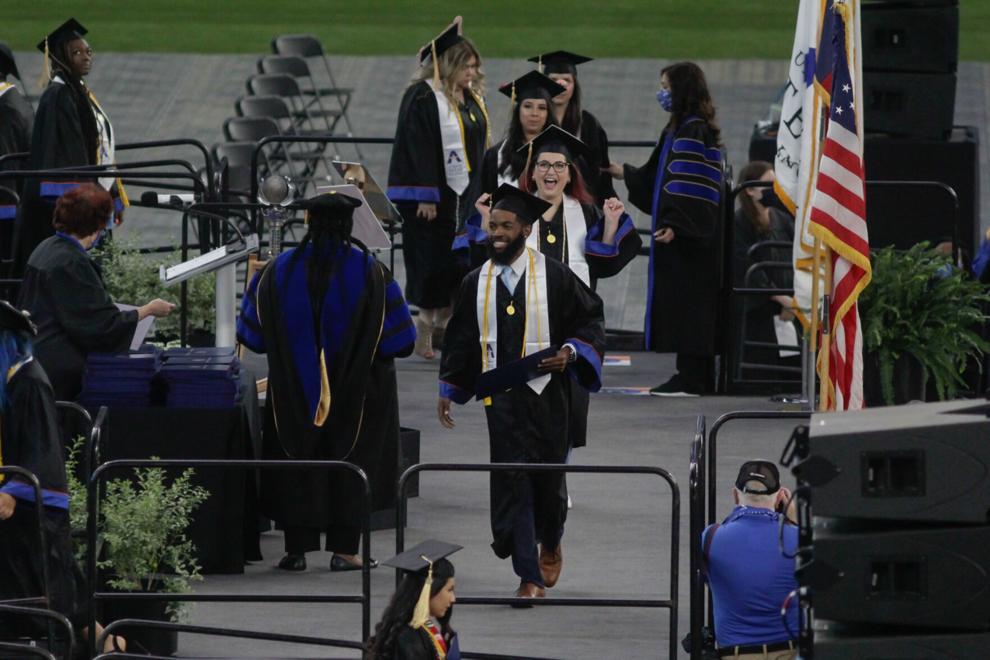 Davis said that most graduates have requested the full 20 tickets they're allowed. If each student brought all 20 guests, commencement could see nearly 60,000 people over the day.
While the large space allows for opportunities, it also requires more help to pull off the event, Davis said. The university is always looking to recruit more volunteers, particularly at Globe Life Field, where special projects coordinator Ryan Gilmore said the setup takes over 100 staff.
"We've had a really great response from faculty and staff all across campus. That is really the bread and butter for us as far as volunteers," she said. "We certainly do have a few community stakeholders that participate as well, but it's really the loving response of faculty staff that fuels our work on that special day."
While Globe Life Field isn't too far away, the need to transport physical resources to the off-campus location also takes more coordination than previous ceremonies at College Park Center, Davis said.
There were other benefits to moving commencement to Globe Life Field, said Molly Albart, assistant vice president for Student Affairs. In addition to hosting more guests, the field also allows the university to hold all ceremonies in one day, making it easier for all volunteers and participants.
Albart said commencements in College Park Center needed to be split up into smaller ceremonies over a few days, but the stadium allows more graduates to fit in one.
"We're easing our way into Globe Life to feel how quickly can we read names and make sure that our ceremonies are efficient," she said. "But, I would anticipate as we move into the spring that we will add additional graduates to each ceremony as we get faster."
Much of the setup will take place Dec. 15, Davis said. On the morning of commencement, the university will review everyone's duties and prepare them with rehearsals, sound checks and training.
Each ceremony will have about 1,000 students, she said. The first is scheduled to begin at 9:30 a.m. and will graduate students from the College of Nursing and Health Innovation. The second will start at 2 p.m. for graduates from the College of Business, College of Education and College of Science. 
The third and final ceremony, holding the College of Architecture, Planning and Public Affairs, the College of Engineering, the College of Liberal Arts, the Division of Student Success, the Honors College and the School of Social Work, will begin at 6:30 p.m.
@Shawlings601