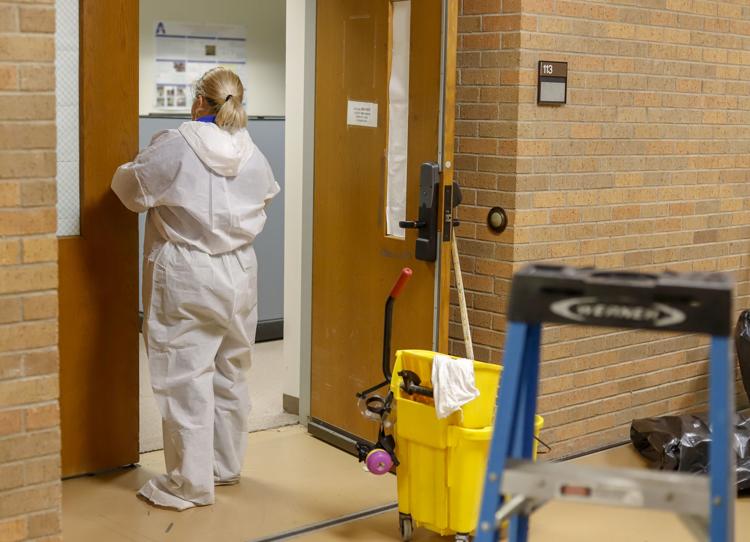 After UTA announced that a student contracted COVID-19, Blackmon Mooring, a company that provides cleaning, recovery and restoration services, visited UTA to perform an "enhanced cleaning and sanitization" of campus before employees return to work on Monday.
The cleaning is part of efforts announced by the university to combat the spread of COVID-19, said Jeff Carlton, executive director of communications and media relations, in an email.
UTA contracted Blackmon Mooring to supplement the efforts of the university facility team to sanitize the campus.
Workers could be seen on campus Saturday wearing full protective suits and masks.
The company has seen an increase in preventive cleaning services across the country, said Amanda Schooler, Blackmon Mooring director of marketing.
Schooler manages the company's marketing nationwide, so she could not speak on UTA's specific services at this time. However, she said the company is working to ensure their employees' safety in each job they perform through protective gear.
"Our employees are of utmost importance," she said. "As a company, we're making sure our people are in full protective equipment."
UTA increased its sanitization of public spaces on campus, which includes touchpoints such as handrails, door handles, common spaces, common area seating and tables, Carlton said. Additional hand sanitizer dispensers have been installed across campus as well.
The university announced Saturday that a UTA student has been infected with COVID-19. The university is working closely with Tarrant County health officials in assisting and identifying anyone who may have had contact with the individual. UTA has not provided details about the student or how they became infected with the virus.
This comes after UTA extended spring break by a week in response to the coronavirus outbreak on Thursday. Classes will resume March 23 and transition online until further notice.
On Friday, Tarrant County declared a local state of disaster and announced the discovery of a second and third presumptive positive case of coronavirus in the county. It is not yet clear if the UTA student is an additional case or part of the ones previously reported.
Vigneysh Amarneedhi, computer science graduate student, lives on campus and was walking past when he noticed the cleaning crew in Nedderman Hall.
Amarneedhi said seeing the crew reassured him that UTA is taking steps to keep it safe.
"UTA is doing a fantastic job," he said.
@Brian_L8
Managing editor Reese Oxner contributed to this article.