Each day, Dining Services and other departments around campus produce food that goes uneaten.
However, if an older man with a gray and white beard is seen driving around campus in a UTA van or carrying green buckets, he is probably doing his part to combat waste as part of UTA's sustainability efforts.
Just west of the Meadow Run apartments behind the Environmental Health and Safety Office building, safety technician I John Darling spends his days creating compost piles from the 12 to 14 green buckets of waste he collects daily.
Coffee grounds, pineapple husks, lemon wedges, pumpkins, lettuce, kale, collard greens and other uneaten organic food scraps litter the small lot along with rotting leaves as Darling starts the slow process of turning it all into a nutrient-rich compost soil, returning the organic waste from whence it came.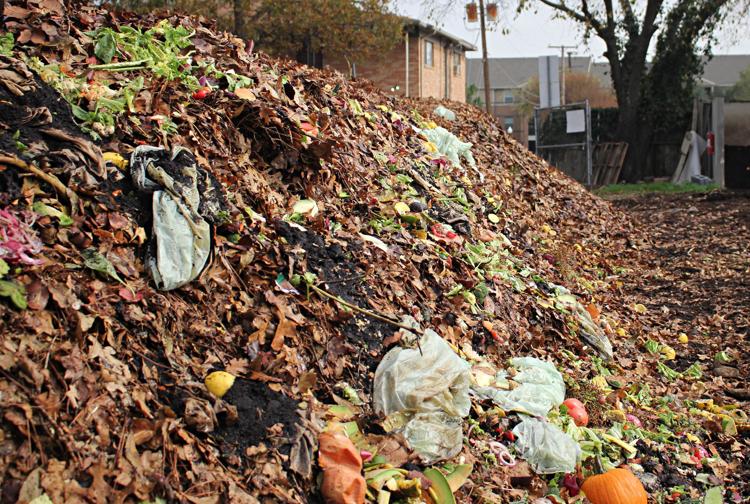 Since the 2005 fiscal year, Darling has produced more than 679,000 pounds of compost from the kitchen scraps and coffee grounds he saved from landfills.
Darling suggested composting as an option during what was known as "the president's committee on recycling" and soon started composting for UTA, Darling said.
Darling said he participates in composting efforts to provide a safe alternative to chemical-laden fertilizer being used at the university and hopefully save the land that would be used for a landfill.
"I'm a tree-hugger in real life and it makes me crazy," Darling said. "I got a picture of a rainforest in Belize being cleared to make a landfill."
Rainforests are among the most productive places on the planet, and the earth is losing it for a landfill, Darling said.
"You are reducing all the environmental benefits, grasslands and forests in terms of sucking up pollution, sequestering carbon and giving us oxygen, and you are making a landfill," Darling said.
A landfill's job is to squeeze out air every day and cover it up with dirt, Darling said.
When organic material gets into a landfill, the process creates an anaerobic reaction that produces methane, which is more harmful to the climate than carbon dioxide, Darling said.
"The more organics in a landfill, the more methane it produces," Darling said. "It's waste. No matter who you are, you probably don't like waste."
Darling said a large amount of landfills are composed of compostable organics, reducing its life cycle by the same fraction, leading to more space to be taken up by additional landfills.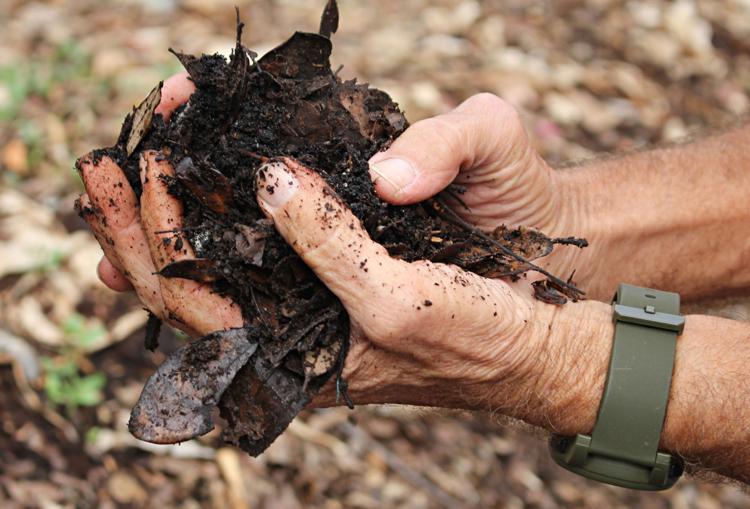 "If you are an economist or you are in charge of your household budget, whatever you are, you don't want to do that," Darling said. "If we didn't do this, we would have a third more money to spend on trips to Disney World or something."
Composting prevents the production of methane through an aerobic process of decomposition. Bacteria and fungi feed off organic waste, and the compost pile is regularly turned and watered to allow oxygen in and prevent heat from building up.
"We're in the habitat business," Darling said. "We want to make a habitat for bacteria and fungi."
Once done, the compost soil will be used across campus as mulch or fresh soil.
The compost made by Darling is now used around the parking garage as they begin the finishing touches and plant new flora, Darling said.
Currently, it takes several months for the compost to come to full fruition but with additional volunteer help, the time could be reduced, Darling said.
"The whole point of composting is the very human need or desire to improve on nature, which is sometimes a fool's errand," Darling said. "In this case, we want to do what happens in nature in less space and faster."
Rodney Loewen, Arlington resident and certified master composter, volunteers at the UTA composting site. He said helping out around the site gives him an opportunity to get out of the house during the week now that he is retired and can see the results.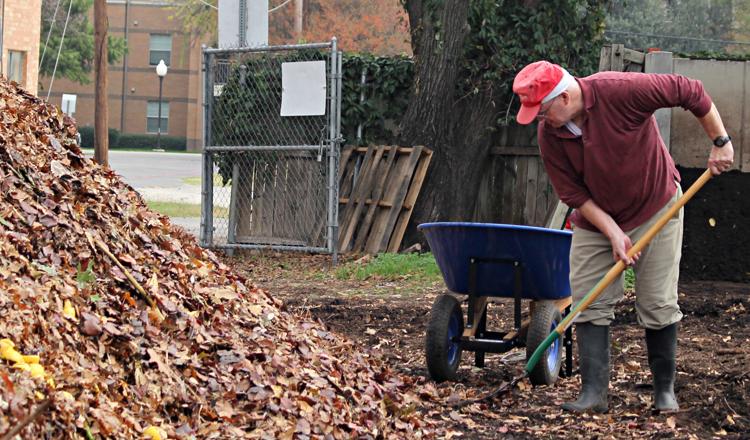 Darling said anyone can volunteer at the site. All they need to do is sign a liability waiver with UTA.
Darling's efforts don't stop with just composting. He teaches a backyard composting class with the city of Arlington and lectures about the importance of composting to biology classes at UTA.
Biology lecturer Jill Devito invites Darling to three of her lecture sessions every semester.
Devito said she does this to teach her students to see ecological systems in an urban environment.
"When I walk down the street in my neighborhood and see people chopping their lawns off and then hauling away the clippings and then putting on artificial ferlizers, going out and buying chemicals, none of that makes any sense to me," Devito said.
When a person takes away their leaves and lawn clippings from their environment, they are preventing nutrients from returning to the soil system, Devito said.
She said Darling's enthusiasm makes him an ambassador for composting.
Devito said she applauds the university's efforts and hopes more institutions follow suit.
Darling has explored the possibility of expanding efforts to include on-campus housing as one of his food waste contributors, but he said it could take too much time away from working on compost and would require a universitywide effort.
"The devil is the details," Darling said.
Darling said a central collection point would be needed along with students to contribute their preconsumed food waste and some additional help in collection.
"I work six hours a day. I spend two hours of that going around campus picking up stuff, so I have to have the biggest bang for the buck," Darling said. "Working four hours a day on this feels like it's not enough, so if I increase my collection time, I lose time here."
Engineering senator Yash Singh, who authored a sustainability resolution this semester to reduce the use of plastic bags, said the idea of expanding the university's composting efforts to on-campus housing is something Student Government would be interested in exploring.
Singh said if there is something that can be done to make the campus greener, it is worth exploring.
@KyleRCotton