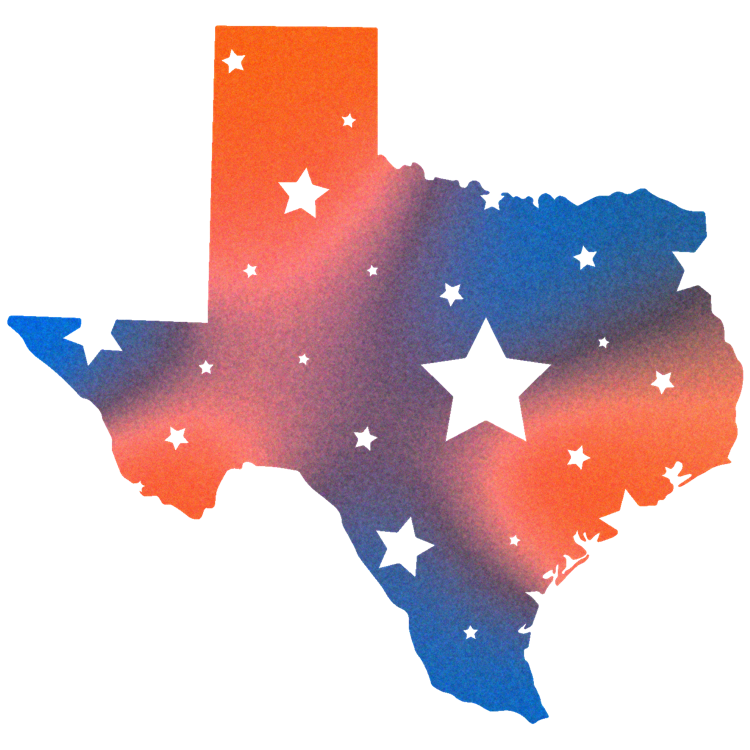 In recent years, demographic shifts in Texas urban areas have caused a change in voting patterns.
In the 2012 presidential election, Mitt Romney won Texas with about 16 percentage points against former President Barack Obama, according to the Texas Secretary of State. In 2016, President Donald Trump defeated Hillary Clinton in Texas with about 9 percentage points.
Two years later in 2018, U.S. Sen. Ted Cruz narrowly defeated Beto O'Rourke with 2.56 percentage points in the race for U.S. Senate.
Election results show that Democratic candidates have been slowly catching up to Republicans over the years, but the blue wave might not come so fast.
Political science professor Thomas Marshall said Texas is still a Republican-leaning state, and it would take another four to six years for the Democratic Party to be competitive statewide.
Marshall said two things have happened over the years that contribute to the growth of blue voting: the demographic change in Texas, especially in urban areas, and redistricting.
When people move to Texas, most of them will move to urban or suburban counties like Tarrant, Dallas or Collin, he said. Along with the high birth rate of the Hispanic population, these factors have changed the voting pattern and will continue to change over time.
Redistricting happens every 10 years after the census is taken. State legislature redraws state legislative and congressional district lines based on the latest census population.
The district lines that are in place now were drawn after 2011 with some areas heavily Republican, Marshall said. But the population in many places, like East Arlington and older suburbs, has changed over the years because of its older, smaller and more affordable houses. As the demographics change, so do election results.
But the Democratic Party has no leadership positions at the statewide level, and the blue wave shift is only on local levels, he said.
"The fact that Democrats really have very few competitive statewide candidates will hurt them," he said. "That's not something you get past real quickly."
Reese Surles, accounting and finance sophomore and UTA's Turning Point USA chapter president, said Texas will still be red for the presidential election because of the electoral college.
For presidential elections, the U.S. does not go with a national popular vote. Rather, electors from each state elect the president and vice president, according to the National Archives and Records Administration. The Electoral College system is a winner-take-all system. If 50.1% Texans vote red, and 49.9% Texans vote blue, all Texan electors' votes will go to the Republican candidate.
There are a total of 538 electors, and Texas has 38. A candidate needs at least 270 electors' votes, more than half, to win the presidential election.
Turning Point USA, a nonprofit organization founded in 2012, aims to identify, educate, train and organize students to promote the principles of freedom, free markets and limited government, according to the organization's website.
Despite the pandemic, Surles said, from his experience doing campaign work during this election period, the Republican Party is seeing a higher turnout rate in terms of donations and volunteers.
He said young Texans are becoming more conservative.
More people are turning to Democrats because of cities, but cities are not growing fast enough to turn the state blue, he said.
While three major cities in Texas have Democratic mayors, including Houston, Dallas, and Austin, the city of San Antonio has an independent mayor and Fort Worth has a Republican mayor. All statewide elected officials are Republicans, according to the Secretary of State website.
"The problem is Democrats just have basically weak candidates statewide," Marshall said.
Most Democratic candidates count on a liberal pool of voters who are underfinanced. They also do not have a lot of name recognition and do not appeal to voters outside of Democratic primary voters, which he said holds them back.
It's inevitable that Texas will be a more competitive state, but it will turn more into a swing state, he said.
Kevin Ceballos-Moreno, political science sophomore and UTA student ambassador for Battleground Texas, said Texas might turn blue this presidential election because of the "divisive" incumbent president.
The organization Battleground Texas dedicates itself to making Texas a swing state through registering more voters and encouraging people to stay active in the democratic process, according to its website. The organization focuses on young people and minority groups, Ceballos-Moreno said.
He said young minorities and people coming to Texas from other blue states are driving the blue wave.
These young people have fresh, progressive values on climate change, immigration and health care policies that are not reflected in the current government, he said. But their values are shared within the Democratic Party.
"The more people that we can have giving an opinion, the better policies we will have," he said.
@Chongyang206