On March 13, Jinh Yu Frey, UTA alumna and Arlington resident, earned her first UFC victory in dominant fashion.  
For the former world champion and her team, the victory was a culmination of over a decade of blood, sweat and tears while balancing her life as a combat sport athlete, student and medical professional.  
Frey began her mixed martial arts training at 23 years old, a late start for a combat sports athlete. She said she was initially exposed to the sport when a gym she frequented started an MMA program. 
Frey said she began by taking conditioning classes but was soon asked to help with kickboxing training. Staying at the gym for kickboxing led to staying for jiu jitsu practice, which led to consistent three-hour training sessions. 
"I'm a competitive person," she said. "Eventually I was like, 'I can probably do this.'" 
After a few amateur fights, Frey unintentionally made her foray into fighting professionally. In 2013, she contacted a fight promoter in Oklahoma to set up an amateur bout, but the only available opponent for her was a professional. Frey accepted.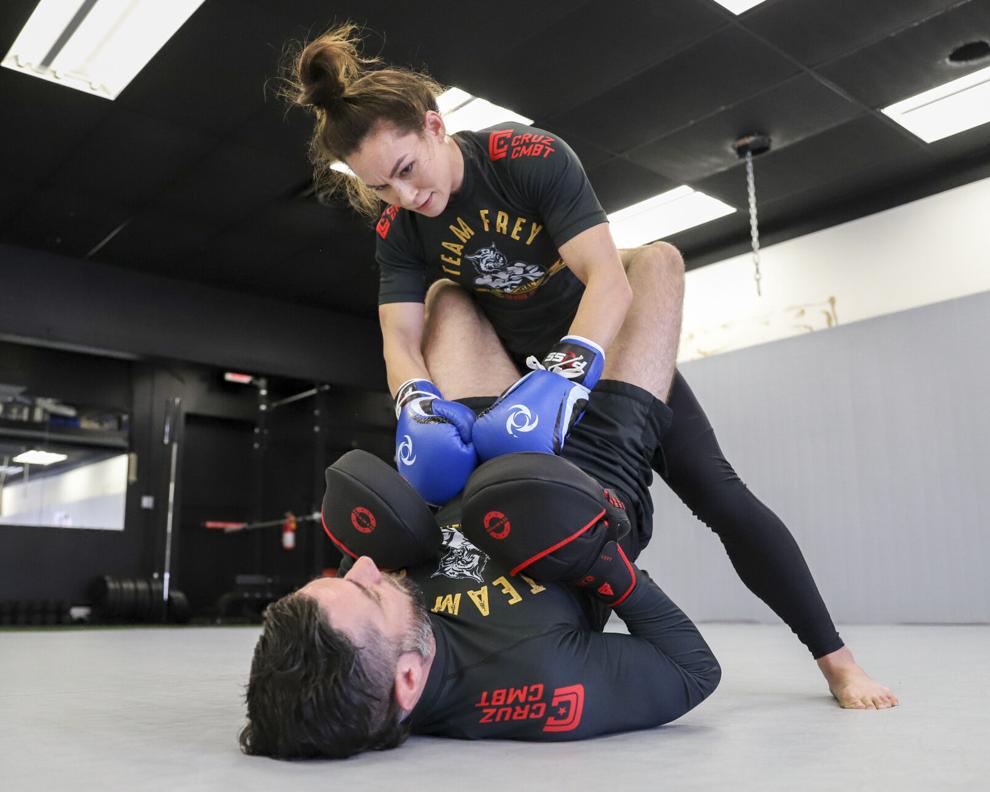 She would go on to win that initial fight, but it was her next fight against Darla Harris in June of that year that catapulted her career. She won by a vicious knockout, and footage of the stoppage went viral and drew the eyes of larger promotions. 
For her third professional fight, Frey was signed to the world's largest all-women MMA organization, Invicta Fighting Championships. 
Frey attended UTA Fort Worth from 2013 to 2015 to earn her master of business administration. Before attending UTA she had already earned an associate degree in nuclear medicine at Amarillo College and a Bachelor of Science in radiologic sciences at Midwestern State University. 
While attending UTA, Frey worked as a nuclear medicine technologist at Medical City Arlington.  
Frey said balancing graduate school, fight training and working a full-time job was a challenge. 
"I just had to be [an] extremely diligent steward of my time," she said. "There was no wasting time, no playing around on social media. Every 15-minute segment of my day was allotted to something, and I had to stick to that." 
Frey recalled Mondays were particularly brutal. Starting her day at 6:30 a.m., she would work until the afternoon, then she would train with the UTA wrestling team. After practice, she would head to class at 6 p.m.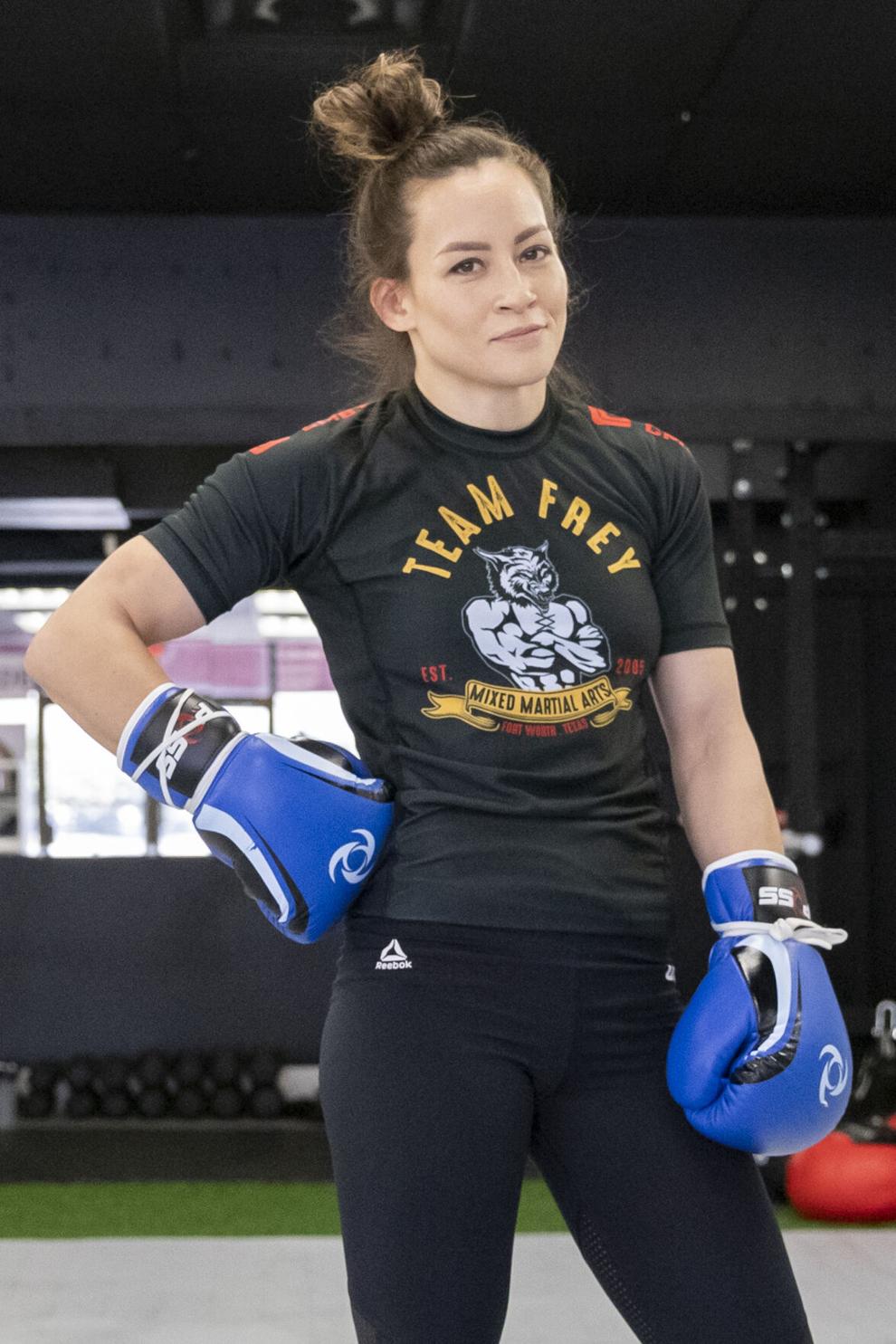 "It was rough some days," Frey said. "I didn't get a lot of sleep or not nearly as much sleep as I would have liked. Power naps were my best friend." 
Alumnus Dennis Norton, a member of Frey's cohort, said she always managed to show up to class on time. Norton said she was a smart, quiet and efficient student and was one of the primary people he would turn to for help in the program. He said her fighting career never interrupted the classroom, with one notable exception. 
Norton remembered one day when Frey came to class with a black eye. The instructor, unaware of her profession, looked at her and said, "What did you do, forget to duck?" 
"It kind of became a running joke among a few of us from that point forward," he said. 
Douglas Frey, Jinh's husband, coach and cornerman, said he would take care of the cooking and grocery shopping while she focused on her academic and professional pursuits.  
Jinh graduated from UTA in 2015. In September 2016, she fought for the Invicta Atomweight Championship. She lost that bout to a doctor stoppage caused by a cut. Undeterred, she continued fighting until another championship opportunity presented itself in July 2018. This time Jinh won her first world title and defended it against the same opponent later that year.  
Douglas said that victory was particularly special. 
"That was 10 years, that was an accumulation of blood, sweat and tears, ultimately to get that strap wrapped around her waist," he said. 
Douglas said he still gets nervous before watching her fight, but the nerves have alleviated with time and the knowledge that Jinh is an experienced, world-class fighter. 
Jinh had her final fight with Invicta in February 2020. She won the contest but sustained a serious injury in the fight and decided to take time off to heal and reassess her future.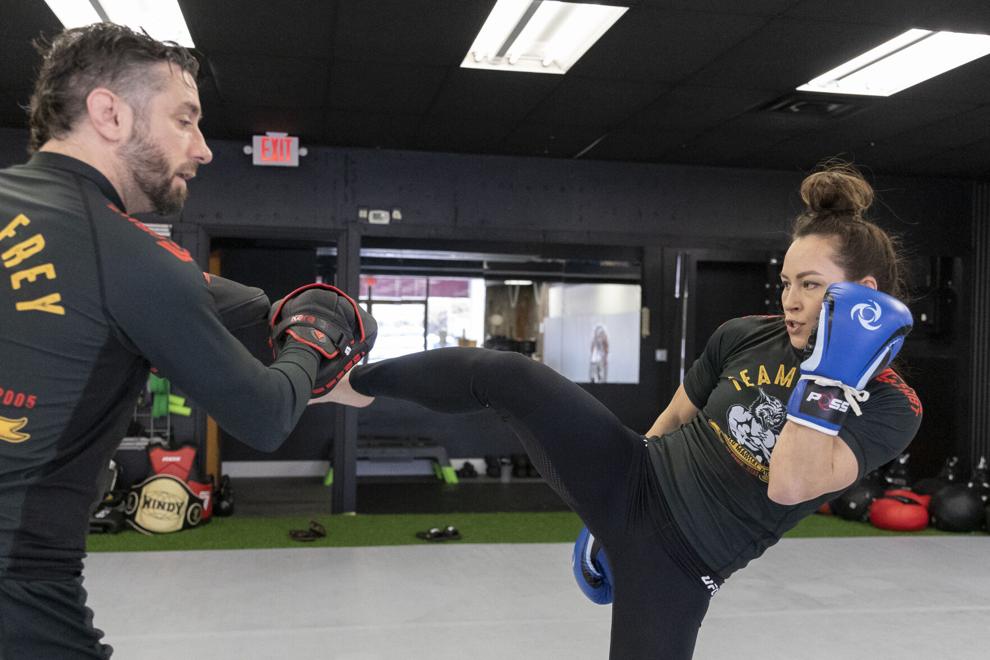 She said she went almost five months without training. During a June 2020 trip with her family in the mountains of New Mexico, she got a call asking if she would fight in the UFC six days later.   
After some encouragement from Douglas, Jinh decided to take the fight. 
"That whole week I was just a mess because I knew I hadn't been training at all, this is the biggest fight of my career," Jinh said. "Unfortunately for me, it wasn't an enjoyable experience." 
Jinh would lose her UFC debut and lost her second UFC appearance that October. 
Instead of submitting to the pressure of those high-profile losses, Jinh said she felt driven to change her narrative. 
"Instead of feeling defeated, I feel more motivated," Jinh said. "I'm like 'Ok, that's not how my story ends, I'm not going out like that.'" 
On March 13, Jinh tasted victory in the world's premier combat sports arena. 
In her bout against Brazilian fighter Gloria de Paula, Jinh dominated the ground game with over nine minutes of ground control time and two critical takedowns to earn a unanimous decision victory.  
She said having her hand raised in the octagon solidified her status as a UFC fighter.  
"I really didn't feel like a UFC fighter until now," Jinh said. "Getting that first victory, it's like I made it." 
Douglas said Jinh is unique in her ability to keep moving forward through defeat. 
"Not everybody can pick yourself up time and time again and keep moving forward," Douglas said. "Understand, there is growth within the failure. That's something that she really internally has been able to work out." 
Jinh doesn't have a next fight scheduled, and she said she is unsure of how long she wants to continue fighting. She initially thought she would be done by the time she turned 35, but after earning her first UFC victory shortly before her 36th birthday, she isn't ready to hang up her gloves just yet. 
After almost a decade of professional fighting experience, she has accumulated memories that will last well after she leaves the octagon. Memories like meeting fighting legend Megumi Fujii, training with UFC champion Valentina Shevchenko and talking the finer points of mental fortitude with former UFC champion Daniel Cormier.  
Regardless of when the end of her fighting career comes, she said the unexpected journey has been a life-changing experience.   
"It's changed my outlook on life," Jinh said. "I've met a ton of incredible people. I've learned an incredible amount about myself and what I'm able to accomplish, what I can do when I set my mind to something."  
@ColeKembel