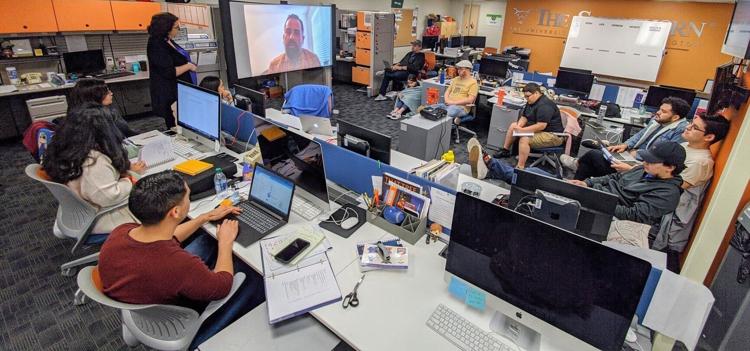 The Shorthorn won first place for Overall Excellence in Division 1 for its newspaper and website along with several other awards from the Texas Intercollegiate Press Association.
Universities in Division 1 include UT-Austin, the University of North Texas, UT-Dallas and Texas A&M University.
The Shorthorn won a total of 31 awards. Newspaper entries included coverage of the Howdy Modi Community Summit in September, Arlington's growth through the years and a bill impacting Deferred Action for Childhood Arrivals program recipients.
Managing editor Reese Oxner won Editor of the Year and special sections such as the 2019 Basketball Preview and Health and Wellness Guide won second place for Special Edition Design.
When Oxner first started at The Shorthorn, he had never had a journalism job before. Going down the stairs into Student Publications and passing previous awards along the wall, he said he was scared that he wouldn't be able to keep up.
In three years, Oxner has worked as a reporter and editor, serving as editor-in-chief from January to December 2019. He said the previous editor-in-chief, Narda Pérez, helped train him in areas ranging from breaking news to managing people.
He said it was exciting to hear about all the awards the publication won for 2019, and he felt proud of the team he got to assemble and grow with.
"The Shorthorn shaped me into the journalist that I am, and in many ways, the person I am," Oxner said.
Growth in students' confidence and skill is fun for newsroom adviser Laurie Fox to watch. Students are working hard every day, and oftentimes they don't see the areas they're growing in, she said.
Fox said The Shorthorn focuses on training good journalism fundamentals and news values.
Becoming a staff member is not limited to journalism majors. Fox said they've had a variety of different majors come work for The Shorthorn.
"Everyone brings their own temperament and talent," she said. "It's not just always your major, it's about whether you can bet on yourself and whether you can figure out what part of [the publication] you want to be a part of."
Editor-in-chief Brian Lopez said the innovation and courage to try new things is what helps The Shorthorn win its awards.
Although not working at a professional publication, Lopez said they take themselves seriously and try to ensure they reflect a professional publication.
Lopez has worked at The Shorthorn for almost two years. He said he didn't think his skills and the ways he has grown would be the same if it wasn't for his time working at the publication.
Anyone interested in learning how to communicate and write should join the staff, not just journalism majors, Lopez said.
As editor-in-chief, Lopez said it's his responsibility to guide the paper, but when it comes to winning awards, it's a collective effort.
"We have one common goal," Lopez said. "It just makes you proud."
@megancardona_