The next elected president could determine the future of federal programs such as Deferred Action for Childhood Arrivals.
Below is a breakdown of what's happened with DACA and how it's affected the community since its creation.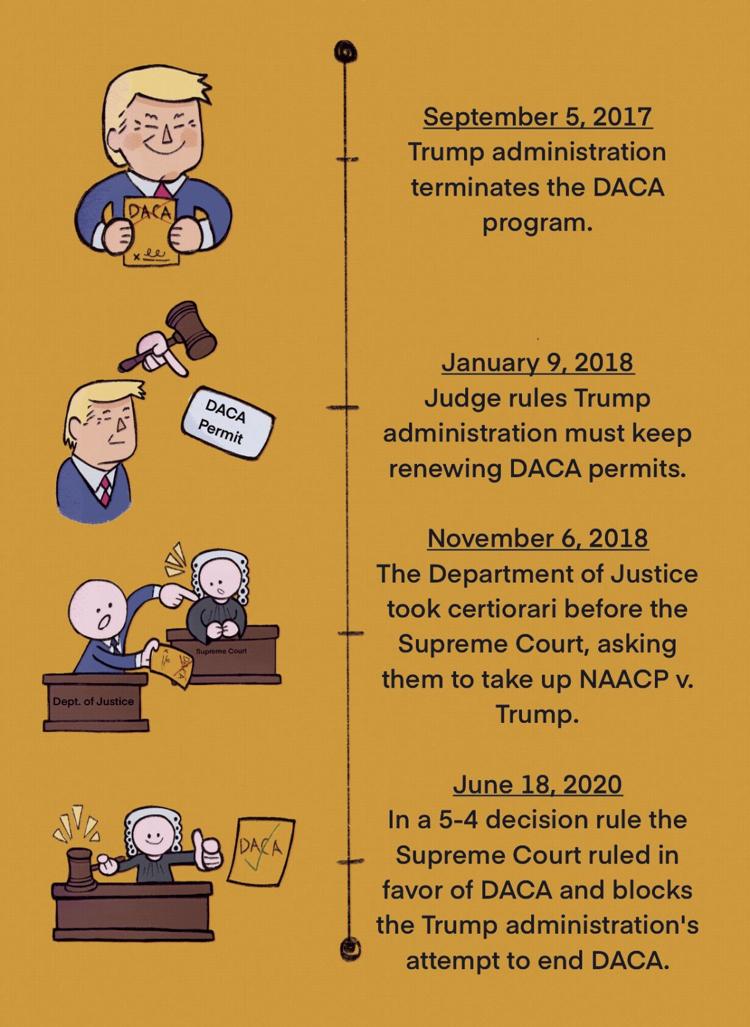 On June 15, 2012, former President Barack Obama initiated the immigration program known as DACA after the U.S. Congress failed to pass the Development Relief and Education for Alien Minors Act, according to Georgetown University Law Library.
According to a 2017 Center for American Progress survey, 69% of DACA recipients have acquired better jobs with better pay, and 65% reported purchasing their first car, helping to stimulate the economy.
President Donald Trump rescinded the program in 2017, only for the U.S. Supreme Court to later overrule the action. The program has not been fully reinstated as the Department of Homeland Security is not processing new applicants for the program, according to the Immigrant Legal Resource Center.
If elected, Democratic presidential nominee Joe Biden plans to reinstate DACA, according to his campaign site.
A provisional status was created by the Obama administration in 2012 for young undocumented immigrants who came to the United States as children, said Douglas Interiano, CEO and director of Immigration Legal Services Programs at Proyecto Inmigrante. About 800,000 DACA recipients were granted an opportunity to legally work while protected from deportation.
Multiple lawsuits were filed after the current administration unlawfully ended DACA, resulting in three national injunctions by U.S. district courts in California, New York, and the District of Columbia that allowed previous DACA recipients to keep renewing their status, according to the National Immigration Law Center.
In 2018, the U.S. Department of Justice took certiorari before the U.S Supreme Court, asking the justices to review the cases before appeals courts could issue decisions on them.
The actual issue of the lawsuit wasn't whether the program was legal but if the Trump administration handled it the correct way, Interiano said.
On June 18, 2020, the Supreme Court ruled 5-4 in favor of DACA in two ways: by holding that the rescission of DACA was arbitrary and capricious, and by acknowledging that the action lacked sufficient justification according to the Administrative Procedures Act and failed to consider all aspects of the program.
Biden has voiced support for working on a plan to legalize DACA recipients and other illegal immigrants, Interiano said.
If elected, Biden plans to lower or erase restrictions enacted by the Trump administration and stop construction of Trump's border wall, according to NPR. He's also pledged to make DACA permanent on his first day in office.
Trump's campaign website does not list new platforms regarding the 2020 general election but rather lists "promises kept" during his first term as president.
According to a Trump campaign news release, he plans to build upon the foundation set during his first term. Among his immigration plans include automatic deportation of noncitizen gang members, dismantling human trafficking networks and requiring new immigrants to be financially independent.
DACA recipients shouldn't feel stressed, Interiano said. He encouraged them to be more involved in the process and create positive change by calling federal representatives since DACA recipients contribute to the economy by paying taxes.
"You're not alone. There is thousands of organizations just like Proyecto Inmigrante," Interiano said. "We will continue to advocate so that they can finally get what they deserve."
Christian Zlolniski, Center for Mexican American Studies director and associate professor, said he works with many DACA recipients who are aware of their circumstances.
Zlolniski connects students with expert lawyers and groups, and offers scholarships.
A higher percentage of Latino voters could participate in the upcoming election, driven by immigration issues and how the current administration has handled them so far, he said.
"The majority of Americans have shown support [for] a legalization path for DACA, but that hasn't happened under the current administration," Zlolniski said.
Lariza Moreno, broadcast journalism alumna and a DACA recipient, immigrated to the United States at the age of eight. She was not aware of her immigration status until after she graduated from high school and applied for financial aid. She applied for the DACA program in 2012 after it was initiated.
"It opened up so many opportunities. I was able to find a good paying job," Moreno said, "It really helped a lot."
Moreno is no stranger to immigration policy changes, emphasizing how the recent win in the Supreme Court was followed by a reduction in the renewal length from two years to one. The change was signaled by the Department of Homeland Security in a memorandum published in July.
Moreno said the one-year permit flies by quickly, and she hopes legislation will establish something more reasonable someday.
Now a Telemundo associate producer, Moreno works in lifestyle entertainment news and is not afraid to live outside of the shadows, encouraging other DACA recipients to continue their education without fear.
"We're hardworking people, going to college and making a difference in our community," Moreno said. "Show the hardworking person that you are."
@ArimNeftali