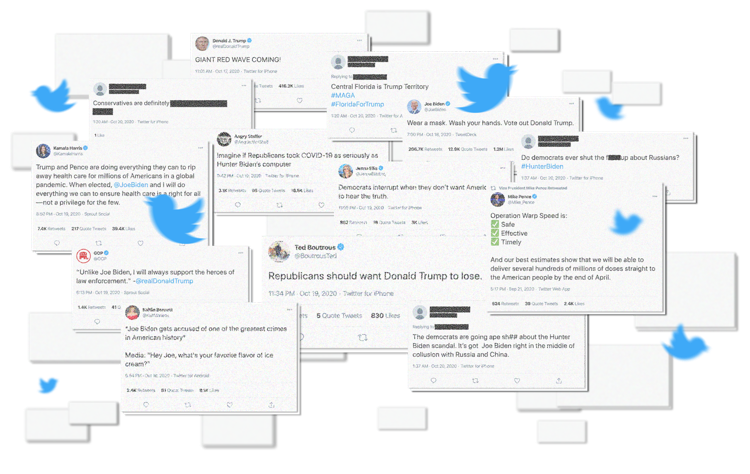 UTA alumnus Gavin Mitchell and his roommates were looking for a place to put out their new yard sign in support of Democratic presidential nominee Joe Biden when a car passed by and someone yelled out "Donald Trump."
About a week later, the sign was missing from the yard. Mitchell said the only explanation was that it was stolen.
The 2020 election year has been filled with major events, both nationally and globally. The Shorthorn talked to UTA community members on both sides of the political aisle about how this election season has weighed on them.
In 2012, the first election he was interested in, Mitchell said he doesn't remember there being so much of a divide. This year, he said he feels stressed.
"I'm worried that whatever happens, however it goes in November, people's angry feelings now will just sort of boil over," he said.
This year, public health, climate change and social justice are issues brought to the forefront following the impeachment inquiry initiated last year.
In February, the U.S. Senate acquitted President Donald Trump of two impeachment articles approved by the House of Representatives in December 2019.
Over a million people worldwide have died from the COVID-19 pandemic, including over 200,000 deaths in the U.S., according to the Johns Hopkins Coronavirus Resource Center.
Since the beginning of the year, wildfires have burned over 4.1 million acres in California, with other parts of the western U.S. also affected by fire and smoke.
On May 25, George Floyd, a 46-year-old Black man, died in Minneapolis, Minnesota, at the hands of Derek Chauvin, a white man and former Minneapolis police officer, who pressed his knee into Floyd's neck as he struggled to breathe.
The video of Floyd's death sparked outrage across the country, with protests erupting nationwide calling for justice and an end to police brutality.
On Thursday, during the first week of early voting in Texas, an anti-abortion demonstrator came to UTA's campus, sparking a debate with students in front of the Central Library. The demonstrator has previously come to campus in support of Trump.
Civil engineering sophomore Nathan Bergan, along with some other students, stood in support of the demonstrator.
The debate became verbally heated with the topic of police reform coming up. A student broke down in tears when her father, who is a police officer, was called a murderer after she voiced that not all cops were bad.
Bergan decided to console the student because he doesn't think anyone should feel bad for their beliefs.
"I don't think anyone agrees that insulting people over something like that is acceptable," he said. "I don't see how insulting your opponents would help you win an argument."
Although this is the first presidential election he can vote in, Bergan said he's paid attention to U.S. politics since 2012. For him, this election year has felt more polarized than those in the past.
In 2020, people from both sides are more passionate about their beliefs and are less willing to listen to each other, Bergan said.
Nursing senior Skye Ballew said she's paid closer attention to politics since the 2016 election.
Working as a patient care assistant at Parkland Hospital at the height of Dallas' COVID-19 cases, Ballew said she has seen the pandemic's severity first hand.
In the months leading up to the election, the pandemic and racial inequality have brought to light issues the country can no longer avoid, she said.
Although she originally wanted Sen. Bernie Sanders to win the Democratic nomination, Ballew said she's planning on voting for Biden despite not fully supporting him.
"Are we continuously going to have to choose between the lesser of two evils?" she said.
This year is the first presidential election aerospace engineering junior Jean Luc Reynolds will get to vote in. He said his interest in the election was sparked by the primaries.
Because of the tension this election year, Reynolds said he avoids wearing clothing affiliated with a candidate.
"The political climate is so divisive these days that you almost have to fear supporting a specific politician," he said.
Reynolds feels that social media has made the divide between the parties more widespread.
One of the problems of this year's election is that voters have to choose the best from the worst options, he said. For him, he's supporting the candidate that aligns with his economic and isolationist foreign policy views.
"We're in a situation where we're choosing the shinier of two shits," Reynolds said. "There's no question that each candidate has their own subsequent problems."
@megancardona_