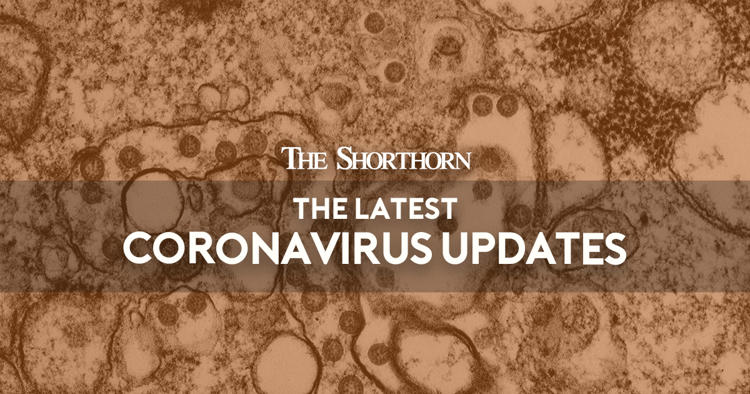 Editor's note: This article was continuously updated during the spring semester. The last update was April 23. For current updates, visit our UTA COVID-19 case counter.
Updated at 4:04 a.m. April 23 with updated case numbers.
COVID-19 has had ripple effects across the country, including at UTA and Arlington. Here is The Shorthorn's roundup of what you should know, resources and answers to common questions.
Check our coronavirus coverage for the latest updates. 
Current local COVID-19 counts
Arlington
Cases: 8,346 | Deaths: 107 | Recoveries: 7,559

Tarrant County
Cases: 45,583 | Deaths: 612 | Recoveries: 40,077

Dallas County:
Cases: 76,149 | Deaths: 985

Updated Sept. 16. These numbers include provisional cases that could change.
For the full tracker, click here.
4/22: Arlington has 267 confirmed cases and four total deaths to date. Tarrant County cases increased by 97 to 1,430 and reported two additional deaths, bringing the death total to 44. In Tarrant, 252 recoveries have been reported. Dallas County has 2,602 confirmed cases and reported four additional deaths, bringing the death total to 64. 
UTA updates
UTA has implemented a pass/fail option, with individual colleges making the call for what classes are eligible.
The university has postponed spring graduation ceremonies indefinitely, moved classes online for the duration of the semester and canceled all on-campus events. It also required all students to move out of residence halls unless they are approved on a case-by-case basis. An online commencement ceremony was discussed.
UTA announced that a student had contracted COVID-19 and was placed in quarantine. Tarrant County Public Health reached out to those the student interacted with to place them in a 14-day self-isolation.
Arlington/Tarrant County updates 
On Monday, Gov. Greg Abbott extended the Texas disaster declaration to at least May 12.
4/18: Arlington has 228 confirmed cases with three total deaths to date. Tarrant County cases increased by 54 to 1229 and reported three additional deaths, bringing the death total to 38. Dallas County cases increased by 134 to 2,324 and reported five additional deaths, bringing the death total to 60. This has been the highest number of deaths in a week for Dallas County.
Four additional cases of COVID-19 were discovered at the Texas Masonic Retirement Center in Arlington, bringing the total to five.
Arlington extended its declaration of disaster to April 30 Thursday. Both Arlington and Tarrant County issued a shelter-in-place on March 24, closing nonessential businesses and instructing residents to only go out for essential services to help slow the spread of COVID-19. On April 2, Arlington extended its disaster declaration to April 30.
Arlington also moved its May municipal elections to November. 
Answers to common questions 
Yes. A UTA student contracted COVID-19, the university announced March 14. Tarrant County Public Health placed those who were in contact with the infected student in self-isolation as a precaution.
Yes. The Central Library has closed except to provide laptop lending for the duration of the semester. It recently received additional laptops in light of UTA moving to online classes.
Graduates will still receive their degrees as scheduled. All UTA commencement ceremonies have been postponed, and there has not been an announcement as to when they may be rescheduled. The Shorthorn will publish a story once more information is available.
As of now, the summer and fall semesters are scheduled to proceed as usual, but that could change.
Both Arlington and Tarrant County issued shelter-in-place orders on March 24, closing nonessential businesses and instructing residents to only go out for essential services to help slow the spread of COVID-19.
Those who violate the order may face a fine up to $1,000 or jail time for a period not exceeding 180 days.
Essential businesses such as health care services, grocery stores, governmental operations, city infrastructure services and restaurants in delivery, takeout or drive-thru capacity can remain open, according to the order.
Residents can continue working at essential businesses, run errands, exercise outside and other activities, as long as they maintain the social distancing guideline of six feet.
UTA has instructed academic departments to conduct advising remotely. Check with your department for instructions.
Students who drop their course between March 17th and April 10th will be assigned a Q grade which will not impact the six-drop undergraduate limit. UTA has said that no refunds will be issued.
Students can request a lease cancellation without paying a fee but must meet certain criteria and do so by April 10. More information can be found on the UTA Housing website.
All campus tours, events and activities are canceled through the end of the spring semester. Most on-campus services have been either suspended or moved online. The only UTA Dining option open is to-go from the University Center Market.
The Maverick Activities Center is closed. The Central Library is closed but offers limited services online.
Computer labs that have been adapted to be socially distant are available on campus to students who need them.
Counseling and Psychological Services will be operating by phone. The Health Center will continue operating, as well as the UTA Bookstore and its Starbucks.
Faculty and staff are being advised to work remotely as much as possible, according to the UTA website. Research activities may continue should it be able to be completed via working remotely or in limited social interactions as described by the Centers for Disease Control and Prevention, or if it is necessary due to the nature of the work.
No. As of Tuesday, the Central Library is closing except for laptop lending. The loan period for laptops has been extended to the end of the semester. The Office of Information Technology has ordered additional tablets and laptops to lend. More information can be found on the library website.
The CDC recommends to stay home and call a health care provider if you develop symptoms such as fever, cough, and/or difficulty breathing and have been in close contact with someone who had COVID-19 or recently traveled in an area with an ongoing spread of COVID-19.
If you're worried about having the virus, UTA instructs students to call before going to any medical clinic, including UTA Health Services.
Trouble breathing, persistent chest pain or pressure, confusion and bluish lips or face are considered emergency warning signs and require immediate medical attention, according to the CDC. In the event of an emergency, call 911.
Students can contact UTA Health Services with concerns during office hours at 817-272-2771. Outside of normal business hours, call the Tarrant County Public Health hotline at 817-321-5939.
According to the CDC, the virus is thought to spread mainly from person to person within 6 feet of each other through respiratory droplets produced when an infected person coughs or sneezes. It may be possible to get COVID-19 by touching a surface or object that has the virus on it and then touching your mouth, nose or your eyes.
Because it is a new disease, the CDC and other health organizations are still learning how it spreads and could provide new information in the future.
Resources:
Featured headlines