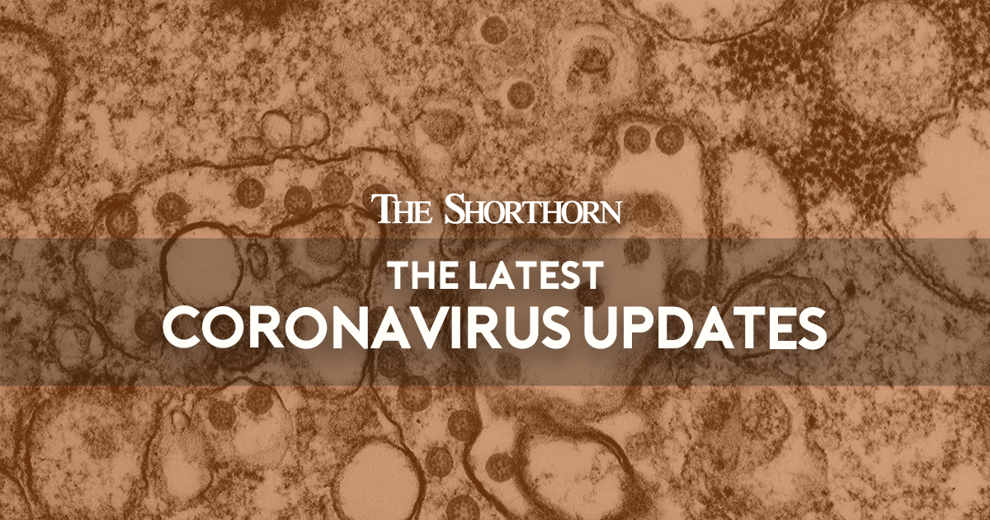 Updated 5/10: The Shorthorn is keeping track of confirmed COVID-19 cases in Arlington and Tarrant County. In the table below, cases, deaths and recoveries are separated into different categories, and it will be updated as new cases are reported.
To view updates from UTA, click here.
COVID-19 has had ripple effects across the country, including at UTA and Arlington. Here is The Shorthorn's roundup of what you should know, resources and answers to common questions.
Current local COVID-19 counts
Arlington
Cases: 43,563 | Deaths: 676 | Recoveries: 42,166

Tarrant County
Cases: 258,423 | Deaths: 3,456 | Recoveries: 251,097

Updated May 10. These numbers include provisional cases that could change.
Arlington/Tarrant County updates 
Total bed occupancy rate
85%

Adult ICU occupancy rate
86%

Beds occupied by COVID-19 patients (Tarrant County)
3%

Ventilator usage
24%

Updated May 10.
Answers to common questions 
Currently, the Texas Department of State Health Services is allowing individuals who qualify for Phase 1A and Phase 1B of the Texas COVID-19 Vaccination Plan to register for the vaccine. Eligible individuals include frontline healthcare workers, long-term care staff and residents, school nurses, individuals aged 65+, and individuals aged 16+ with at least one chronic medical condition that places them at increased risk of severe illness from the virus that causes COVID-19. Additional details can be found here.
Tarrant County residents can register for the vaccine here.
Once registered you will be contacted with information to schedule your appointment.
No, after your first visit you will receive a card with the approximate time for your second dose. A few days prior to that date you will receive a new clinic appointment from Tarrant County Public Health with information on where and when to receive your second dose. If you are not able to make your second appointment call the TCPH Coronavirus hotline at 817-248-6299 for additional options.
The CDC recommends to stay home and call a health care provider if you develop symptoms such as fever, cough, and/or difficulty breathing and have been in close contact with someone who had COVID-19 or recently traveled in an area with an ongoing spread of COVID-19.
If you're worried about having the virus, UTA instructs students to call before going to any medical clinic, including UTA Health Services.
Trouble breathing, persistent chest pain or pressure, confusion and bluish lips or face are considered emergency warning signs and require immediate medical attention, according to the CDC. In the event of an emergency, call 911.
Students can contact UTA Health Services with concerns during office hours at 817-272-2771. Outside of normal business hours, call the Tarrant County Public Health hotline at 817-321-5939.
According to the CDC, the virus is thought to spread mainly from person to person within 6 feet of each other through respiratory droplets produced when an infected person coughs or sneezes. It may be possible to get COVID-19 by touching a surface or object that has the virus on it and then touching your mouth, nose or your eyes.
Because it is a new disease, the CDC and other health organizations are still learning how it spreads and could provide new information in the future.
Resources:
Featured headlines
In total, 23 public facilities, including all recreation centers, golf clubhouses and libraries, City Hall, the Municipal Court and Esports Stadium Arlington & Expo Center received accreditation.
The city's vaccine megacenter within the Esports Stadium Arlington & Expo Center has administered over 13,500 COVID-19 vaccinations.