The artistic works of San Antonio-based artist Jill Bedgood and Ennis-based artist Celia Eberle are displayed at The Gallery at UTA until Feb. 22.
A reception was hosted on Friday at the Fine Arts Building, where the two artists discussed their work and interacted with attendees.
Bedgood said her art is inspired by her various life experiences, and she emphasizes the memorialization of objects.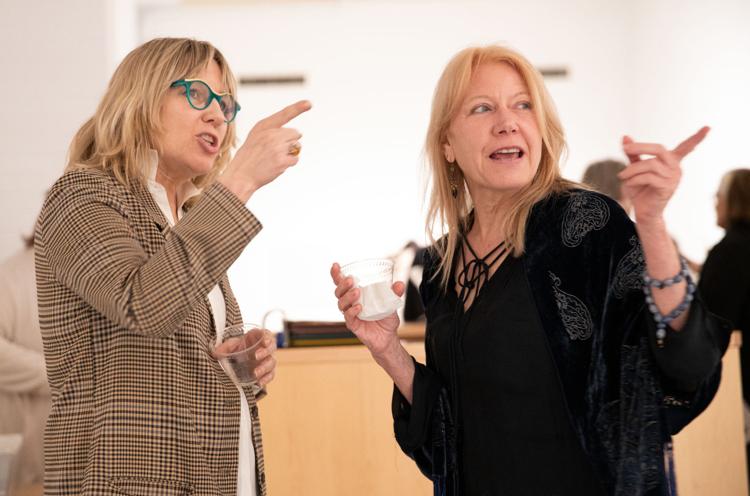 She focuses on the cyclical nature of things with her art, bringing nostalgic tones that force viewers to think about their memories and their own mortality, she said.
"I'm interested in that slice of time where change occurs," Bedgood said.
One of her pieces is a sculpture of a book made of cast plaster with moths displayed on the cover. Bedgood used materials such as marble dust and graphite in this piece.
The moths were cast from earrings her father gave to her mother in 1948, she said. The moths represent the idea of dusk — the change from day to night — which mirrors the many transitions people go through in their lives.
"For me, it kind of represents that time in life where you're getting a little older and worn," Bedgood said.
Eberle said her art is a philosophical pursuit that poses big existential questions. Her pieces include materials such as bone, copper, wood and her own blood.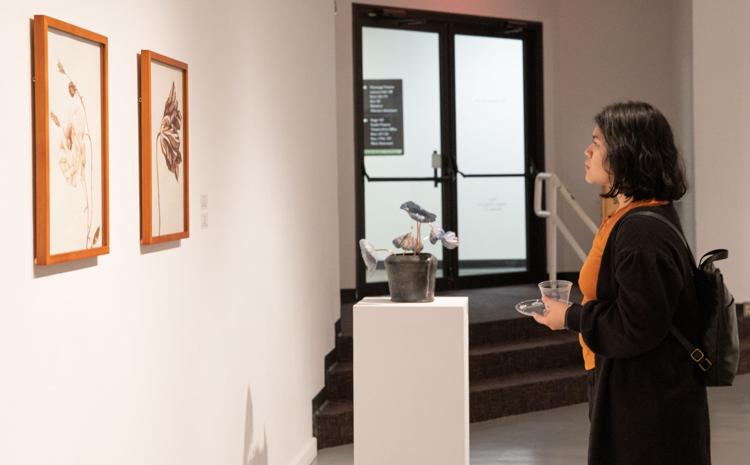 "The Mythology of Love" is a body of work including several paintings that depict flowers, which Eberle painted using her own blood.
"I was thinking about love and sacrifice, and giving everything you have," she said.
Psychology sophomore Devin Sternes, who attended the reception, said her favorite piece was "Secret Ceremony" by Eberle.
The sculpture depicted a small encasement of a forest on a table, which showed an upside down chess board on the bottom, Sternes said.
@xo_alexiisss