Arlington resident Amber Gilen tapped her fingers lightly on her steering wheel as she waited in line outside Globe Life Field. Two of her daughters, four-year-old Kaylee and six-year-old Lauren, had climbed to the front passenger seat of her lightly-battered sedan during the roughly 45-minute wait. Sitting crossed-legged in the same seat, they played quietly with a purple-eyed stuffed animal.
Gilen's 10-year-old daughter Laila and 8-year-old son Maurice sat in the backseat with the windows down to catch the breeze.
Around 9 a.m., the family was next in line at the Tarrant Area Food Bank emergency food box distribution. Hundreds of cars filled Lot F of Globe Life Field behind them.
Ahead of them, the 136th Air National Guard filled people's car trunks with boxes of dry and frozen foods, bags of produce and gallons of milk. Nine Tarrant Area Food Bank semi trucks sat nearby, full of donations from the National Guard, Albertsons and other donors.
Bill Hays, Tarrant Area Food Bank project manager, said the boxes of food were divided into two categories: emergency dry and protein. The 25-pound emergency dry boxes were filled with an assortment of shelf-stable foods such as rice, canned beans, cereal, tuna fish, pasta and pasta sauce. The protein boxes were filled with four two-person frozen meals and a five-pound bag of frozen chicken.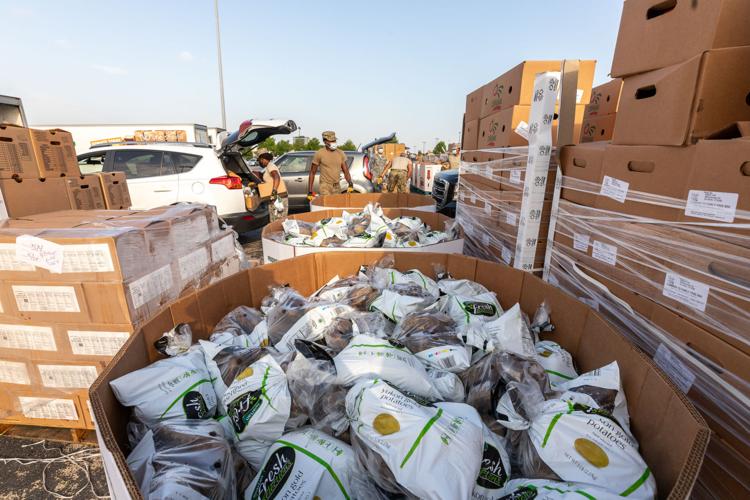 Each family received about 100 pounds of food, about 40 pounds more than the usual amount distributed by the food bank, said Charles Boswell, Tarrant Area Food Bank executive vice president.
For Gilen's family, those 100 pounds of food will last about two weeks, providing Gilen a much-needed financial break. Currently unemployed and the only provider for her four children, the young mother said the few unemployment benefits she's received barely support her young family.
"I've just been on my own," she said.
Dylan Solis, Tarrant Area Food Bank marketing coordinator, said Tuesday's event was the largest distribution the organization ever had, with a goal to feed at least 1,500 families. Depending on which organization the food bank partners with, a routine distribution can normally feed about 300-500 families.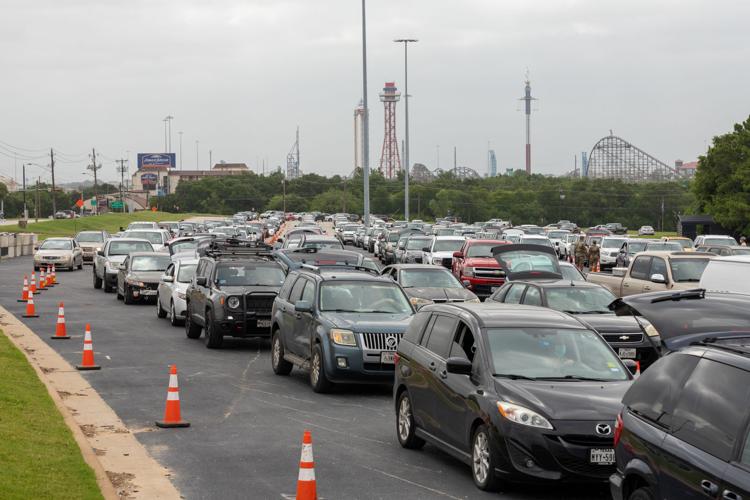 In preparation for Tuesday's event, the food bank brought about 200,000 pounds of food, Hays said.
Arlington resident Juan Gonzalez said these donations will help support his three-generation household. Because of COVID-19, he's been unemployed for the last three months, and without unemployment until recently, it's been hard to make ends meet.
Although everyone in the house contributes what they can financially, the extra groceries from the food bank will feed his family for the next week or two.
"It's the first time I've done [this], but I've seen them around the city," he said. "But it was worth it now."
Gilen voiced a similar sentiment to Gonzales, and said she hopes the food bank is able to continue supplying food to families struggling with unemployment during the pandemic.
"I hope they can keep doing this while COVID-19 is still around," she said.
@CecilLenzen