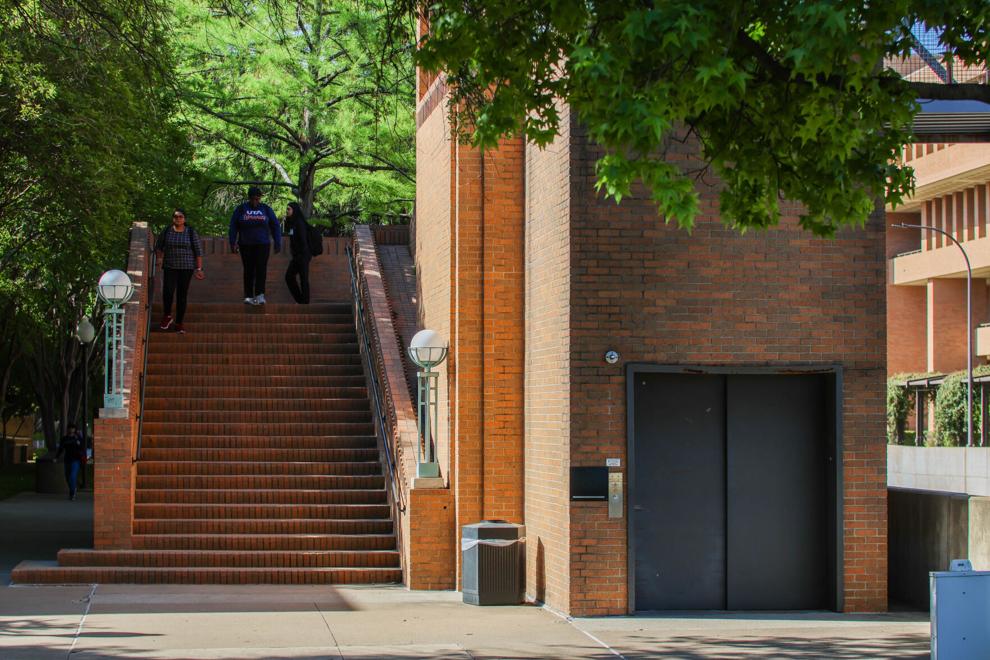 The Disability Studies minor faculty has put out a survey to the university, asking students, faculty and staff to give feedback on accessibility on campus. The survey can be taken here and closes in approximately a month.
The survey is a collaboration between the minor and the UTA Facilities Management and Campus Operations. It aims to collect students, faculty and staff's opinions of what works well and what could be improved. Suggestions so far included updates to the elevators on campus and queries about making classrooms more amenable to those in wheelchairs.
Sarah Rose, director of the Disability Studies minor and associate professor of history, said they had wanted to do a survey on accessibility and worked with other staff, as well as the Disability Studies faculty and student organizations, to create a draft. A final version was recently sent out to students, Rose said. 
"Now that we have the new president and provost, I think it's an opening for an accessibility survey," she said. 
Faye Cocchiara, clinical associate professor of management, had a student last semester who uses a wheelchair. After she noticed the student was relegated to the back of the classroom and was stuck where the door would hit them. She tried to get additional accommodation for her student.  
"I presented this to the Disability Studies faculty, and lo and behold, it wasn't only my students. It was many students. It was many faculty," Cocchiara said. 
Distinguished senior lecturer Laurel Whitsett, who also attends UTA as a doctoral student, said from her perspective, she appreciates how responsive the university is to any student distress but believes there's room for improvement and that the concept of universal design might help.  
Universal design is the design of products and environments that can be used by all people to the greatest extent possible without needing adaptation or specialized design, Whitsett said. 
"So I don't have to go in and hack it to pieces so I can use it, it should already be designed that way," she said. 
Rose said suggestions from the survey that students, faculty and staff had submitted range from the elevators on Cooper Street to inaccessible parking to difficulty navigating and using certain classrooms. 
Whitsett said she'd like more training, such as a better understanding of what services the theater department can offer patrons. She also mentioned incorporating universal design concepts into the classroom to enhance learning.
"I think this solves a need, which is very meta because that's what we do in universal design: We solve needs before they happen," Whitsett said. "That's exactly what I think this does — ultimately, it'd be awesome to know what everyone's challenges are, and let's solve those challenges." 
Morgan Wood, Lady Movin' Mavs head coach, said UTA does a good job of recruiting students with disabilities to the university, but the accessible infrastructure for them is a bit outdated.
Specific examples of infrastructure include unreliable elevators across campus and the glass doors to the Physical Education Building being inaccessible to her players, Wood said. She also noted that her student-athletes, sometimes have issues with getting appropriate housing, as there is often only one accessible unit to go around, especially when team members with different levels of need wish to room together. 
Rose said that once the results are in, and analyzed, there will be a meeting with various upper management staff, the Student Access and Resource Center, staff from Facilities Management and representatives from the Americans with Disabilities Act to discuss and move forward. 
"We're really talking about what is it that students need, and it's nothing more or less than any other student, and I appreciate that because it's equality," Cocchiara said. "It's the meaning of equality. It's the meaning of equity."
Wood said the disabled population is often underseen, but everyone should care.
"If we're being treated, not equally, but the way we should be, with equity, I think that nobody has to worry about us anymore," she said. "We take care of ourselves, and we have what we need to be successful." 
Cocchiara said keeping up with and updating accessibility is important because one of the primary meanings of diversity is differences. 
"We need to be able to keep our eyes open and watch and be able to pivot. Whenever we need something else that requires another level of accessibility, we should be able to respond to that because, bottom line, it's the right thing to do," she said. 
@IsalyWolf