An Institute of Urban Studies student and director were recognized at an international planning convention Oct. 15.
Ahoura Zandiatashbar, institute graduate research assistant, and institute director Shima Hamidi won the People's Choice poster award at the Association of Collegiate Schools of Planning conference.
The poster displayed a summary of the research the two conducted about innovation in cities over the last year and a half.
For their research, the two studied the built environment to isolate factors which lead to a city being innovative, Zandiatashbar said.
Zandiatashbar designed the award-winning poster for the conference.
"This is a coveted award every year at the [Association of Collegiate Schools of Planning conference]," organization executive director Donna Dodd said in an email. "Planning peers from across the globe are invited to view all of the submitted posters and select the People's Choice winner."
Sixty-four posters were submitted in this year's competition.
In the planning field, posters are often used to make complicated information more approachable, Hamidi said.
"We were so honored to the get the award," she said. "This is the most important conference for planners."
The paper is lengthy and relies heavily on text and is in the process of being published.
Hamidi said Zandiatashbar's design was one of the main reasons their poster won the award.
She said many posters rely too much on large amounts of text, which makes it harder to read and less interesting to look at.
David Weinreich, postdoctoral research associate for the institute, said the poster had an excellent reception at the conference.
It's a prestigious award, but he was not surprised when the two won, he said. The research was well-done and Zandiatashbar is a very good designer, he said.
"It's a skill I think, you know, that not everyone can do," he said. "Take complicated research and put it onto a poster so people can understand what you did."
Zandiatashbar said representing the data in a visually appealing way makes it approachable to readers and decision makers.
"It's a way of explaining your work to someone else," Weinreich said. "If you can't explain your work to someone else, it's not going to have as big of an impact."
Posters can influence other people's work within the profession, he said.
Weinreich said he was excited to hear the announcement of the UTA team winning.
"I didn't know anyone who had won an award there before, so I was very excited," Weinreich said.
He said he was impressed with Zandiatashbar especially, because there were not many students who won awards.
The research indicated compact cities have a higher likelihood of being innovative, he said.
Arlington could almost be an innovation district, using UTA as an anchor institution, he said. However, like many Texas cities, Arlington is a sprawl and not very compact.
Zandiatashbar said when designing the poster, he minimized the text and focused on graphics. He wanted to represent the data as visually as possible.
"Your duty is to get attention and get your message out to the audience," he said.
Zandiatashbar said designing the poster only took two hours because he has experience in graphic design.
"I love this conference a lot," he said. "This is really important for me."
At the conference, he recognized many of the planners who wrote the papers he read.
"I like this conference because, first of all, you see very famous people — people who inspire your work," he said.
Zandiatashbar said he was excited to meet these influential planners and researchers.
"I thought to myself, 'I saw this guy on the Google,'" he said.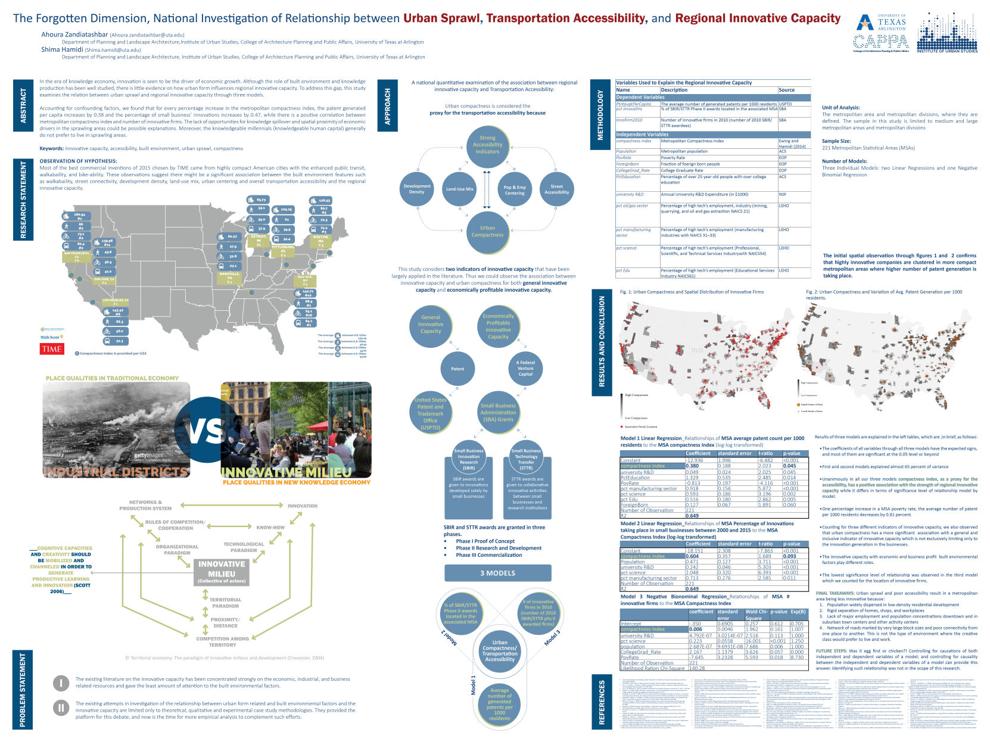 The community is tight-knit, and he enjoys visiting with people he met at past conventions, he said.
Zandiatashbar is thankful to Hamidi for encouraging him to publish papers since the first day they met. She is very supportive, he said. She taught him how to conduct unbiased research and pushes him to be successful.
"Your research is all you have as a Ph.D.," he said.
Brenda Davis, office of graduate studies manager, encouraged Zandiatashbar to go to the conference and present his research.
"She is really awesome," he said.
Davis helps Zandiatashbar find financial aid, which makes it possible for him to attend.
"I encourage all of the Ph.D. students in urban planning to attend this conference," he said. "I would like to see a stronger presence of UTA students."
@reeseoxner