Amanda Galvan already had a degree in biology when she came to UTA in 2011, but when she graduates this week, she'll be leaving as a poet instead of a nurse.
Galvan, a graduating English studies senior, will attend the New York Summer Writers Institute at Skidmore College before joining the Master of Fine Arts creative writing program at Old Dominion University in the fall. She was also accepted to six other Master of Fine Arts programs around the country.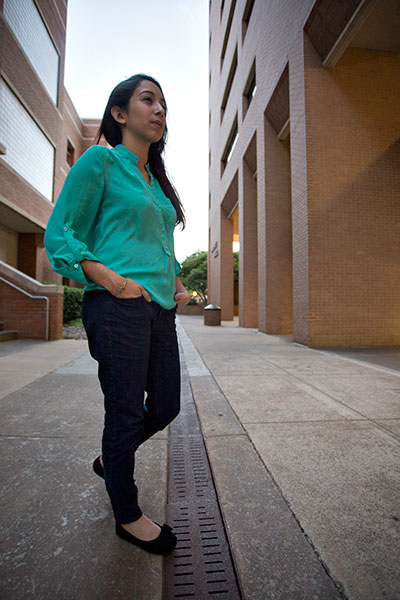 English studies senior Amanda Galvan finds inspiration for her poetry in many campus locations, such as the walkway below Carlisle Hall. She listens to the sound and feel of the breeze and listens to the drone of machinery in the area, Galvan said.
When she first left for college, Galvan said she was encouraged by family to go pre-med, and felt pressure to make her parents happy.
"It was a parental push to go into science, just because of the job markets and all the stuff that they're worried about," she said. "But it's funny when I look back on it. My English grades since the beginning were better than my science grades, and I guess two and two didn't go together until later."
Galvan earned a Bachelor of Arts degree in biology from UT-Dallas, which she said allowed her to minor in creative writing.
"As soon as I figured out the trick that I could do 14 or 12 hours of however many, I think it was 18 credits of creative writing, and have it count for my biology degree, I was sold," she said.
Galvan's work often makes use of her biology background, juxtaposing medical terminology with poetry, said English associate professor Tim Richardson.
"Those are unusual words to find in poetry," he said. "They're difficult to use in poetry unless you've developed a sophisticated ear for the sounds of words."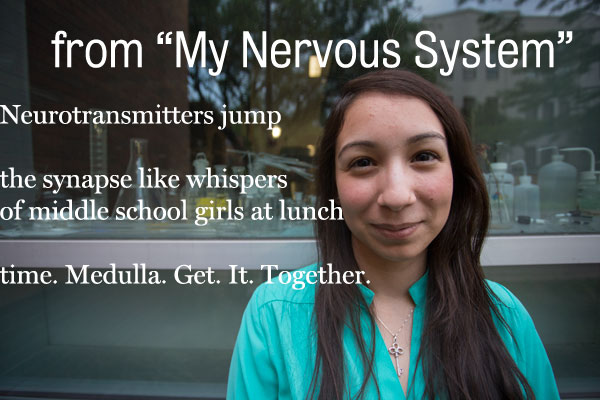 After completing her biology degree three years ago, Galvan looked into graduate school, but she said most Master of Fine Arts programs she found in creative writing required more literature courses than she had taken.
To prepare for applying to graduate school, she decided to earn a second bachelor's in English while her husband, Minh-Duc Huynh, attended the University of North Texas as a medical student.
In addition to taking classes, both Galvan and Huynh work full time.
"It's been very challenging, and applying to all the schools is not cheap at all, so we had to budget carefully," Huynh said. "It was very stressful, but we managed to do it."
Despite dealing with a difficult balance of school and work, Galvan still rushed a sorority her first year at UTA, assisted with the creation of Write Club on campus and helped recharter the UTA chapter of Alpha Phi Omega, a coed service fraternity.
English studies senior Suyen Orozco, Write Club events coordinator, said Galvan's involvement in helping others isn't surprising.
"It shows that she has a soft heart for some things, for those who have less than she does," Orozco said.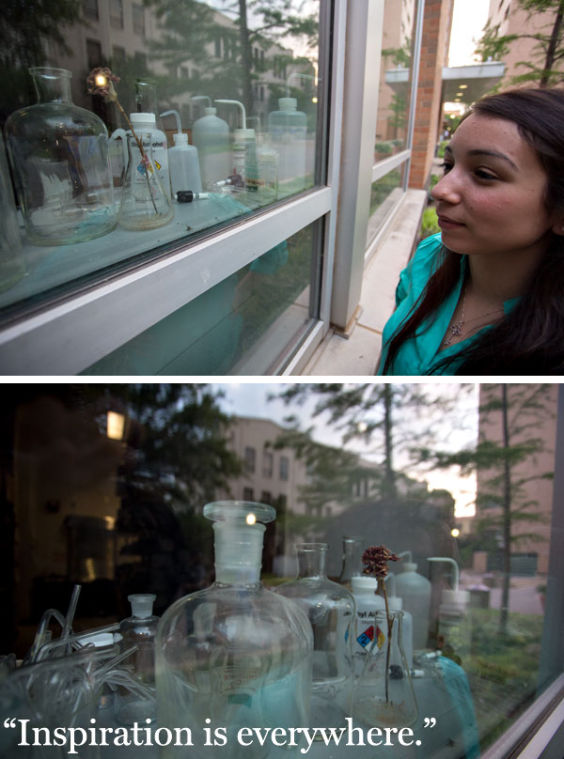 Galvan sees a dried flower inside a beaker while looking through a window of the Chemistry and Physics Building.
No matter how busy she got, Galvan was always prepared for class and ready to participate, Richardson said.
"Her work hasn't suffered at all," he said. "She was always one of the students I could count on to not only be prepared, but to be really excited about whatever we were doing in class, no matter what the class was. I honestly don't know where she finds the time."
When it comes to writing, time hasn't been an issue, Galvan said.
"Inspiration is everywhere," she said.
One of Galvan's favorite spots to visit for inspiration is the walkway between the Chemistry and Physics buildings and the Honors College, where she can see students working in the labs, she said.
Galvan said there are times she misses science.
"One day, I saw a whole bunch of test tubes right against the wall," she said. "I just thought of the smell of the chemistry room and everything, and I thought, 'I should write a poem about that.' "
Recently, Galvan has begun to explore cultural themes in her poetry, which is reflective of her childhood, she said. The poems also examine her husband's Vietnamese culture and the mixed heritage of their future children.
"I always think of the future, and my children and how confused they're going to be," she said. "I think in one poem, it's called 'If I Prayed,' I have 'Vietnaspanglish' written in there because it's like my children are going to invent a Vietnaspanglish language."
Orozco, who said she also had a background in science, found Galvan's poetry about culture and heritage to be more interesting than her science poetry.
"They show her diverse background," Orozco said. "That kind of made it more intimate for me."
Galvan is one of two poetry students who will join Old Dominion University's program in the fall, said Luisa Igloria, Master of Fine Arts creative writing program director.
"We're very excited for Amanda to attend," Igloria said. "She's one of the top students we admitted."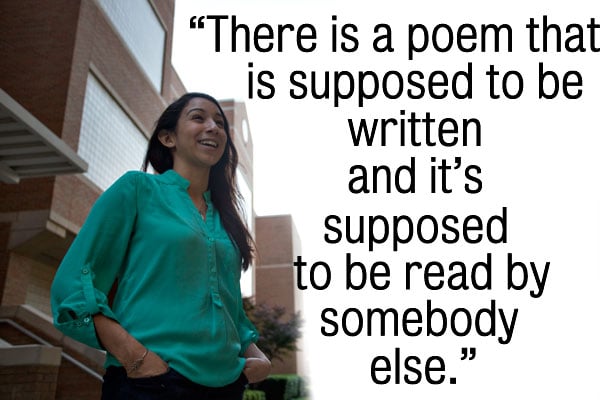 In addition to being offered admittance, Galvan was awarded the Perry Morgan Fellowship, which is offered to two first-year Master of Fine Arts creative writing students each year, Igloria said.
The fellowship means that Galvan will not be required to work for her first year in the program and will be offered a teaching assistant position after that, she said.
Galvan said she is both excited and anxious about her success, but she is mostly just happy to continue studying poetry.
"I ran into this guy at Café Brazil the other night," she said. "He was like, 'There's a poem meant for every person.' And it's true; there is a poem that is supposed to be written and it's supposed to be read by somebody else, and I really liked that idea."
@jasonthescribe