Communication technology junior Umair Ali said he never expected his iPhone ringtone remix to become anything big when he created it.
Ali had more than 80,000 sales in 2013 for his ringtone and more than 60,000 sales thus far in 2014, he said.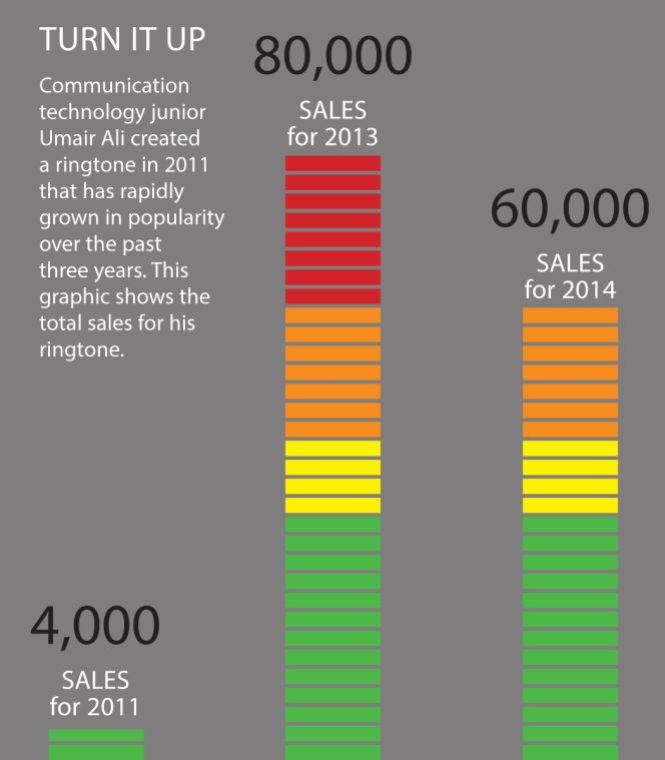 "Originally, it was just a fun thing to do," Ali said. "I've always made music, so I thought it would be cool to sample the iPhone ringtone and make my own version."
Ali created a 30 second song, titled "iPhone Remix," that turned the original iPhone sample ringtones into a hip-hop inspired remix, he said. Ali said he created the ringtone in November 2011.
"The iPhone, by default, comes with a ringtone that's like an iconic symbol and everybody knows that sound," Ali said. "So I was thinking, 'Hey, if I sample this tone that everybody knows, I think that would be really cool,' because it's something people can relate to."
He used a digital audio workstation to create the ringtone, which took less than an hour, and submitted it directly to iTunes. The ringtone gained popularity on websites such as Twitter and Vine, he said.
Gaining recognition for his ringtone was an amazing and epic experience, Ali said.
"I feel like I hit the jackpot in the lottery," he said.
Rahim Hussain, business administration and finance sophomore and friend of Ali, said the popularity of the ringtone was surprising.
"I'm ecstatic," Hussain said. "Nobody ever thought anything of it – it was just something he enjoyed doing."
Hussain said it was reassuring to see his friend's achievement and praised Ali's effort in creating the tone.
"It didn't happen overnight. He put hard work into it," Hussain said.
The ringtone was first featured on iTunes Canada editor's choice and made about 4,000 sales total in 2011, Ali said. Since 2012, the iPhone remix has been number No. 1 in the iTunes charts of Canada, Denmark, the Netherlands and Norway, and peaked at No. 7 on the U.S. iTunes chart in August, he said.
"When those plaques came in from Canada, it was pretty crazy," Ali said. "It made me think of how music could be an actual avenue to make a career out of."
Communication technology junior Arman Amlani said he was proud of his classmate Ali for gaining this recognition.
"It's crazy to think that someone you know could be successful over a ringtone," Amlani said. "I see this as a starting point of his success. He has so many talents outside of this, I see him going way further."
Ali gained a love from music from his father, who played the piano and various other instruments. At first, he was interested in disc jockey work before turning to music production, he said.
Today, Ali said he takes about three hours to create a tone and a spends a few days perfecting it. He will be releasing more tones this year, including remixes of newer iPhone ringtones, he said.
"I've built and created them, I'm just waiting for the right time to release them," Ali said.
@_simplydahls