Political science freshman Angel Hernandez was elected as Speaker of the Senate during Tuesday's Student Senate general body meeting, replacing Daniela Pedraja as she moves onto her new role as Student Body president.
The speaker is the representative leader of Student Government's Legislative Branch, coordinating the resolution process, chairing all Student Senate meetings and overseeing four committee chairs, according to the university's website. The position is filled in the spring semester and is a one-year term.
Hernandez won with 11 votes, beating Liberal Arts senator Yaseen Tasnif, who received six. Hernandez previously served as a Liberal Arts senator.
Hernandez said his mind was blown and he's nervous about his future, but he is ready to hit the ground running.
Some of Hernandez's priorities as Speaker of the Senate is communication among the group, he said. He also wants to ensure that they're listening to the student body. To help guarantee this, he wants to present ideas from the Maverick Opinion Board, which allows students to express their viewpoint on various matters, to the senate.
He wants to continue climbing the leadership ladder and reach a higher level than the position he's been elected in, Hernandez said. But for now, he just wants to focus on students' concerns.
Pedraja said she was both sad and excited for Hernandez to take her former position. "I've been feeling very aged just because I can't believe that I've been here for a year."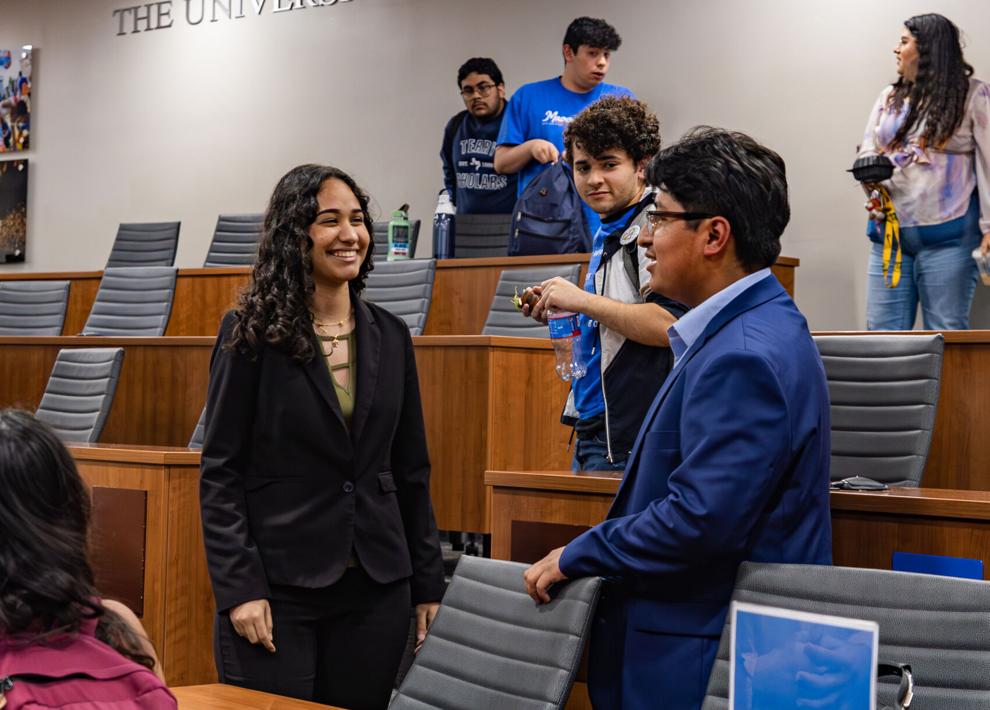 She said he's someone who steps up whenever his committee needs anything, and whenever she needs assistance.
"If there's an amendment that somebody is wanting to propose, he'll be the one to say, 'I'll draft it,'" Pedraja said. "He's been a really helpful senator."
She said she's excited to work with him and the rest of the leadership team next semester as Student Body president. Because they've known each other for a year, Pedraja said she thinks it should work out well.
"We can make a good team as long as we're willing to work with each other," she said. "My only thing is, I'll try my best not to hover over the Speaker of the Senate as the president just because it's my past position."
Pedraja will have served her one-year term as speaker next week. She was chosen as Student Body president during campus elections April 4, receiving about 79% of the vote, according to previous Shorthorn reporting.
Hernandez said it's time for him to get to work and there's a lot he has to do such as working with the new leadership team and new senators. He wants to make sure they can form a friendly relationship and get to know one another.
"So it's just work, work, work," he said. "Work doesn't stop."
@jrbalvino