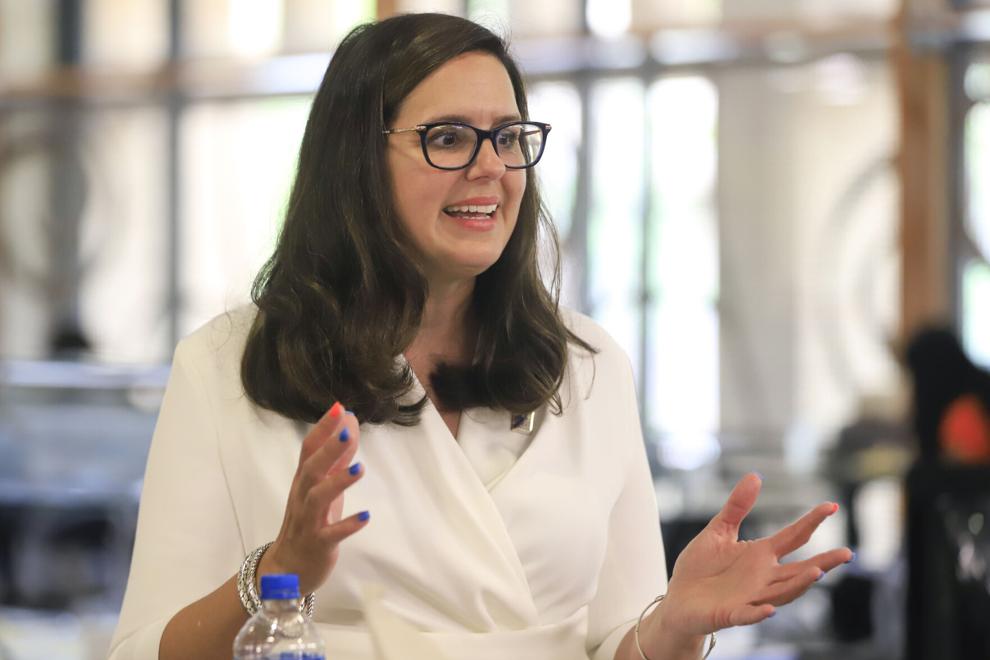 As President Jennifer Cowley begins her tenure as UTA's first female president and the 10th person to serve in the position, the university will host a campuswide picnic from 11:30 a.m. to 1:30 p.m. Tuesday in the Bluebonnet Ballroom to welcome her.   
The Shorthorn sat down with Cowley to discuss her first days at UTA, what she is looking forward to and her plans for the university. 
These responses have been edited for grammar and brevity. 
The Shorthorn: How are you feeling so far?
Jennifer Cowley: I would say the word to capture it is "energized." It has been so much fun to get to meet our amazing students, faculty and staff. I got to have lunch today with our Terry Scholars. And they are an amazing group of students who are doing fantastic work and love being here at UTA. And so I'm just feeding off of all the positive energy across the campus.
TS: So, how was it like waiting until April 28?
Cowley: It's like waiting for that first day of school. You're really excited and a little bit of nervousness, but you're eager to get here. And to have a beginning. But I have to say the team has done an amazing job. They have prepared all kinds of briefings. And I was able to meet with people in advance of my arrival, which made it so much easier to hit the ground running when I arrived.   
TS: Can you tell us a little bit more about what preparations you had before starting?   
Cowley: I asked each of our vice president areas to prepare briefing documents that would help me understand the organizational structure, the key things their offices do. So, for example, in Student Affairs, telling me about the range of offices and the kinds of work they do, just so I can better understand UTA and how it works.
TS: Do you have any special stories that happened on your first day on campus?
Cowley: When I took the tour of the libraries, I got a tour of the FabLab. I don't remember the name of the student, but we could find out her name. It just didn't stick with me off the top of my head. She is a linguistics major. And she was really nervous about applying for an internship at the FabLab, because she's like, "I don't have a technical background, but I really want to learn." And she got selected for the position. And she has learned how to use every one of the machines, and she is making and creating all of this cool stuff. She was just so proud to show me the embroidery work she has done and the stickers she's created and all these cool things that she's come up with. Just the passion and energy. You could tell she loves her job. And she loves what she's learning, working at the libraries. She's a mom, she's going to school, she's working and she's doing all this amazing work. I was really inspired to see her and see the great work that she's doing.
TS: What are you looking forward to the most as the university president?   
Cowley: Well, in the immediate term, graduation, getting to celebrate all of our students who are getting ready to graduate. There's more than 5,000 of them that are going to be graduating in a couple of weeks. So that is, short-term, the thing I'm most excited about. And then the longer term is bringing our community together to plan for our future.
TS: How do you plan to bring the community together?
Cowley: We're going to have a series of listening sessions. And then we'll have some planning workshops and things of that nature. It's day three, so I haven't yet met with the team to map out exactly what we're going to do. But those are some ideas.
TS: What are other plans you have in your first month as president?   
Cowley: Well, the first two weeks, I am spending as much time as possible meeting with our students, faculty and staff. I just want to get to know people, let them know that I'm here, have them be able to have an interaction with me. And then once we get past graduation, then I'm going to be focusing on meeting with our leadership team and beginning to get to the work of the university. Not that the other isn't work. But you know what I mean.
TS: So how has it been so far, interacting with students and the staff and faculty?  
Cowley: Everybody has been just so warm and welcoming. And I'll tell you, on Friday, it was so exciting, because I had met with students in the cafeteria on Thursday. And I had told them, like, "Say hi to me when you see me on campus." And on Friday, a student I had met the day before said hi to me. You're in a new place. You want to feel like you've got friends on campus. So I was like, "Yes, my first friend."
TS: So how has it been so far working with the UTA administration?
Cowley: We have a fantastic team, and it has been really wonderful. Everybody has been so supportive and has been really good about keeping me in the loop. And President Lim was very supportive in trying to make this a smooth transition. With his support and the support of our team, they've just helped me with the learning that I need to undertake to be successful in this role.
TS: So long-term-wise, how will you plan to maintain a presence on campus?
Cowley: We have a wide range of events that happen on campus. I'm super excited about Oozeball, for example, and getting to participate in some of the UTA traditions, going to basketball games, things like that. I'm looking forward to working with our team to figure out the best ways that I can support them and stay engaged in our campus community.  
TS: How do you plan to keep a connection with the city and city administration?   
Cowley: I was an intern for the city when I was an undergraduate. I've already gotten a chance to meet with the city manager and have met the mayor. So I'm really excited about the opportunity and the work we're doing together. We already have very close ties. John Hall, vice president for Administration and Campus Operations, works very closely with the city administrators, and everybody that I have met from the city has been very supportive and wants to keep that partnership strong. So I'm sure we're going to be engaging on a regular basis and talking about opportunities that we can work together.
TS: What is your current vision for UTA?   
Cowley: UTA will become one of the most inclusive and impactful universities. It's really about bringing our community together to then build the scaffolding and strategy around what that means. I'm seeking to learn what are the experiences our students have? Where are we being truly inclusive? Where are the opportunities for us to be better? So that's part of going on a listening tour and better understanding our community. And what do we need to do? And what does that vision mean to people?   
TS: Other than what we have talked about so far, what else should students know about you that you haven't shared before?
Cowley: One of the fun facts that's in my bio is that we have a pet in our house, and it's a pet chinchilla. And his name is Chinchi. My son named him because it's just short for "chinchilla." Chinchi the chinchilla is super cute.
TS: How would you describe UTA in three words?
Cowley: Inspiring, aspiring – because we're really on the rise – and dedicated.
TS: Do you mind explaining why you picked each word?  
Cowley: As I've talked to each person, like they're so committed to the work that they're doing here, I can just feel it. People like being here. And so, whether they're a student dedicated to their studies or a faculty or staff member that's dedicated to the impact they're creating here, I can feel that. For "aspiring," we just met Texas Tier One. And we're not satisfied to just stop there. We've met that goal. But people are like, "Where are we going next?" That feeling that we want to continue to change and evolve and become an even stronger university really stands out. Then "inspiring." I have been inspired by our students' stories, our staff and faculty's stories of how they're helping to support each other. It's just been fantastic for me to hear from all of those students.  
Managing editor Dang Le contributed to this article. 
@Angie_Perez99