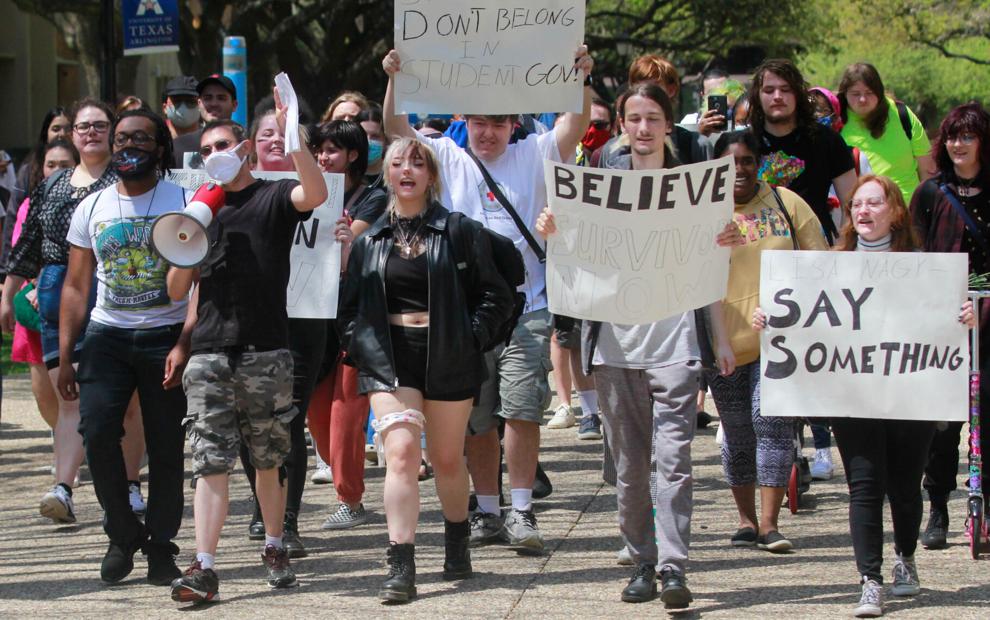 Posters calling for Thomason Clayton's resignation whipped in the wind as students gathered Monday in front of Woolf Hall to protest against the Student Body vice president's acquittal.   
The goal of the demonstration was to inform the administration and Student Government that the community won't accept Clayton as a student leader.  
The Senate held three impeachment hearings last week with Clayton's ending with an acquittal Wednesday. The call for impeachment cited Clayton as unable to fulfill his duties because of his unprofessional, inappropriate and aggressive behavior.   
A two-thirds majority vote of attending senators was necessary for removal, according to the Student Government Constitution. There were 23 senators in attendance, and 16 votes were necessary.  
The Senate had 14 votes in favor, eight against and one abstention.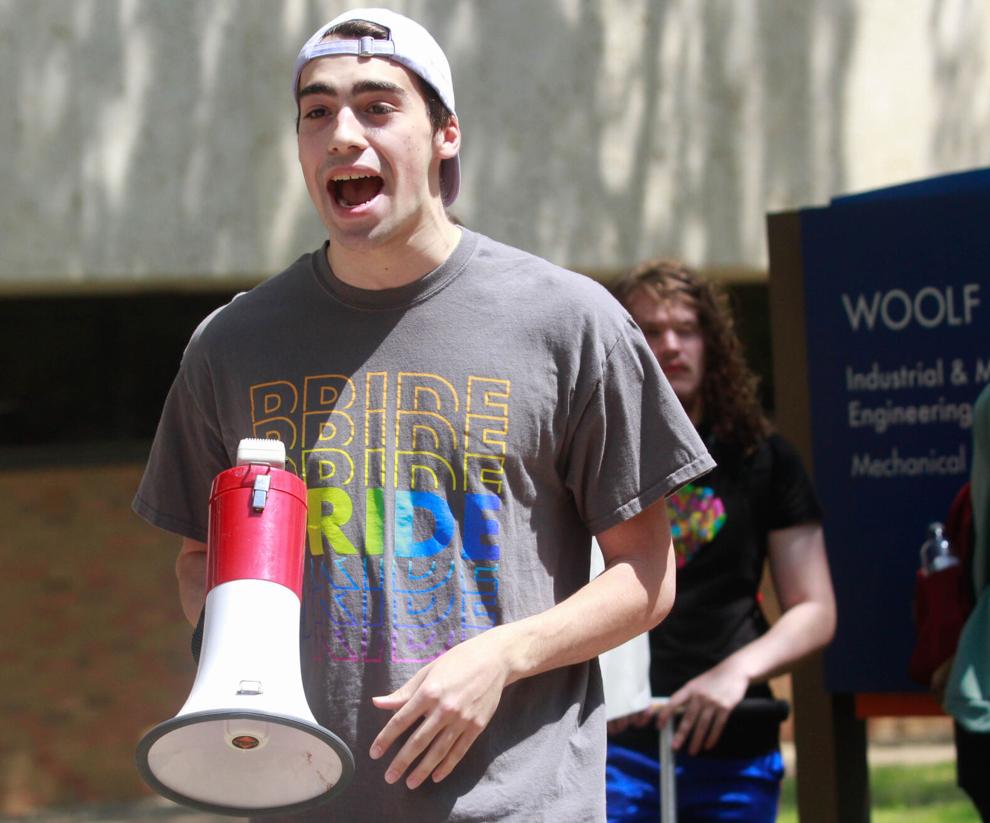 An Instagram video published March 26 demonstrated how the vice president conducted himself during a meeting with other Student Government senators during spring 2021, which led to a call for impeachment.  
Psychology senior Meghan Flynn, who released the video, spoke at the protest, and she said she attended because the Senate didn't impeach Clayton.   
"You have caused so much pain on this university that I am astounded by the fact that eight, eight entire people said not responsible," Flynn said.  
Clayton publicly accused Caitlyn Burge-Surles, former Student Body President, and Alyssa Spencer, former Chief of Staff, of alleged racist behaviors in a Student Government Candidate Open Forum on March 23.   
These allegations led to multiple campus organizations calling for UTA to create more diversity, equity and inclusion measures for the student body and Student Governance. Burge-Surles and Spencer were both unanimously impeached by the Senate last week.  
The protest marched to the office of Lisa Nagy, vice president for Student Affairs, and the Student Government Office to deliver their demands.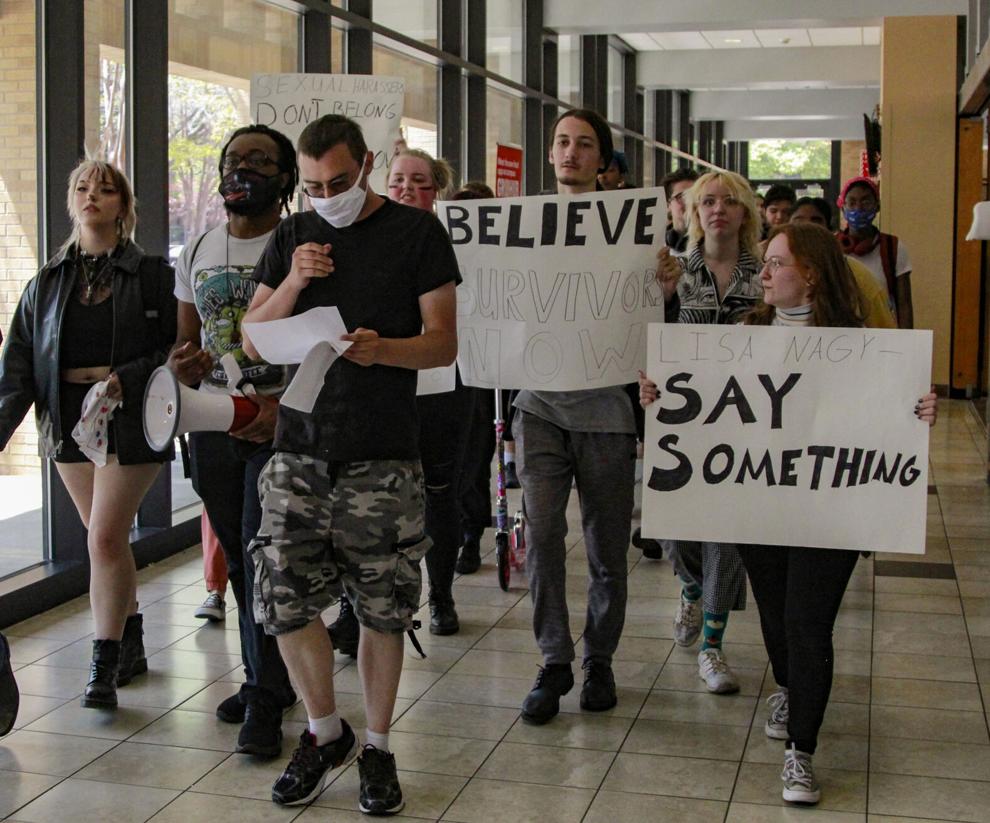 The Progressive Student Union demanded the immediate resignation of Clayton as Student Body vice president, the immediate hiring of a diversity, equity and inclusion faculty position for Student Governance and a statement from administration that condemns the student leadership's recent actions.   
The organization drafted the list in relation to previous demands issued by other student organizations in March, Napieralski said.  
A megaphone was handed off to multiple speakers while students traversed campus.  
Each speaker spoke about their distaste for Clayton's acquittal. They also spoke about his alleged aggressive and sexist behavior.  
Dylan Hernandez, former Mr. UTA and recent Delta Upsilon international fraternity president, was one of Clayton's witnesses during the hearing. He attended and spoke to the crowd.
Hernandez said he told Clayton to resign. He apologized to the student body for testifying for the vice president and has since regretted it.  
"He's not really listening to me, but I'm gonna try to make him listen to the people," he said.  
He released a statement April 8 via Instagram that condemns Clayton's actions and results from the hearing. Hernandez attended the protest because he knew he had to stand by his statement, he said.   
Clayton cannot become Student Body president before the appeal process is complete, meaning he would have to wait seven days from the outcome to allow for any appeals to be filed, said John Hillas, Student Governance assistant director.
@MandyHuynh12