Global supply chain issues have created a nationwide boba shortage, and North Texas businesses who rely on this beloved beverage topping are scrambling to meet increasing demand as summer begins.  
Demand for overseas products and a shortage of workers to unload shipments due to the pandemic has caused ships to be stuck at the Los Angeles and San Francisco ports for about a month, said Abdul Rasheed, strategic management and international business professor. 
The boba shortage is the latest example of global supply chain issues that have been a defining characteristic of the last year and a half. 
Shirley Che, partner at Tea Scoop Boba Tea & Smoothie in Arlington, said her shipments have been delayed for at least six weeks. She's also out of matcha, taro and branded cups.  
Che said her store's boba supply is dwindling. They've been using a different supplier they managed to find a few weeks ago. However, this supplier doesn't produce the same quality of boba as their original supplier. 
"The whole business is built on selling boba, and then to not have that, it's a very unfortunate situation," she said. 
Tea Scoop Boba Tea & Smoothie hasn't gotten its spring boba shipment, and now its summer stock will be delayed, Che said.  
Rasheed said most companies follow just-in-time inventory management, where businesses  only order what they need when they need it. The downside is when supplies don't come in time, everything stops because there's no buffer stock, he said.  
"There is a kind of snowballing effect with even one thing being not available," he said. 
Che looked into making their own boba as a solution, but it's not providing the quality she is used to, she said.  
"We're very proud of the quality of our boba, so we don't want to compromise any further," she said.  
James Lin, owner of OneZo in Carrollton, said he hasn't been affected by the shortage because OneZo makes boba in-house and is able to get supplies directly.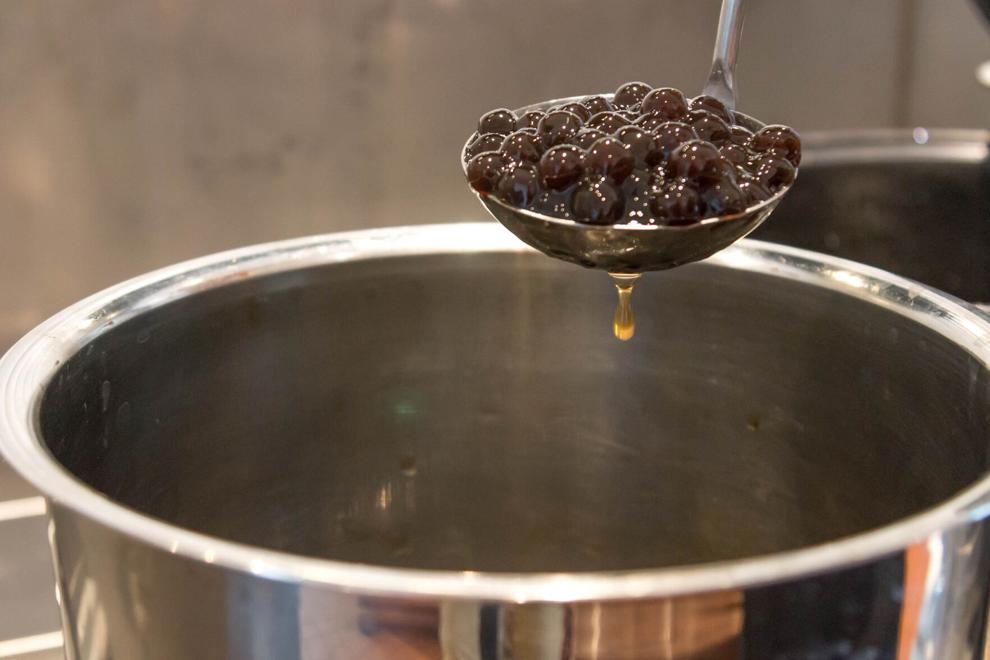 He has four months of supply in his storage, so he's not scared about running out.  
OneZo makes at least 10 bags of boba in one day, and one bag is about 10,000 grains. The bags only last a week, and he has to keep up by making it every day. 
Che said that's not sustainable for Tea Scoop Boba Tea & Smoothie because it requires more labor than what's available. 
"I can see us going like a week without it, [then] we will have to go homemade," she said. 
Rasheed said he thinks California's pandemic situation has been bad, hence the decrease in workers available to unload ships. These problems aren't long term and will be addressed quickly, he said. 
Che is hopeful the next shipment comes soon because summer is their busiest season. 
"A lot of it rides on how, when we get our shipment," Che said. "Not being able to offer this the entire summer would definitely hurt a lot."  
One potential long-term effect of the shortage might be that companies could find more efficient sources from nearby locations, Rasheed said. Overseas shipping enables customers to buy products at lower prices, and switching to local sources may be more reliable but will cause the price to go up, he said.  
"There is always this trade off," he said. "You and I as customers want to pay the cheapest price." 
Che first noticed supplier issues in mid-March because of the shortage of their branded cups, she said. She has had to make stickers and use blank cups since the end of March.  
"We kept hoping that it would be resolved in a couple of weeks, and then it just never did," she said.  
Che was unable to serve some of their popular drinks like matcha and taro, so she recommended customers try something new on the menu.  
Tea Scoop Boba Tea & Smoothie opened in October 2019, five months before the pandemic hit, so currently it's the busiest the store's ever been, she said. 
"We just want people to be more forgiving," Che said. 
@MandyHuynh12