When arriving at UTA for a long-awaited reunion, alumna Sandra Stepp had trouble locating the group as she looked for the same faces she knew in the 1960s.
Unable to recognize her cheerleader team from 1965, Stepp finally decided to ask a group of white-haired individuals if they were cheerleaders and was greeted with "Sandy!" — she had found her team.
Over the summer, alumnus Tom "Tommy" Davis began a search to reunite his team of eight cheerleaders from 1965. The group attended UTA, then known as Arlington State College, during a time of change when the institution left the Texas A&M University System to the UT System.
The team included Davis, Stepp, and alumni Buddy Lear, Lynn Petrelli, Sharon Terrill, Andy Howard, Rebecca "Becky" Young and Mike Langdon, who was unable to attend.
"To me, it was just a matter of, 'Are we all still alive and are we all still in good health?'" Davis said. "And wouldn't it be kind of nice to see somebody that you haven't seen in 54 years?"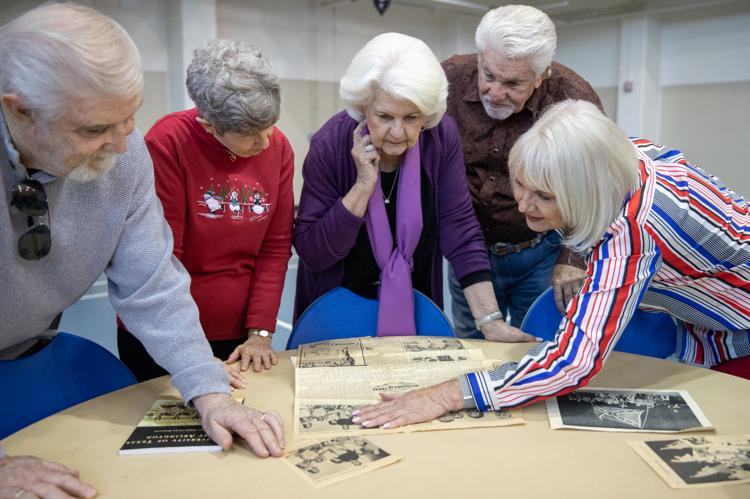 Davis, who transferred to Texas Tech University in 1967, said he doesn't remember getting to say goodbye to his team before everyone headed their separate ways.
"But maybe this whole get together that we just had is a substitute for what we didn't do before," Davis said.
Most of the group, now in their 70s, toured a now foreign campus of UTA on Dec. 27, 2019 and shared old newspaper clippings, annuals and memories of their time in college.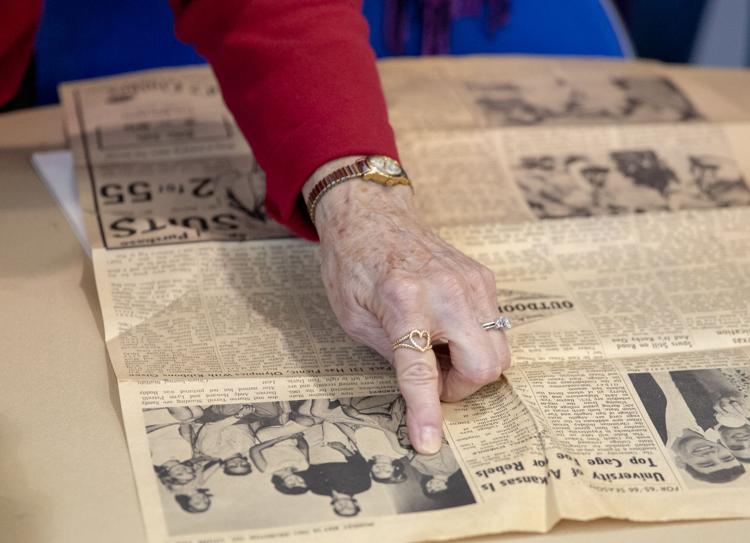 "We had such a great time in school," Petrelli said. "God, I'll tell ya, it was just one of the best times of my life."
In preparation for the reunion, Leer found his blue and white striped sweater from his time as a cheerleader. Marked with a big letter "A" on the front, people could identify his sweater by his name displayed in a white font.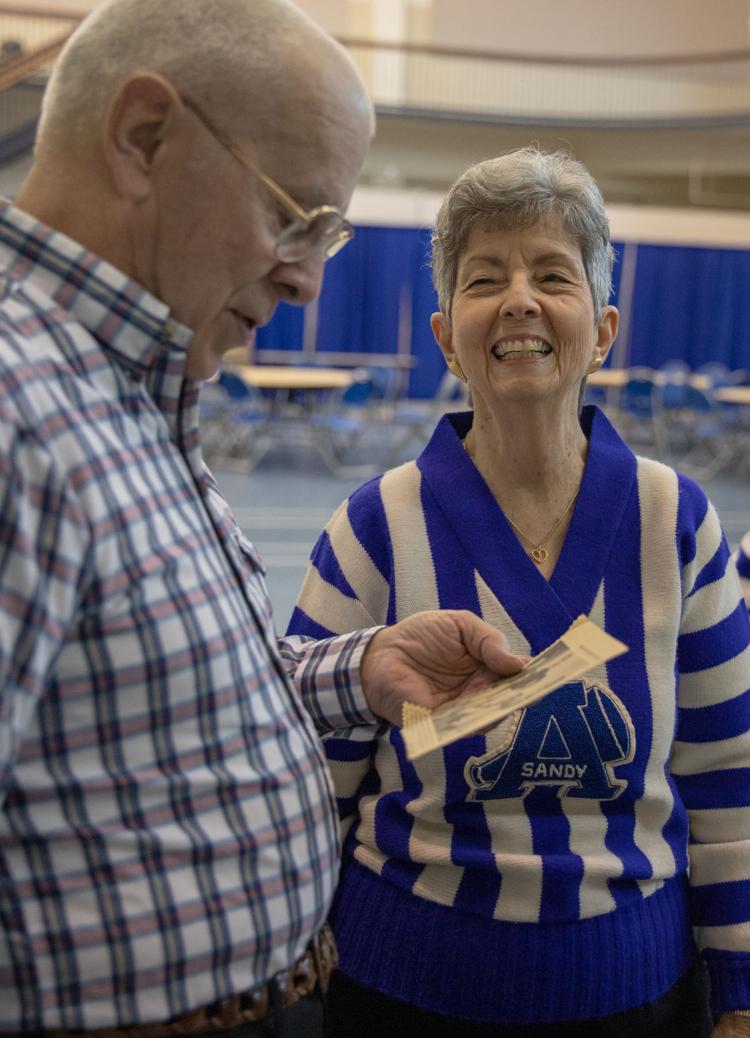 "It hadn't been out of the drawer in years," he said.
In efforts to reminisce and recreate a cherished old photo, some of the team members tried on their sweaters.
"I couldn't believe that I could even get it on," Stepp said.
The cheerleaders would wear the wool-like sweater in the evenings at football or basketball games or during cold weather, Lear said. For earlier games, the team wore their white long sleeve shirts that had each team member's name printed on the front.
In the years that the team attended UTA, they would often practice routines and stunts in Terrill's backyard off-campus and outside of Lipscomb Hall. About 50 years later and the group made Lipscomb Hall the meeting spot for the reunion.
"We could see each other in the car," Davis said regarding the day of the reunion. "We knew who we were. We got out, threw the [car] doors open, ran over and hugged each other."
The bond among the women originated from their time in the sorority Alpha Chi Omega, originally a social club called Sans Souci, living in Lipscomb Hall and their time campaigning to become a cheerleader.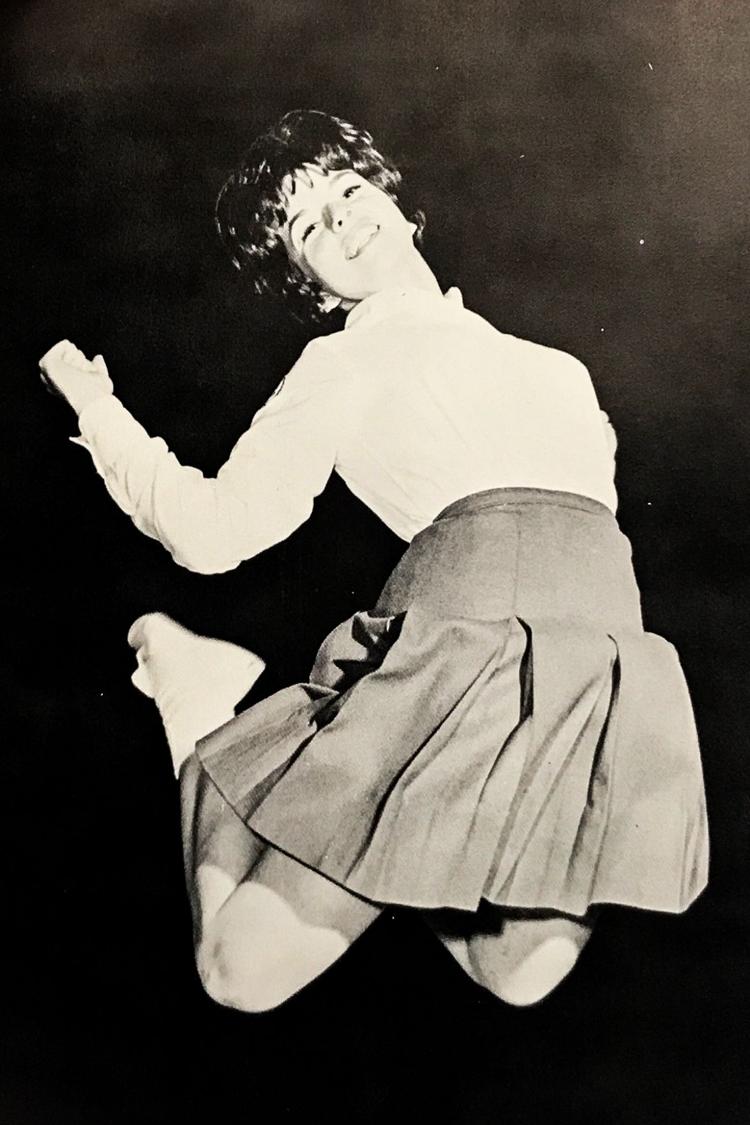 "We had a huge billboard that had all four of our pictures and names on it," Terrill said. "We campaigned as a team and that's how we won."
With four women and four men, Leer said each cheerleader had a partner to do lifts, wraparounds and other stunts.
The team learned routines and stunts in the years prior to attending any cheerleading schools or competitions, Terrill said. The boys would throw the girls up in the air, catch them, wrap them around their bodies and then hold them up again on the other side.
"Those boys were throwing us girls around like crazy," Terrill said.
When thinking back on his time as a cheerleader, Howard said he remembers two things: his GPA going down but also having "a heck of a good time." He remembers going on trips for games and packing up a car with the entire cheerleading team.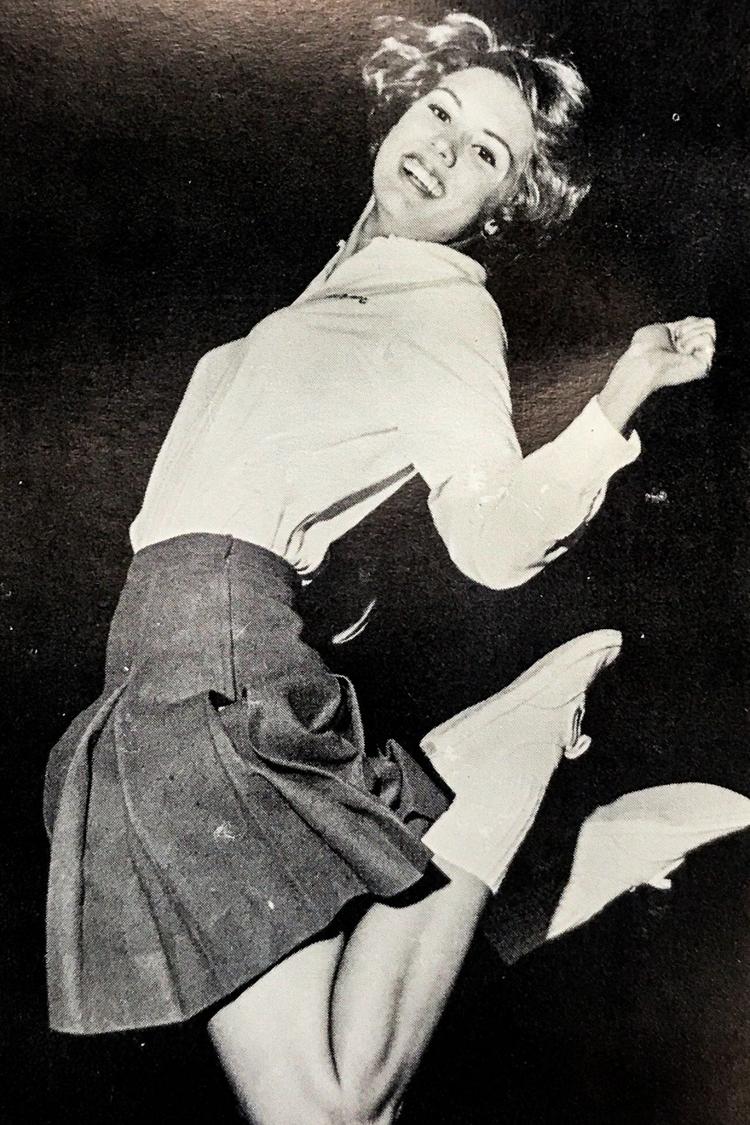 "I remember it was, like, three in the front seat and four in the back," Davis said. "I don't know where the eighth person was but it was really a packed car."
On one of those packed trips to an away game, Stepp said her megaphone ended up as a casualty. She said Lear had attached all the megaphones to the back of the station wagon and hers ended up getting beaten up.
Although UTA disbanded its football program in 1985, the cheer program has lasted through the years by cheering at basketball and volleyball games and attending competitions.
When Davis and Lear met a couple of months ahead of the reunion, it took one look for them to recognize each other as cheerleaders and friends from years ago.
"We knew exactly who we were," Davis said. "There was no question about it."
Despite spending years apart, Leer said the reunion brought back the same characters he knew over 50 years ago.
"It was almost like you walk in a door into yesterday," he said.
@rocio_mhdz